BFL6: K'Wood promotion hopes hit
June 26, 2014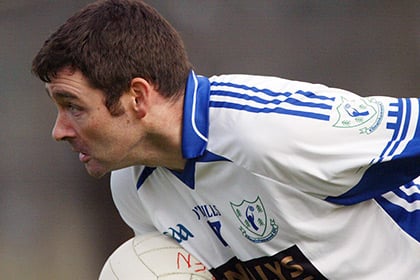 Kilmainhamwood's Colm Gilcreest
Kilmainhamwood 4-09
Drumbaragh 2-21
A win for Kilmainhamwood in this 'B' League match would have put them right up there for the fight for promotion, but alas this was not to be as they ended up on the wrong side of a six point defeat, in what was a high scoring affair played in Drumbaragh Tuesday night last.
Kilmainhamwood started the match well but they could not make use of the possession as their first few efforts ended up wide, Drumbaragh responded well by registering their first couple of scores. The 'Wood's first came via centre-forward Francis Owens goal after a great team move from the 'Wood. They went onto kick the next two scores to bring themselves back into the game. But it was Drumbaragh that finished the half stronger, by registering their fist goal, to go in at the break seven points up.
Kilmainhamwood started the match with a mix of youth and experience and some excellent displays from both veteran Colm Gilscreest, who straight from the throw-in brought the 'Wood back into the match with a well taken goal to cut the Kells side lead to four and from youthful Cathal Bennet, whose efforts helped Kilmainhamwood get back to within one point of Drumbaragh midway through the second half, but Drumbaragh's fitness started to show and they kicked on to run out six point winners and register 2-17 from play out of a total 2-21.
Best for the 'Wood Colm Gilscreest, Francis Owens and Cathal Bennett.
K-Wood Team: Mark Kiernan, Philip Reilly, Bernerd Bennett, Martin Shields, Darren Owens, Jude Collins, Cathal Bennett, Michael Berrill, Damien Russell, Tommy Owens, Francis Owens, Colm Gilscreest, Damien Farrelly, Michael Clarke, Ray Magee. Subs: John Keogan for Tommy Owens, Emmet Roache for Damien Farrelly, Tommy Owens for Michael Berrill and Damien Farrelly for Michael Clarke
K-Wood Scorers: Colm Gilscreest (2-03), Damien Russell (1-01), Francis Owens (1-00), Ray Magee (0-03, 2f), Michael Clarke (0-01) and Cathal Bennett (0-01)
Most Read Stories