AFL3: Kilmainhamwood grab crucial win
June 23, 2014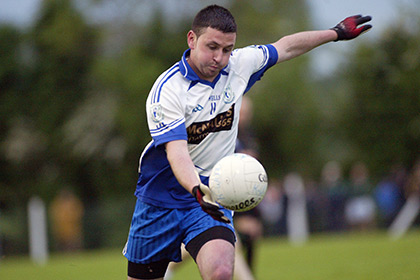 Kilmainhamwood's Stephen Kiernan.
Kilmainhamwood 5-16
Ballinabrackey 1-09
Kilmainhamwood headed into this match in need of a win to ease the threat of relegation and secure Division 3 football for next year, and they got the result needed with an emphatic 19 point victory over Ballinabrackey who made the long trip to the north of the county to Kilmainhamwood to play this game in what could be described as perfect conditions for a game Sunday last.
The score line was a fair reflection of the dominance Kilmainhamwood had over their visitors Ballinabrackey, and it was man of the match Stephen Kiernan from the centre forward position who lead the scoring by kicking an impressive eight points, six of those from play and two from frees. The 'Wood had ten players in all who registered scores, including all six forwards, Padraig Barber in midfield and wing-back Micheal Shankey along with veterans Francis Owens and Colm Gilscreest, who were introduced as substitutes.
The 'Wood started at a blistering pace racing into a two point lead, one from Kiernan and one from John Keogan. Ballinabrackey did not register their first score until midway through the first half, but Kilmainhamwood then hit a period of scoring dominance with the first goal coming from David Russell, after a great team move from the 'Wood. The result was never in doubt after this despite a Ballinabrackey spell of dominanece midway through the second half, which was started through a goal via the penalty spot, but Kilmainhamwood did not lie down and responded with three further goals from John Keogan, ex Gael Colmcille player Micheal Berrill and substitute Frano Owens.
Best for the 'Wood were Jude Collins and Emmet Clarke in defence, Padraig Barber and Gary Yorke in midfield and Stephen Kiernan and John Keogan in attack.
K-Wood team: Mark Kiernan, Barney Bennett, Philip Moran, Jude Collins, Michael Shankey, Emmet Clarke, Harry Corbally, Gary Yorke, Padraig Barber, Sean Mulligan, Stephen Kiernan, Damien Russell, Mick Berrill, David Russell, John Keogan Subs: Francis Owens for Sean Mulligan and Colm Gilcreest for David Russell
K-Wood Scorers: Stephen Kiernan (0-08, 0-02f), John Keogan (1-01), Damien Russell (1-01), Micheal Berrill (1-01), Francis Owens (1-00), David Russell (1-00), Colm Gilscreest (0-02), Padraig Barber (0-01), Micheal Shankey (0-01) and Sean Mulligan (0-01)
Most Read Stories