BFL6: Kilmainwood back to winning ways
April 07, 2014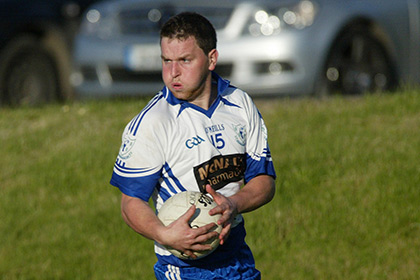 Kilmainhamwood's Paudie Owens
Kilmainhamwood 2-16
Summerhill 2-10
Kilmainhamwood got their B League campaign back to winning ways last Saturday with a 6 point victory over Summerhill in a heated affair in Kilmainhamwood.
John Keogan got the 'Wood off the mark with a superb effort after good combination work between the Owens brothers Padraig and Ronald, but it was Summerhill who started at a quicker pace as they then kicked an unanswered 1-03 before the 'Wood could respond with two points, both from frees, one from Padraig Owens and another from the boot of David Russell.
Summerhill increased their lead when they again kicked another unanswered 1-03 to lead the 'Wood by 9 points with ten first half minutes left.
But the K-Wood fight back started when Russell picked up a breaking ball in midfield and provided Padraig Owens with a sublime pass for Owens to then dummy two Summerhill defenders and drill the ball into the back of the 'Hill net from 20 yards out.
Owens followed up his goal with a further two points of his own, one from a free and another from play. The 'Wood pushed on with a further three points from play, one each from Francis Owens, Conor Kiernan and Alan Carolan. But it was Summerhill who kicked the last score of the half from a free as a result of a mistake in the 'Wood defence. This left Summerhill leading 2-07 to 1-08 at the break.
The 'Wood came out all guns blazing at the restart with a Francis Owens goal, finished top corner after a great team move involving Conor Kiernan, David Russell and goal scorer Owens. The 'Wood kicked a further three points, two Padraig Owens frees and one from play from John Keogan. Summerhill kicked their first scores of the second half, one from a free and another from play to cut K-Woods lead to two points. But Alan Carolan increased this to four, with two pints of his own from play, one after another.
Summerhill cut this back to three when they added what proved to be their last score of the game, but the 'Wood were not done as they kicked the last three scores of the match from play one each for substitute Philip Reilly, Conor Kiernan, and David Russell to come out six point winners in what was a very entertaining game. Best for the 'Wood was Stephen Smith in defence, Conor Kiernan in midfield, and Alan Carolan, Francis Owens and Padriag Owens in attack.
K-Wood Team: B. Bennet, N. McCabe, S.Smith, E. Roache, M. Sheilds, P. Moran, R. Owens,. C. Kiernan, S. Clarke, A. Carolan, F. Owens, D. Russell, J. Keogan, P. Owens, T. Owens
K-Wood Scorers: P. Owens (1-05, 0-04f), F. Owens (1-01), A. Carolan (0-03), D. Russell (0-02, 0-01f), C. Kiernan (0-02), J. Keogan (0-02), P. Reilly (0-01)
*****
Summerhill report:
Kilmainhamwood 2-16
Summerhill 2-10
Summerhill failed to hold on to a half-time lead as they lost by six points at Kilmainhamwood on Saturday.
Corner-forwards Gerry Gorman and Barney O'Reilly were the Summerhill goalscorers which helped the travelling team to a two point half-time lead, 2-7 to 1-8.
Kilmainhamwood dominated the second half and added 1-8 to leave Summerhill still searching for their first league win of 2014.
Ray Comey finished as Summerhill's joint top-scorer with four points along with O'Reilly.
Summerhill: Gary Gill; Patrick Troy, Jackie Ennis, John Bruton; Stephen Lynch (0-2), Rod McAuliffe, David Colgan; Nathan Nangle (0-1), Kevin Holmes; Gavin Brilly (0-1), Declan Bruton, Richard Fox (0-1); Gerry Gorman (1-0), Ray Comey (0-4), Barney O'Reilly (1-1). Subs: Bryan Hatton for G Gorman, Michael Giles for B O'Reilly.
Most Read Stories