BFL6: Kilmainhamwood defeat Moynalty
March 10, 2014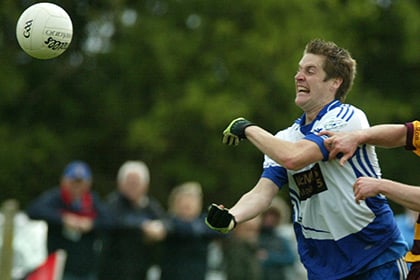 Kilmainhamwood's Damien Russell
B LEAGUE DIV 6 Round 1
09/03/2014
MOYNALTY 1-6
KILMAINHAMWOOD 1-10
Kilmainhamwood put in a disciplined and workmanlike performance in this victory over local rivals Moynalty, on Sunday in Moynalty. The Wood were on top from the start and lead by a goal at half time 0-5 to 1-5.A brilliant first half performance from David Russell in the middle of the field was the springboard for the victory and a pin point 40 yard pass from a free to Johnny Keogan for the goal after 9 minutes was typical of his performance. Russell also contributed with four points three from play and one from a free, the other first half scorer was Alan Carolan.
The second half brought no respite for the home side as the Wood took control with three points from half time substitute Paudi Owens and another brace from Alan Carolan.
The Kilmainhamwood defense was marshalled by man of the match Shane Russell and he was ably assisted by Niall Mc Cabe and Emmett Roche. The visitors were on top in most positions Philly Moran, Conor Kiernan and Mick Berrill put in good shifts for the Wood also.
Team: P. Carolan, N. Mc Cabe, S. Russell, E. Roche, P. Reilly, P. Moran, M. Gargan, C. Kiernan, D. Russell, A. Carolan, F. Owens, J. Keogan, D. Farrelly, M. Berrill, T. Owens Subs: P. Owens for D. Farrelly, J. Collin for D. Russel, M. Shields for P. Reilly
Scorers: D. Russel (0-04, 0-01 f), A. Carolan (0-03, 0-01 f), P. Owens (0-03, 0-02 f), J. Keogan (1-00)
Most Read Stories