AFL3: Victory for Carnaross
March 09, 2014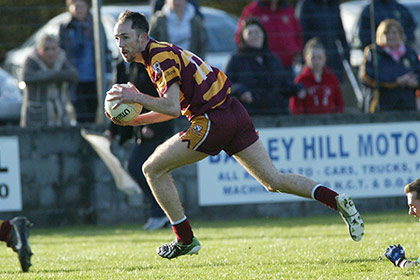 John L McGee Carnaross
Carnaross 0-11
Kilmainhamwood 1-6
Carnaross and Kilmainhamwood finally got to play their Round 1 league match after two previous cancellations, and Carnaross had to withstand a late Kilmainhamwood fightback before emerging winners by two points.
John L McGee gave Carnaross the perfect start by converting two frees inside the first two minutes. The game was a very tight affair in the opening stages and this was reflected on the scoreboard as it took fifteen minutes before the next point came along, a point for Kilmainhamwood. With five minutes remaining Carnaross finally upped the tempo and a point apiece from Pierce Fleming, Peter Mullan and John L McGee put a bit of daylight between the sides with Carnaross leading 0-5 to 0-1 at half-time.
After the restart it was Kilmainhamwood who opened the scoring but Carnaross went on to dominate proceedings for the next twenty minutes and points from Thomas Nugent, Peter Carpenter and John L McGee (2) left the home side leading 0-9 to 0-2 and apparently heading for a comfortable win. However, with ten minutes remaining Kilmainhamwood got in for a well taken goal and a point a minute later reduced the margin to three points. John L McGee added another point for the home side but Kilmainhamwood continued to believe there was something in the game for them and added three unanswered points to leave just one in it with time running out. Carnaross held strong at the back and were awarded a late free in added time which was converted by McGee.
Carnaross: Shane McNiffe; John Plunkett, Patrick Nugent, Tomás Plunkett; Peter Carpenter (0-1), Ian Donoghue, Eamonn Comaskey; Brian Comaskey, Dermot McGee; Shane Casserly, John L McGee (0-7), Stephen Flattery; Pierce Fleming (0-1), Thomas Nugent (0-1), Peter Mullan (0-1); Subs: Cillian Comaskey for Shane Casserly; Liam Brogan for Stephen Flattery; John Carpenter for Pierce Fleming;
****
Kilmainhamwood report:
7th March 2014
A League Division 3 Round 2
Carnaross 0-11
Kilmainhamwood 1-06
After two previous fixture cancellations, this game between Carnaross and Kilmainhamwood finally got to be played, Friday night last under lights in Carnaross.
Heading into this encounter both sides were still looking for their first win in this year's league competition and it was Carnaross who got the first points in the board through a John L Magee free. Kilmainhamwood's first attack was to no avail as the ball went wide via the boot of Paudi Owens.
The next couple of attacks for both teams were lack lustre to say the least, it was not until midway through the first half the next score was recorded after another 'Ross free was slotted over the bar.
K-Wood finally got into the action after Alan Carolan took a quick free to provide Stephen Kiernan who found Micheal Shankey to kick the ball over. This proved to be the last scoring action for the Wood in the first half but Carnaross were not finished as they kicked three answered points before the break, two from play and one from a free. This would leave Carnaross leading 5 points to 1 at the break.
Kilmainhamwood made two changes at the break, one in attack and one in defence through the introduction of David Russel and David Dolan at the expense of Conor Kiernan and Micheal Berrill.
The 'Wood were first into action after the break with a Alan Carolan point, after great work from Stephen Kiernan and Paudi Owens. But again Carnaross did not lie down as they kicked another three unanswered points.
At this stage the game was getting heated for both teams and after a goal line scramble K-Wood keeper Johnny Carolan was shown a Black Card, sub keeper Padraig Carolan was introduced. Stephen Kiernan then kicked his first point of the game midway through the second half, but from the resulting kick out Carnaross overran the 'Wood's defence to tap another point over the bar.
This left Carnaross leading by six points and looking comfortable, the 'Wood were not finished and the comeback was on when substitute David Russel took his chance and put the ball in the back of the 'Ross net to leave three points between the sides. But Carnaross added another free to make the difference four.
The 'Wood comeback was still on when Kiernan came to the fray and kicked three unanswered points of his own to leave one between the sides. But Carnaross held on and added a late free in added time to win by two.
Best for Kilmainhamwood were Philip Moran, Sean Mulligan, Alan Carolan and David Russel
K-Wood Team: J. Carolan, S. Russel, P. Barber, P. Moran, J. Collins, S. Mulligan, M. Shields, H. Corbally, S. Clarke, M. Shankey, A. Carolan, C. Kiernan, M. Berrill, P. Owens, S. Kiernan Subs: D. Russel for M. Berrill (HT), D. Dolan for C. Kiernan (HT) and P. Carolan for J. Carolan (BC)
K-Wood Scorers: S. Kiernan (0-03, 0-01 f), D. Russel (1-00), M. Shankey (0-02), A. Carolan (0-01)
Most Read Stories