HL2B: Royals rout Fingal
March 09, 2014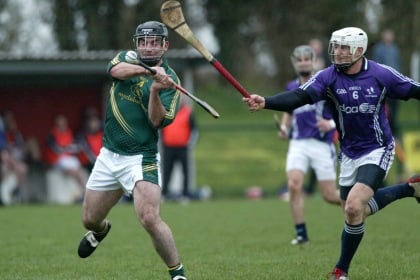 Meath's Derek Doran strikes a point despite the best efforts of Fingals Rob Sheridan during the Division 2B HL clash at Trim
Meath revived their NHL Division 2B bid with an emphatic win over neighbours Fingal at Trim on Sunday afternoon.
Meath ...... 5-22
Fingal ........ 1-7
This first meeting of neighbours promised to be a closer affair given that both sides had won one and lost one fixture to date in the campaign with the north Dublin side coming into this game in second place in the table.
Meath posted 1-1 inside the opening minute and were never reeled in by last year's NHL Division 3A winners and recorded their second win from three league starts with 27 points to spare. Kildalkey's Derek Doran took scoring honours with 3-3 from play.
Moylagh's Willie McGrath posted 1-6 from play as well including the final goal which was facilitated by a long delivery from wing-back and captain Sean Heavey.
The returning Patrick Conneely took responsibility for placed balls, scoring 0-7 (including one 65). In the latter stages sub Jack Regan assumed the Kildalkey man's role adding two points from play plus one from play.
On a calm overcast afternoon,six different players contributed to the Meath tally. John Matthew Sheridan was Fingal's main marksman contributing six points - just one from play. Colm Foley was the visitors' sole other scorer with 1-1.
Meath were quick out of the blocks with Willie McGrath pointing before Adam Gannon goaled in the opening minute. The Royals had 1-4 on the board before John Mathew Sheridan opened the Fingal account.
That score offered only temporary respite for Fingal as Patrick Conneely responded with one of his five first-half pointed frees. A Colm Foley goal cut the gap to just four points, 1-1 to 1-5, midway through the half.
Meath bossed the second quarter outscoring Fingal by 1-8 to 0-1. A John Mathew Sheridan free was the visitors' sole score during this phase of the game.
Derek Doran finished the half with 1-3 to his credit. HIs 24th minute point was the pick of the first-half scores. His well-taken goal came in the 35th minute. Four McGrath points from play were another high point of the first 35 minutes.
Meath led by 2-13 to 1-2 at the break at which point a drizzle was beginning to decorate the pitch. A pointed John Matthew Sheridan free was the first score of the second half as the scoring rate dropped
Meath's first score from play in the second-half arrived in the 53rd minute when Jack Regan found Derek Doran with a short free and the Kildalkey man fired home his second goal of the game to leave the board reading 3-16 to 1-3.
Doran completed his hat-trick of goals and points moments later when collecting a long clearance from corner-back Cormac Reilly. Having managed just one point in the third quarter, Fingal tagged on four more in the latter stages.
However, the margin between the sides widened with McGrath contributing most to Meath's tally in this phase of the game including the fifth goal in the 66th minute.
Meath - Charlie Bird; David Donoghue, Shane Brennan, Cormac Reilly; Sean Heavey, James Toher, Peter Farrell; Patrick Conneely (0-7, 6fs, 1 65), Stephen Morris; Damien Healy, Gary Kelly, Ciaran Fitzsimons; Willie McGrath (1-6), Derek Doran (3-3), Adam Gannon (1-1). - Neil McLoughlin for Brennan (ht), Sean Geraghty (0-2) for Fitzsimons (ht),. Jack Regan (0-3, 2fs) for Kelly (44), Eoin Potterton for Donoghue (58), Caoimhin King for Healy (63).
Fingal - Adam McGrane; Peter Coyne, Danny Butterly, Alan Morris; Paddy Sheridan, Rob Sheridan, Ian Kennedy; Cillian O'Flynn, Ross McGarry; Peter Daly, Kevin O'Flynn, Fintan McGuib; Colm Foley (1-1), Andrew Richardson, John Matthew Sheridan (0-6, 4fs, 1 65). Subs - Niall Feeney for Morris (20), Dave Smyth for Kennedy (27), Paul Graves for O'Flynn (40), Kevin McLoughrey for Feeney (46), Dara de Burca for Butterly (67).
Referee - Paul Murphy (Carlow).
Most Read Stories