Camogie final: Meath point late to down Kildare
April 25, 2011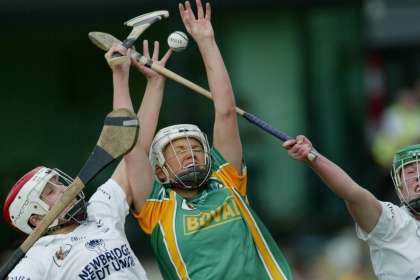 Kildare's Regina Gorman and Meath's Jane Dolan contest the high ball during the Camogie League Division 3 final at Ashbourne.
Meath 3-9
Kildare 2-11
Jane Dolan proved the hero of the hour for Meath as they overturned a three point deficit in the last five minutes to claim the Camogie League Division 3 title at Ashbourne.
Dolan got the Royals of to a perfect start when racing through the Kildare defence to score a goal in the opening minutes. But the Lillywhites reponded well to the early set back to go in at the break only a point down 2-4 to 1-6. Carol Nolan got their goal while the impressive Susie O'Carroll scored four points. Corner foward Lizzie Oakes netted Meath's second goal.
Kildare started the second half as Meath had done the first and within minutes Roisin O'Connell had the ball in the Royals net. Midway through the second half Kildare led 2-10 to 2-7 and they carried that three point lead right to the last five minutes. A side line cut from Lizzie Oaks found its way to the Kildare net and the sides where level. With time almost up referee Malachy McToal awarded Meath a free and Jane Dolan duly dispatched the ball over the bar to give Meath the win.
Emily Mangan,Laura Maguire, Edel Guy, Jane Dolan, Aoife Maguire, Sinead Hackett and Lizzie Oaks impressed for the winners while Regina Gorman, Angela Lyons, Clodagh Flanagan Susie O'Carroll and Fiona Trant stood out for Kildare.
After the game Camogie Chairperson Joan O'Flynn presented the player of the match to Jane Dolan and the Division 3 Cup to the Meath captain Edel Guy.
Meath scorers Jane Dolan 1-5, Lizzie Oakes 2-1, Aoife Maguire 0-2 and Sinead Hackett 0-1
Kildare scorers Susie O'Carroll 0-7, Roisin O'Connell and Carol Nolan 1-0 each, Clodagh Flanagan, Siobhan Hurley, Fiona Trant and Clidhna McSweeney 0-1 each.
Most Read Stories