A royal appointment
January 01, 2011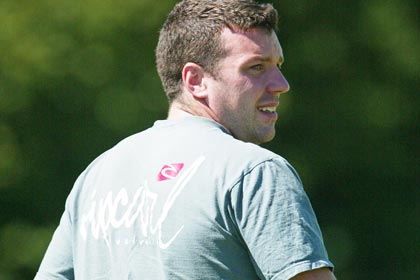 Meath hurling manager Cillian Farrell
It is fair to say that Meath hurlers have failed to live up to expectations in recent years. Ok success in the Nicky Rackard Cup was achieved, but really should the Royals have ever being playing in the third tier competition?
That was a far cry from the heady days during the mid-nineties when Meath gave Offaly an almighty scare in the Leinster senior hurling championship at Croke Park.
Under the guidance of John Davis, the Leinster side had its best spell ever. Hoping to guide Meath back to that status is former All-Ireland winner Cillian Farrell, who has been recently appointed as the new manager of the senior hurlers.
Cillian continues an allegiance between Offaly and Meath that has seen other natives of the Faithful County including Michael Duignan and John Murray, who have managed the Royals in recent times.
For this month's edition of Hogan Stand, we speak to Cillian about what he hopes to bring to Meath hurling, while we also take a look at his own career in the green, white and gold jersey.
At just 33 years of age, Cillian Farrell will be one if not the youngest inter-county manager on the scene in 2011, but don't let this man's age deceive as he has picked up more experience with teams during his playing days than most of us would in a lifetime.
A native of Edenderry where he played hurling and football up to this year, Cillian burst onto the inter-county scene with the Offaly hurlers in 1997. A year later and the 21-year-old had an All-Ireland medal in his back pocket.
"I didn't play in the All-Ireland final, but played in the games before that. It was something special and I'd have to say it was the highlight of my career," admitted Cillian.
"Actually one of my first games for Offaly in '97 was against Meath in Mullingar and they ran us pretty close that day and a year later we won the All-Ireland, so it just tells you how good they were at that time."
In 2000, Cillian lined out for both the Offaly senior hurlers and footballers, a major achievement for any county player, but Cillian admits that it was a tough year.
"It was a hard year combining the both. It wasn't so much playing the games, but the training. I was effectively out every night of the week and in between the county I had the club as well. It's a very difficult thing to do and especially now when there is more of an emphasis on physical training and preparation for games.
"In saying that I did enjoy combining the two, although I concentrated on the football after that as I was only playing junior hurling with Edenderry at the time and it wasn't a good enough standard for inter-county hurling."
For the past three years, Cillian has been manager of Na Fianna hurlers and he has brought them from being annual relegation candidates to a position where every club in the county has gained their respect.
"They are a great bunch of lads to work with. There is only a small panel, but I have to say they are some of the most committed players that I have ever came across. They probably would have considered whipping boys when we first went up to the senior ranks, but that has certainly changed as our results this year will show, we were very unlucky not to reach the quarterfinals. Hopefully, they can move on from there and push on, their certainly good enough."
It was during his three years as manager of Na Fianna that Cillian came to the attention of the Meath hurling board and when the time was right he applied for the job; successfully impressing the board enough during the interview process.
"I feel this is a big challenge and its one that I'm very excited about. I think it's fair to say that Meath hurling has slipped a bit in the last few years and my aim is to bring it back to where it belongs.
"Our main aim will be gain promotion from Division 3 that has to be first and foremost. The Christy Ring is also a goal and given the right draw, there is no reason why we can't go all the way. In my opinion, we are as good as the Kerrys, Kildares and Mayos of this world. However, we need to get all our best players out playing for Meath and maybe that hasn't been happening in the last few years."
Coming from a county that knows what it takes to win All-Irelands at the highest level, Cillian must see a stark contrast in the skill levels between the likes of Meath and Offaly or does he?
"There isn't a huge difference at all. Skill wise they are on a par, but it's the speed and intensity that sets the top sides apart from the teams like Meath in the second tier. This is one of the many areas that we will be working on."
Physical fitness is one of the most important aspects to be worked on these days and Cillian has added Leinster coach Dave Fagan to his management team.
"Dave will come in and work as the strength and conditioning coach over the winter months. He has been with the Leinster rugby team for a while now and his experience will be invaluable to us. There is a definitely a more professional approach to the game than there was before and we intend to leave no stone unturned in ensuring that the squad will be in peak condition come next February when the league starts."
For the past five years, Cillian has worked as Commercial Manager of Enva Ireland Ltd, which is a leading-edge company providing innovative, efficient and cost-effective solutions for the treatment and disposal of a diverse range of wastes.
Employing over 200 people, the company has offices in Portlaoise and Dublin with Cillian based in the latter and overseeing the company's day-to-day running.
Most Read Stories