Football top scorers: O'Connor makes his move
August 07, 2013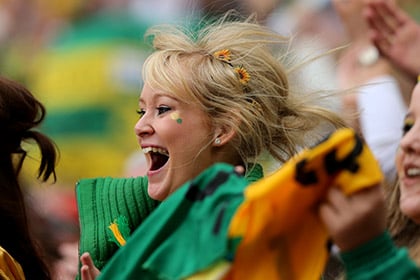 Cheering on the scores
Hat trick king Cillian O'Connor is hot on the heels of Cavan's Martin Dunne in the race to be crowned top scorer in football championship 2013.
Last week we said it would take something special for Dunne to be caught and now the odds are on that happening. The Cavan man scored just one point against Kerry at the weekend while O'Connor grabbed a second hat trick in succession as he hit 3-4 against Donegal. That 13-point haul puts him just five points behind Dunne and on current form the Mayo man should move into the lead after the semi-final against Tyrone.
The Cavan man is still the top scorer from play with 1-16 but O'Connor is just a point behind and is averaging 6.0 points per game from open play.
O'Connor is out on his own as the top goalscorer with six. Armagh's Jamie Clarke is next with four majors to his name while Leitrim's Emyln Mulligan, Wexford's PJ Banville and Armagh's Eugene McVerry are on three goals apiece.
We thought it would be some feat if Mulligan's individual match tally of 3-7 (v New York) was beaten before the end of the summer, but O'Connor has come came close with 3-3 and 3-4 in his last two outings. Four players have managed nine points in a game so far - Cavan's Martin Dunne (0-9 v Armagh), Meath's Mickey Newman (0-9 v Wexford), Armagh's Jamie Clarke (2-3 v Wicklow) and Galway's Michael Meehan (1-6 v Cork).
O'Connor now also has the highest per game record, averaging 10.33 points per game.
Overall - championship football top scorer
Martin Dunne, Cavan 1-33 (36) 5.14 average per game
Daniel Goulding, Cork 1-29 (32) 6.4 avg
Cillian O'Connor, Mayo 6-13 (31) 10.33 avg
Mickey Newman, Meath 1.27 (30) 7.5 avg
Michael Meehan, Galway 2-22 (28) 5.6 avg
Sean Cavanagh, Tyrone 0-27 (27) 4.5 avg
Colm McFadden, Donegal 2-18 (24) 4.8 avg
Lorcan Mulvey, London 2-18 (24) 4.0 avg
Sean McCormack, Longford 0-24 (24) 8.0 avg
Darren McCurry, Tyrone 0-24 (24) 4.8 avg
From play - championship football top scorer
Martin Dunne, Cavan 1-16 (19) 2.71 avg
Cillian O'Connor, Mayo 5-3 (18) 6.0 avg
Shane Lennon, Louth 2-10 (16) 4.0 avg
Jamie Clarke, Armagh 3-6 (15) 3.75 avg
Eugene McVerry, Armagh 3-4 (13) 3.25 avg
Colm McFadden, Donegal 2-6 (12) 2.4 avg
Lorcan Mulvey, London 2-6 (12) 2.0 avg
Eamon Wallace, Meath 1-9 (12) 3.0 avg
Matthew Donnelly, Tyrone 1-9 (12) 1.71 avg
Michael Meehan, Galway 1-8 (11) 2.2 avg
Daniel Goulding, Cork 1-8 (11) 2.2
Emyln Mulligan, Leitrim 3-2 (11) 3.66 avg
Ciaran Lyng, Wexford 1-8 (11) 2.75 avg
James O'Donoghue, Kerry 1-8 (11) 3.66 avg
PJ Banville, Wexford 3-2 (11) 3.66 avg
Most Read Stories