HL2B: Mayo finish with a win
March 24, 2014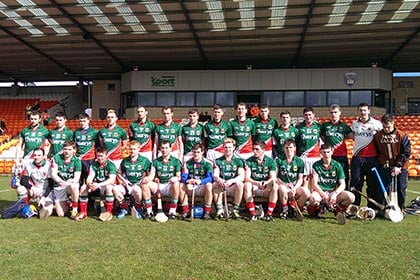 The Mayo squad that defeated Armagh
Mayo 1-19 Armagh 1-11
Brendan Geraghty at the Athletic Grounds, Armagh
Mayo hurlers made the long trek to the Athletic Grounds on Sunday to play Armagh who were propping up Division 2B and looking for their first points in this year's competition. Mayo knew that victory would ensure their Division 2B status whereas a defeat would put them at the mercy of results elsewhere in the group.
Armagh got off to an excellent start and had the ball in the Mayo net on four minutes with corner forward Mattie Lennon's low shot beating Donie O'Brien on his right hand side. Mayo rallied with four points from Kenny Feeney, two from frees, and singles from Fergal Boland, Stephen Hoban and Sean Regan to lead seven points to one goal after the first quarter and looked to be cruising to victory as Armagh just could not find the target. However for the next 15 minutes Armagh began to find their rhythm and tacked on three unanswered points to leave it 0-7 to 1-3 with 30 minutes on the clock, Mayo looked in trouble but a 30 metre free from Feeney and a point from play from centre-forward Gary Nolan steadied the ship and Mayo led 0-9 to 1-3 at the break. Armagh finished the first half down to 14 men as wing back Nathan Greene was sent off for a second bookable offence.
The second half was a hectic affair with both sides trying to gain a stronghold in the game but Mayo's greater strength and guile kept them ahead, but only just. Mayo forward Kenny Feeney proved to be the difference between the sides, scoring five points from play from various angles in the second half, and also slotting two more from placed balls. The Mayo Management made some very astute changes on the line and the introduction of Castlebar's Kevin Keena just after the hour mark proved to be a trump card as he finished with 1-1 from play with just 10 minutes on the field. The final score line read Mayo 1-19, Armagh 1-11.
Mayo had great performances today from centre-back Padraig O'Flynn, midfielder Brian Higgins, forwards Kenny Feeney, who finished with 12 points, 0-7 from play, and Fergal Boland and substitute Kevin Keena. Armagh's best performers were forwards Declan Coulter and Mattie Lennon.
Armagh must now play Fingal in a relegation play-off next weekend with the losers playing the Division 3 champions to see who will play in Division 3 next year. Neighbours Roscommon and Donegal contest the the Division 3 final in the next few weeks with both aspiring to playing Mayo in Division 2B next year.
Mayo's next competitive fixture is in the Christy Ring Cup on May 3rd at home to today's opponents Armagh. Mayo Manager Christy Phillips will look to build on their League performances and given today's victory a quarter-final place looks very possible for his team this year. To date the Mayo hurlers season can be considered a success with victory in the Kehoe Shield and retention of their Division 2B status, hopefully this good form will carry into the Championship. There certainly appear to be reasons to be optimistic.
Mayo: D O'Brien, A. Brennan, A. Connolly, D. Kenny, B. Hunt (0-1), P. O'Flynn, P. Barrett, C. Charlton, B. Higgins, S. Regan (0-1), G. Nolan (0-1), S. Hoban (0-1), K. Feeney (0-12, 5f), D. McDonnell, F. Boland (0-2). Subs: K. McDermott for D. McDonnell (h/t), C. Scahill for S. Hoban (54), K. Keena (1-1) for F. Boland (63), K. Kiely for P. Barrett (66) and D. Lynskey for A. Brennan (69).
Armagh: S. Doherty, C. Devlin, C. Clifford, M. Garvey, N. Greene, N. Curry,
P. Hughes, C. McKee, P. Gaffney (0-1), C. Carvill (0-1), R. Gaffney (0-1), K. McKernan, M. Lennon (1-1), D. Coulter (0-6, 4f), C. Corvan (0-1). Subs: E. McGuinness for M. Lennon (38), J. Corvan for C. Corvan (50), S. Gaffney for R. Gaffney (65),
Referee: Colum Cunning, Antrim
Most Read Stories