GPA asks inter-county players if they want 2020 season to resume
October 15, 2020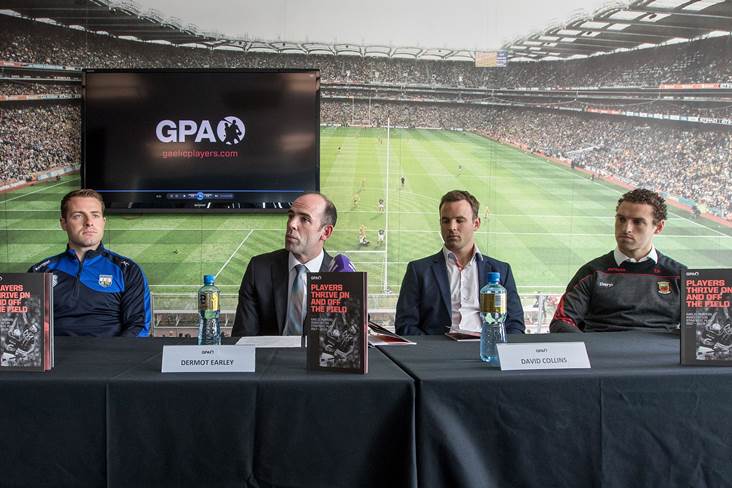 Waterford hurler Noel Connors, GPA CEO Dermot Earley, GPA President David Collins and Mayo footballer Tom Parsons.
©INPHO/Bryan Keane.
The Gaelic Players Association has sent a questionnaire to all of its members seeking their views on the return of the inter-county season.
The Allianz Leagues are set to return this weekend after a seven-month lay-off and RTE Sport reports that the GPA is "deeply concerned" over the welfare of players with the spread of Covid-19 cases all over the country.
The questionnaire asks players whether or not they want to the 2020 season to resume under the circumstances, with its purpose being to canvas players' feelings
Players were asked to respond to the below questions, with GPA expected to have all the responses collated by Friday.
"In your opinion, is your county board effectively implementing the Covid 19 Inter County return to play protocols" to ensure a safe training/playing environment for you?
"If no, indicate what specific changes are required to make your training/playing environment compliant with the Covid protocols;
"Which of the following options reflects your opinion for the upcoming 2020 Season?
1) I want the season to proceed.
2) I want to play only if the implementation of the Covid-19 protocols is improved.
3) I do not want the season to proceed.
"If the Covid-19 situation continues to deteriorate, do you support the NEC (GPA's National Executive Committee) making a decision on the players' behalf about the continuation of the season?
Most Read Stories