GAAGO.ie to stream 38 exclusive GAA Championship matches in 2023
December 15, 2022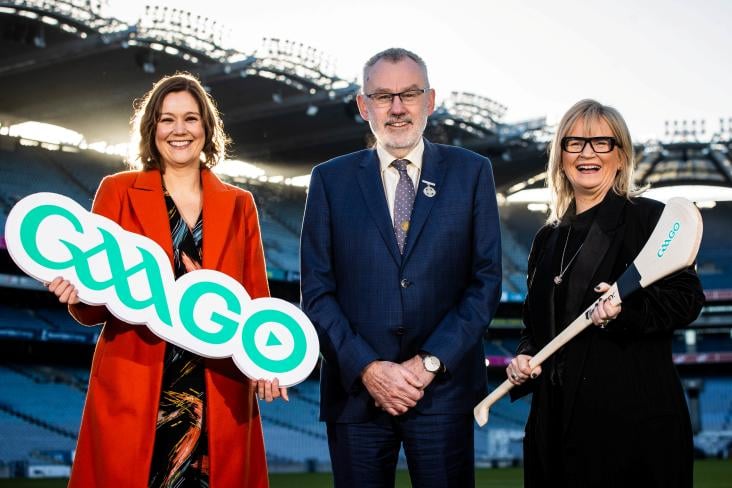 GAAGO Presenter Gráinne McElwain, Uachtarán CLG Larry McCarthy and Director-General of RTÉ Dee Forbes ©INPHO/Ryan Byrne
GAAGO today unveiled its exclusive 2023 GAA Championship broadcast schedule, presentation team and pricing in Croke Park.
After eight years of serving the GAA's international fan base, next year's entry into the domestic Irish market represents a huge growth step for the online streaming platform.
Fans will access 38 live or on-demand matches in HD quality for a special launch price of just €59 up until December 31st, before it moves to €79.
Individual pay-per-game matches will be available for €12, a '3-for-2' bundle deal will cost €24 and GAA members will receive 10% off any full price (€79) subscription. GAA clubs will be able to avail of a group pass for €150 and care-giving locations will watch for free using complimentary login codes distributed by County PRO's.
The subscription service will provide live action from every Provincial Championship and the football All-Ireland series to viewers in Ireland and around the world for 18 match days across 11 weekends.
Within the 38-game schedule twenty-two Sam Maguire cup, nine Liam Mac Carthy cup and seven Tailteann Cup matches will be streamed. Some weekends will see matches shown on both Saturday and Sunday with simultaneous live feeds occurring on certain dates.
The highly experienced Gráinne McElwain will anchor pre-match, half-time and post-match discussion alongside a brand-new analysis team aiming to bring a player-led mentality to the discussion from Saturday, April 22nd, 2023.
She will be joined on the microphone by recently retired Donegal All-Ireland winning captain Michael Murphy, Kerry's five-time All-Ireland winner Marc Ó Sé and seven-time All-Ireland winner with the Dublin footballers Paddy Andrews.
Live hurling match analysis will come from All-Star Limerick All-Ireland winner Séamus Hickey, nine-time Kilkenny All-Ireland winner Tommy Walsh and Cork All-Ireland winner and dual star Eoin Cadogan. More analysts are to be announced for both codes in due course, as well as GAAGO's lead commentators and side-line reporters.
Coverage will receive full outside broadcast treatment for at least 25 games with live commentary, graphics and match analysis, multi-camera setup and replays. Enhanced venue access rights and other in-game innovation coordinated by a newly appointed GAAGO producer is also planned.
The GAAGO.ie website supports virtually all internet-enabled devices and matches can be cast to a TV screen using the GAAGO iOS and Android apps.
Commenting on GAAGO's plans, Larry McCarthy, Uachtarán Chumann Lúthchleas Gael, said: "As someone who has lived away from Ireland for much of my life, I am well accustomed to viewing games on GAAGO. However, this new and exclusive domestic Championship schedule is a major advance, not just for the Association, but also for the viewers of our games. The comprehensive list of high-quality matches, a new look analysis team and a range of pricing that people can choose from makes the entire venture extremely exciting."
RTE Director General Dee Forbes said: "GAAGO has enjoyed tremendous success to date and is now set to play an even more central role as part of RTÉ's expanded coverage of GAA games which is good news for Irish sports fans everywhere. We know our audiences love live sport and now across RTÉ television, radio and online, in English and Irish, and through the comprehensive GAAGO schedule announced today, there is so much great live GAA action to get excited about. We're really looking forward to the start of the new season."
- 22 x Sam Maguire Cup, 9 x Liam Mac Carthy Cup and 7 x Tailteann Cup games to be streamed exclusively
- Gráinne McElwain to present coverage alongside analysts Michael Murphy, Marc Ó Sé, Paddy Andrews, Seamus Hickey, Tommy Walsh and Eoin Cadogan, with more to be added
- A range of pricing options to be made available including a pre-Christmas Pass for €59 (€1.55 per game), '3 for 2 bundles' and a €12 'pay per game' option
- GAA members to receive a subscription discount, GAA clubs to avail of a clubhouse rate and free access to be made available to care-giving locations
- Games include Limerick v Clare in the Munster Hurling Championship and 2 x GAA Football All-Ireland Quarterfinals
GAAGO Exclusive Matches (x 38):
(Note: 25+ games will receive presentation, analysis and multi-camera production)
Sat 8 April
CSFC New York v Leitrim (10pm Irish)
Sat 22 April
USFC Cavan v Antrim/Armagh, Breffni Park / Corrigan Park (6pm)
LSHC Galway v Wexford (5pm)
MSFC Tipperary/Waterford v Kerry (time tbc)
Sun 23 April
MSHC Clare v Tipperary (4pm)
LSFC Dublin v Wexford/Laois (time tbc)
Sat 29 April
USFC Ferm/Der v Tyr/Mon (5pm)
MSHC Limerick v Clare (7pm)
Sun 30 April
LSFC Semi Finals (2 x games) (time tbc)
Sat 6 May
MSHC Cork v Tipperary (7pm)
LSHC Dublin v Wexford (5pm)
Sun 7 May
LSHC Antrim v Kilkenny (time tbc)
Sat 13 May
MSHC Waterford v Clare (6pm)
Tailteann R1 'Game of the Week' (time tbc)
Sat 20 May
SFC Rd1 (2 x games) (time tbc)
LSHC Kilkenny v Dublin (6pm)
Tailteann Cup Rd2 'Game of the Week' (time tbc)
Sat 27 May
SFC Rd1 (2 x games) (times tbc)
Sun 28 May
MSHC / LSHC round robin (1 x game) (time tbc)
Sat 3 June
SFC Round 2 (2 x games) (time tbc)
Sun 4 June
SFC Rd2 (1 x game) (time tbc)
Tailteann Cup Rd 3 'Game of the Week' (time tbc)
Sat 10 June
Tailteann Preliminary Quarter Finals (2 x games) (time tbc)
Sat 17 June
SFC Rd 3 (Simultaneous T/I times) (2 x games) (time tbc)
Sun 18 June
SFC Rd 3 (2 x games) (time tbc)
Tailteann Cup Quarter Finals (2 x games) (time tbc)
Sat 24 June
SFC Prelim Quarter Finals (2 x games) (time tbc)
Sat 1 July
SFC Quarter Finals (2 x games) (time tbc)
Most Read Stories