National Concussion Testing and Treatment to roll out for all Inter-County players
December 05, 2022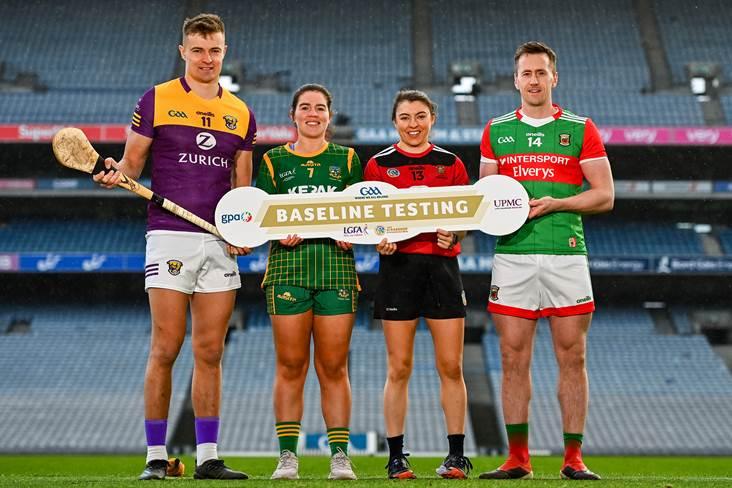 Wexford hurler Jack O'Connor, Meath ladies footballer Shauna Ennis, Down camogie player Niamh Mallon and Mayo footballer Cillian O'Connor during the launch of UPMC Concussion Baseline Testing Programme at Croke Park in Dublin. Photo by Ben McShane/Sportsfile
UPMC has joined with the GAA, LGFA, The Camogie Association and the GPA to roll out a concussion baseline testing programme to inter-county players across 32 counties – with the goal of rapidly diagnosing and treating concussions in players. The initiative, which begins today, will cover football, hurling and camogie and players will participate equally across all codes.
Baseline concussion testing will be provided to all inter-county players across Ireland, and these players will also be covered for concussion physician specialist treatment. This will be delivered using the ImPACT concussion testing model, evidence-based, neurocognitive assessment software co-developed by UPMC concussion specialists. ImPACT, which stands for Immediate Post-Concussion Assessment & Cognitive Testing, is an objective tool to support trained clinicians in making return-to-activity decisions following concussions.
This announcement builds on UPMC's pilot programme for baseline testing that was launched in 2021 for the GAA. It also follows a recent conference in September between UPMC and GAMA (Gaelic Athletic Medical Association) in University College Dublin, where Michael "Micky" Collins, Ph.D., director of the UPMC Sports Medicine Concussion Programme in Pittsburgh, and his colleagues presented on their latest research and treatment protocols.
GAA President Larry McCarthy said, "A considerable effort has been made in the area of education and awareness among players and coaches in relation to concussion and it requires constant vigilance. This latest development between leading experts in UPMC and the Gaelic Games Associations is not only welcome but vital to ensure best practice is being followed. Although this is a programme that focuses initially on inter-county players our intention is to see the benefits of the programme made available to clubs and to every player at every level as soon as possible."
Uachtarán ACC Hilda Breslin said, "We are delighted to be joining with UPMC and the Gaelic Games family on this National Intercounty Concussion Baseline Testing Program. The welfare of our players is paramount, and we hope this program will not only help ensure our players have the right medical treatment if they sustain a concussion, but it will also provide important insight on concussive incidents in our games."
President LGFA Mícheál Naughton said, "Confirmation of the baseline testing programme for inter-county players is a most welcome development. The short and long-term impacts of concussion have come into sharp focus in more recent times and to be in a position to assist our players on such a wide-scale basis is a huge step forward. If concussions are not diagnosed early, and treated carefully, the consequences can be series, and with a huge risk of repeat concussions. We are delighted to join forces with our colleagues in the GAA, the Camogie Association, the Gaelic Players Association and UPMC to roll-out the concussion baseline testing programme. I am sure that this programme will be of huge benefit to a number of our players and, from a health and safety perspective, this is a vital intervention piece."
CEO of the GPA Tom Parsons said, "This is an extremely important step in terms of looking after the physical welfare of players on the training pitch and the field of play. With the attritional nature of Gaelic games, head injuries and concussive events are an unfortunate feature of our games. Being able to diagnose and better manage the return to play protocols provides players with an greater standard of care with head injuries. That is why we are delighted to partner with UPMC and the three National Governing Bodies to proactively monitor the incidence and effects of concussion on our members. This will allow us to take the necessary steps in mitigating against the consequences of concussion and delivering the best possible care for players."
Most Read Stories