Camogie Soaring Stars and Manager of the Year announced
September 25, 2023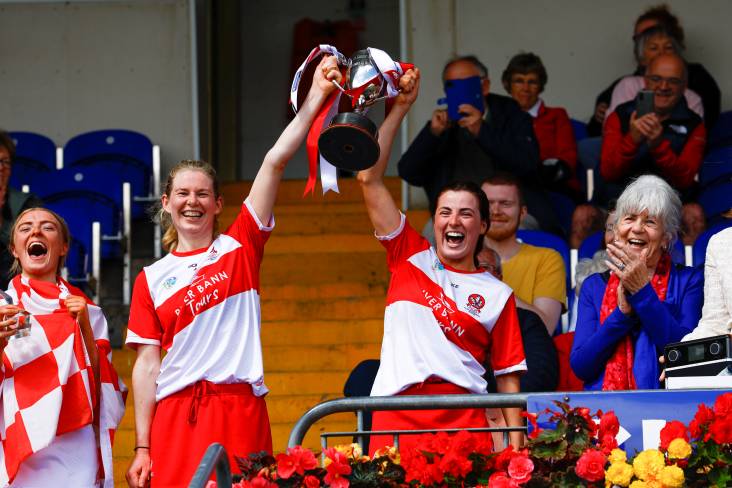 Derry joint captains Aoife Ní Chaiside and Aine McAllister lift the Jack McGrath Cup ©INPHO/Phil Magowan
The winners for the highly anticipated 2023 PwC Camogie Soaring Star Awards have been revealed as well as the PwC Camogie Manager of the Year.
Leading the way are Intermediate Champions Derry, who drew in the final against Meath in Croke Park, but ultimately took the crown by nine-points in a thrilling replay. Derry have won an impressive eight Soaring Stars, which will be celebrated at the eagerly anticipated PwC All-Stars Awards Ceremony in Croke Park on 4th November.
All-Ireland Intermediate Championship finalists Meath follow with four winners, Clare with two wins and Tipperary claiming one Soaring Star.
Matthew Twomey was announced as the 2023 PwC Manager of the Year, recognising his outstanding leadership and achievements for the Cork Camogie.
2023 PwC Camogie Soaring Star Winners:
Niamh Gribbin, Derry – Goalie
Niamh Quinn, Derry – Corner Back
Claire Coffey, Meath – Full Back
Sophia Payne, Meath – Corner Back
Lauren McKenna, Derry – Half Back
Aoife Ní Chaiside, Derry – Centre Back
Ellen Casey, Clare – Half Back
Dervla O'Kane, Derry – Midfield
Aoife Minogue, Meath – Midfield
Mairead McNicholl, Derry – Half Forward
Aine McAllister, Derry – Centre Forward
Amy Gaffney, Meath – Half Forward
Aoife Shaw, Derry – Corner Forward
Caoimhe Cahill, Clare - Full Forward
Jean Kelly, Tipperary – Corner Forward
Most Read Stories