McGrath hails Loughmore-Castleiney's 'camaraderie and spirit'
November 29, 2021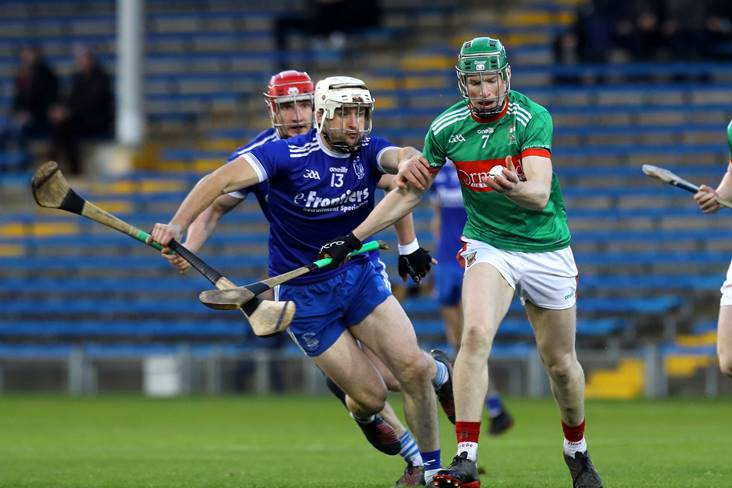 Loughmore-Castleiney's Brian McGrath with Pa Bourke of Thurles Sarsfields. ©INPHO/Lorraine O'Sullivan.
Noel McGrath has described winning Tipperary SFC and SHC titles with Loughmore-Castleiney on successive weekends as "the greatest feeling".
The 30-year-old has had many highs in his career, not least winning three All-Ireland SHC medals with Tipperary, but he reckons the achievements of the past week top the lot.
"It's hard to put into words," McGrath told RTÉ after captaining his club to a dramatic victory over Thurles Sarsfields in yesterday's Tipperary SHC final replay.
"It's something we've been trying to do for the last seven or eight years, to get back and win a hurling county final.
"To win it the way we did, through pure grit, determination and skill - everything you need to win a county final - against a top-class team, it's unbelievable. It's one of my proudest days on a GAA pitch. To captain your team to win a county final... I'm just so happy that I was the one that was able to represent the whole group."
The county star, who was joined on both winning teams by his brothers John and Brian, added: "We've Loughmore and Castleiney, two small, little villages. Everybody knows each other, everybody gets on together. I think that camaraderie and spirit is a massive part of what we are as a club.
"I wouldn't give up what we have for nothing. It's possibly the greatest feeling, the last seven days, that I've ever experienced playing GAA."
Most Read Stories