'Playing under lights has the potential for refereeing mistakes'
December 13, 2021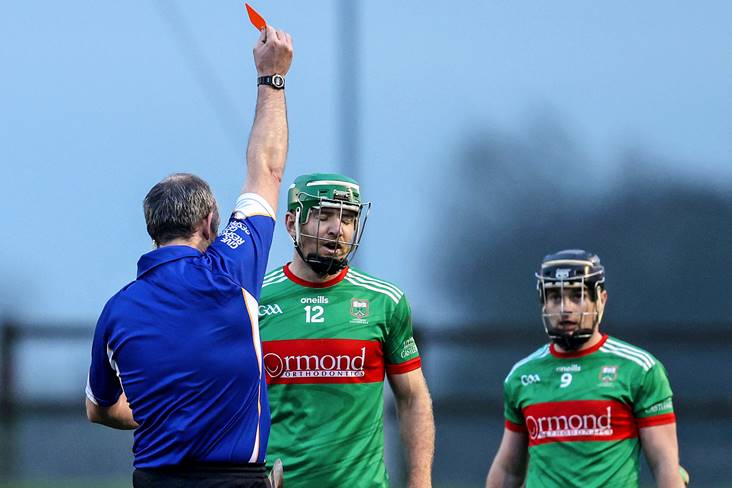 Loughmore-Castleiney's Noel McGrath is given a red card by referee Johnny Murphy. ©INPHO/Tom Maher.
Loughmore-Castleiney manager Frankie McGrath believes his nephews Noel and John McGrath would not have been sent off if yesterday's Munster club SHC semi-final against Ballygunner was played in daylight.
The brothers were sent off in hugely controversial circumstances in either half as the double Tipperary champions' remarkable season ended on a sour note at Fraher Field.
"Those two guys are absolutely gutted. They're entitled to expect better from the people in charge," the crestfallen manager told RTÉ after his side's 0-12 to 2-11 defeat.
"If anyone wants to track Noel McGrath and John McGrath's disciplinary record, both are playing a long time and to have the two of them fingered out in one of the biggest games of the year.
"I do have a bit of sympathy for the officials. If the biggest games of the season are going to be played under floodlights then the potential for errors is going to be there. For me, we've been the victim of a very incorrect decision that might not have happened in daylight.
"Is it necessary to play those games under lights? Is if for the benefit of the people at home or the players? The people who make those decisions need to do a bit of soul-searching."
Most Read Stories