Camogie: Leinster title for Meath
May 16, 2022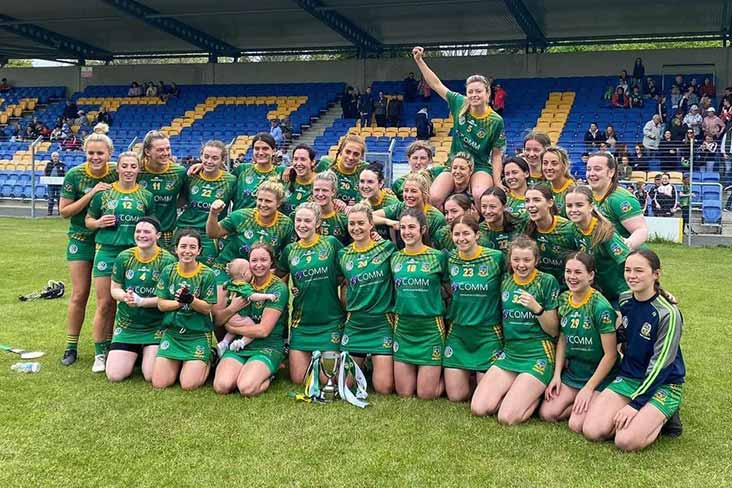 Meath are crowned Leinster Intermediate camogie championship winners at Aughrim
Meath 1-14 Kildare 2-9
Kieran Devaney at Aughrim Co.Wicklow
Meath Camogie will go into the Glen Dimplex Intermediate Championship as Leinster champions following a 1-14 to 2-9 win over Kildare in Aughrim on Sunday. Kildare will be disappointed to come up short against this Meath side after leading for much of the game, but the Royals finished strong to claim a first Leinster title since 2016.
Past encounters between the sides would suggest Meath were in for a routine day at the office but Kildare, to their credit, had other plans. Those plans were laid bare when Sara Carroll netted on 6 minutes and Meath were chasing the game.
The opening 20 minutes were frantic. Kildare netted twice, either side of a fortuitous Aoife Minogue goal to leave the sides 2-2 to 1-5, there was further goal chances, Meath had hit four wides in that period and the exchanges were heavy. Referee Liz Dempsey produced four yellows over the hour as this derby clash played up to its billing.
Meath had made a good start with Aoife Minogue pointing from play after 13 seconds. Kildare levelled matters quickly through their free taker Emer Reilly before that Sara Carroll goal on 6 minutes put Kildare into an early lead. Player of the match Amy Gaffney showed great pace and direct running when she responded moments later before a long-range effort from Aoife Minogue ended up in the Kildare net.
Sinead Hackett stretched the Meath lead to two with a free but that was soon cancelled out by Dearbhile Byrne who got on the end of a long Emer Reilly free which broke in front of the Meath goal and the St. Laurence's player was on hand to finish to the Meath net to put Kildare ahead against the run of play. It turned into a quarter to forget for the Royals as they hit six wides and failed to score until the 30th minute when Sinead Hackett pointed from play. Kildare were in the ascendency and were unlucky not to strike another major only for the excellent work of Meath full back Maeve Clince, who intercepted two chances. Reilly would hit a free and a 45 in the same period to give Kildare a slender 1-point lead at the break.
Hackett and Reilly traded scores after the resumption, but Kildare restored their 2-point advantage when Reilly, who would finish the game with nine points, split the posts with a 45. The introduction of Jane Dolan at the break brought another attacking threat to the Royals and they were level on 38 minutes with a 45 of their own from Hackett and a Dolan point.
Kildare were able to keep Meath at bay through Emer Reilly and were unlucky not to further ahead be it not for the post coming to the rescue twice in the space of a minute, but Meath were able to clear their lines on both occasions. Amy Gaffney and Emer Reilly again traded scores, but Meath started to get on top of the Lilywhites in the final 10 minutes.
An Aoife Minogue goal chance was brilliantly saved by Eimear Sterling in the Kildare goal, but the recycled ball was pointed by Aedin Slattery. Meath then took the lead on 57 minutes through wing back Tracy King. Slattery was unlucky not to score again when she crashed her shot off the crossbar moments later. Sinead Hackett pointed the resulting 45 to put Meath two ahead just as the clock struck 30 minutes. Having led for much of the game, Kildare were not going to lie down and a late Emer Reilly effort ricocheted over the bar to keep Kildare hopes alive but Meath substitute Aine McNerney pointed with 2 minutes additional time played to seal the win and Leinster title for the Royal ladies.
Meath captains Ellen Burke and Jane Dolan accepted the cup on behalf of the Royals with Burke paying respect to the Kildare challenge and the delight to claim Leinster honours. Meath will now focus on the All-Ireland Series and an away trip to Derry in the coming weeks.
Scorers: Meath - Sinead Hackett 0-6 (4F), Aoife Minogue 1-1, Amy Gaffney 0-3, Jane Dolan 0-1, Aedin Slattery 0-1, Tracy King 0-1, Aine McNerney 0-1
Kildare -Emer Reilly 0-9 (9F) Sara Carroll 1-0, Deirbhile Byrne 1-0
MEATH – M.Randle, S.Payne, M.Clince, S.Leonard, T.King, K.Troy, L.Devine, A.Keogh, E.Burke, A.Maguire, A.Minogue, A.Gaffney, O.O'Halloran, S.Hackett, A.Slattery
SUBS J.Dolan 30min, A.McNerney 59 mins
KILDARE – E.Sterling, G.Noone, M.Doyle, K.Perkins, S.Mulligan, E.Barry, N.Malcolmson, E.Morgan, E.Kielthy, A.Stynes, C.Egan, E.Reilly, D.Byrne, S.Carroll, Niamh Hegarty
SUBS – A.Morgan 55mins
Referee: Liz Dempsey (Kilkenny)
Most Read Stories