Premier Div 4: Back to back wins for Oldcastle
May 16, 2022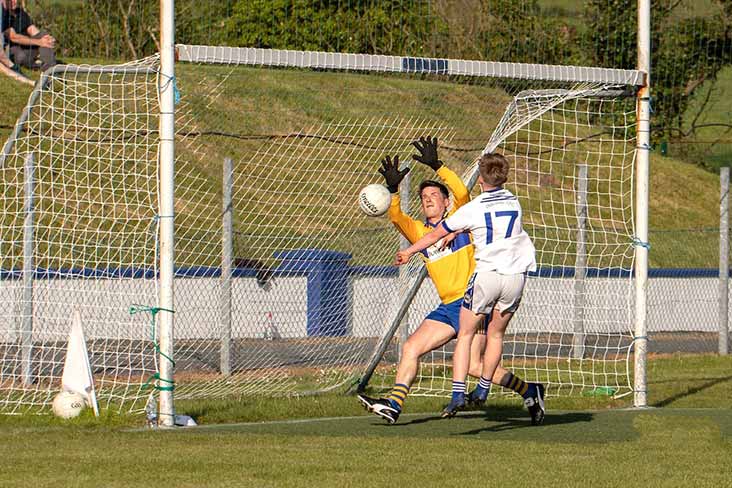 JP Purcell finishes to the back of the Seneschalstown net during the Premier Division 4 clash at Millbrook. Pic Gem Carew Photography
Oldcastle 4-16, Senchalstown 1-08
Senchalstown travelled to Millbrook to take on Oldcastle in the Premier Championship, but it was the home side who shone from start to finish.
The weather was perfect: warm and sunny, with the spectators basking in the sun as Ryan Kevin got the Oldcastle scoring underway with a fine point. Senchalstown put two on the board to take the lead for the first and only time in the match: Oldcastle came back with a Keith Connell goal, followed straight after by another from JP Purcell, giving the lads a great boost. Senchalstown were cursing their luck minutes later when an Oldcastle defensive error gifted them the ball in front of an open goal, somehow they managed to shoot it wide to Oldcastle's relief. More points from Ryan, Keith and Ross Cadden saw the half-time score at Oldcastle 2-07, Senchalstown 0-04.
A nice Kyle Kavanagh intercept got things going the right way after the break, that was fed on via Louis Colleran to the waiting Ryan Kevin who sailed her over once again. A Ryan free was the next Oldcastle score, followed by one from Kyle. Senchalstown added on a couple of points followed by a a goal, but never really got into the match. A nice ball from Keith Connell to Darren Hawdon, on to Jack Murphy, to Cillian Connell and finally in to Conor Delaney was sent flying towards the goals: the goalie got a hand to it but it still went over the bar for Oldcastle's next score. Jack and Ben Grey took the next, while a great pass from Ben to the waiting Conor Delaney made it to the back of the net this time, a super goal putting the match way out of reach. A Mossy Flood run down the middle got a ball to Paddy GIlsenan for a point, while Joe Lynch did all the running to get the next on into Ross Cadden who turned and kicked her over for a great point. A nice sideline ball from JP to Paddy Gilsenan provided another point, and aptly, after a great performance, the last score of the game was yet another lovely goal from Keith Connell, to bookend a great win for the lads on a score of Oldcastle 4-16, Senchalstown 1-08.
Oldcastle: Karl Gibney, Mattie Cadden, Louis Colleran, Joe Lynch, Conor Hetherton, Brian Hetherton, Mossy Flood, Ross Cadden (0-02), Keith Connell (2-03), Ryan Kevin (0-05), Kyle Kavanagh (0-01), Lloyd Colleran, Josh Halpin, Conor Delaney (1-01), JP Purcell (1-00). Subs: Ben Grey (0-01), Jack Murphy (0-01), Cillian Connell, Darren Hawdon, Paddy Gilsenan (0-02).
Most Read Stories