Premier Div 7: "Hoops' back to winning ways
May 16, 2022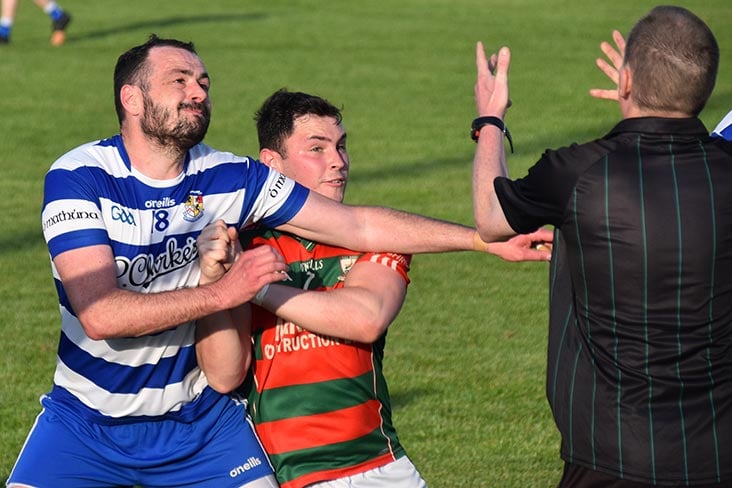 Ciaran McGuinness battles for the throw in against Kilbride at Paddy O'Brien Park
Navan O'Mahony's 4-07 Kilbride 0-14
Navan O'Mahony's got back to winning ways on Saturday in Round 4 of the Premier FC Div 7 Championship with a win over Kilbride in a sunny Paddy O'Brien Park. With some missed opportunities, the home side could have been in a much more secure position in the closing stages but had done enough to claim the points.
Robbie Keelaghan opened up the scoring for Ian Matthews and Gordon McCarthy's charges after four minutes, following a narrowly missed goal opportunity for Christy Dillon. Kilbride responded with a point from play, rising the ball from the twenty-yard line on the ground.
In the eleventh and fourteenth minutes, Keelaghan and Dillon added to the scoreboard. Kilbride responded with a point before Dillon rattled the net to extend the hosts lead to four points. Substitute Simon Dixon added to this before a slight rebound for the visitors saw them claiming two points in a sixty second period.
This spell was broken with a well-placed goal by Keelaghan with five minutes to go in the first half, leaving six points between the sides. Less than a minute later, corner forward Darren Clarke replicated Keelaghans feat, raising a green flag of his own and putting his side nine points to the good at the interval.
Half Time Navan O'Mahony's 3-04 Kilbride 0-04
Learning from Meath v Wicklow two weeks ago, Dillon found himself with the ball in the right place seconds after the throw in and made no mistake in scoring his second goal of the game. Navan O'Mahony's would prove to need this lead that they had built up in the first half, as Kilbride enjoyed a purple patch for much of the next twenty minutes.
Five points from the visitors in this period saw the deficit narrowed before Conor McEvoy settled things for the Brews Hill outfit with a well taken point from play. This left eight points between the sides. For the remainder of the game, the sides swapped points, including an impressive point from substitute Christopher Matthews.
Strong performances also were produced in the backs by Darren Reily, veteran Shane Crosby and Craig Nolan, making vital clearances at crucial times in the game, helped also by a clean sheet from goalkeeper Bríen Yourell. By the final whistle, Navan O'Mahony's had five points to spare and claimed the points on offer in this round 4 game.
Navan O'Mahony's: Bríen Yourell, Craig Nolan, Darren Reilly, Red McGuinness, Thomas Cully, Shane Crosby, Evan Culligan, Ian Matthews, Andy Leech, Conor McEvoy (0-02), Ruairí Devlin, Ciaran McGuinness, Christy Dillon (2-01), Robbie Keelaghan (1-02), Darren Clarke (1-0)
Simon Dixon (0-01) for Devlin, Sean Fanning for Clarke, Christopher Matthews (0-01) for Keelaghan, Tommy Donegan for Culligan
Most Read Stories