Ladies Div 2 FL: O'Mahonys rue missed opportunities
March 23, 2022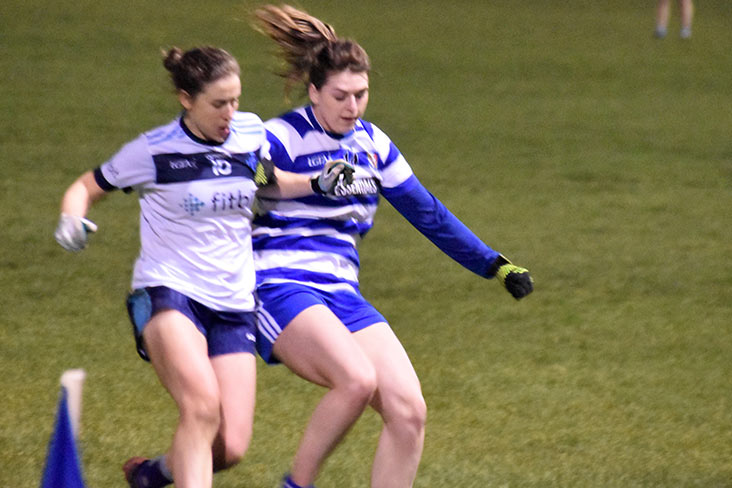 O'Mahony's Megan Collins fights for possession during the Ladies Division 2 FL clash with St. Colmcilles at Paddy O'Brien Park
Navan O'Mahony's 1-10 St. Colmcilles 2-08
On a perfect evening for football, Navan O'Mahony's were left rueing missed opportunities in their first encounter of the league. A repeat of the IFC final from 2021, the East Meath side claimed the spoils this time around.
The home side opened up the scoring when Órlaith Mallon kicked a free after two minutes. St. Colmcilles responded with a free of their own before Olivia Callan put Navan O'Mahony's in the lead once more. Another point from Mallon extended the lead before it was snatched away by a well-taken goal from the visitors.
Captain Megan Collins quickly responded with a point before St. Colmcilles enjoyed a period of dominance for the rest of the half. In a ten minute period they added a goal and three points to their tally, all the while keeping O'Mahony's scoreless. A point in the closing minutes from the Brews Hill side left five points between the sides at the break (2-04 to 0-05)
Navan O'Mahony's were quick out of the traps in the second half. After three minutes, the sides were level with a goal and two points, Mallon being the goalscorer. St. Colmcilles steadied themselves once more and went three points ahead. The home side kept battling to the end and two points from Mallon in the closing minutes was just not quite enough to bridge the gap.
Missed opportunities, denied by the post, goalie, defenders and bad luck could have made the difference for Phil Fay's charges but St. Colmcilles claim the two points on the night. An enjoyable spectacle between two evenly matched sides who could meet again later in the competition
Navan O'Mahony's: Ciara Blake, Deirdre Forde, Aoibhín McKenny, Sophia Fitzherbert, Róisín Tobin, Kate Falahee, Sarah Maguire, Tara Fay, Eimear Fay, Caoimhe Cullen, Órlaith Mallon (1-03), Rebecca Reilly, Olivia Callan (0-05), Megan Collins (0-02), Chloe Duffy
Sub: Tara Gleeson for Duffy
Most Read Stories