MF Cup Group B: Oldcastle off to a flyer
March 22, 2022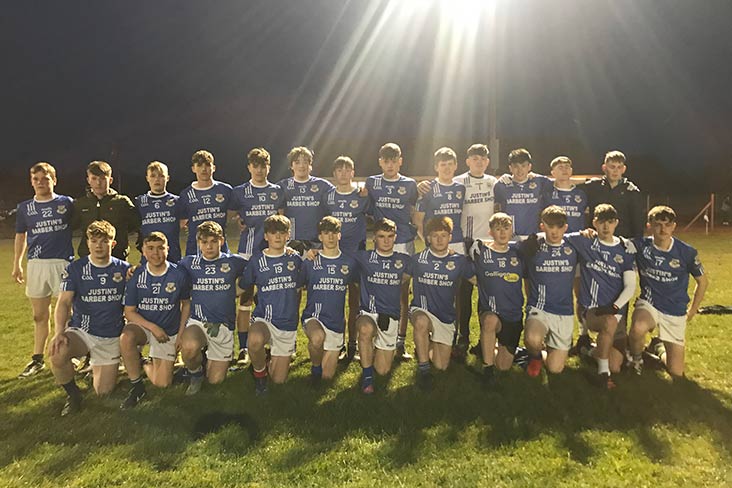 The Oldcastle squad that defeated Donaghmore Ashbourne in Millbrook
Oldcastle 2-17, Donaghmore Ashbourne 4-09
The delayed first round match between Oldcastle and Donaghmore/Ashbourne in the LM/FM league took place this evening in perfect conditions at Millbrook.
Oldcastle opened the better, Tom Lynch getting the ball to Ciaran Russell, on to Rian Mulvanny, to Cian Blake, he found Paul Hennessy who passed to Rory Crawley on a good run, who blasted it between the posts for the opening score. Don/Ash levelled but Oldcastle took the next thanks to good work from Ciaran Connell getting a nice ball to Cian Blake, Paul Hennessy adding on another. Don/Ash were then awarded a soft penalty, which they scored. Oldcastle levelled again thanks to Rian Mulvanny and Nathan Gibney, a Don/Ash free then giving them the lead again. Rory Crawley was fouled, Paul converted. Now Oldcastle pushed on: points from Cian, Nathan and Eoin Smith giving the home side the lead at half time: Oldcastle 0-11, Donaghmore Ashbourne 1-04.
The second half started as the first did, with Rory Crawley making a great run up the middle of the field and firing her between the posts for the opening point. A lovely Bobby Masterson intercept soon after saw the ball move on via Alan Gilsenan to the flying Ciaran Russell who made a great run forward and hit the ball to the back of the goal. A good save from Paul Cronin our end kept the scoreboard looking good. A super block by James Gibney saw him get the ball on to Fionn McCabe, to Darragh Tuite and in to Cian Blake for another super goal, to put Oldcastle eleven ahead. Don/Ash finally upped the ante: adding two goals within a minute to reduce the deficit. Nathan Gibney was being fouled non-stop but took the next, with Cian Blake converting further frees to bring Oldcastle up to 2-17 to Don/Ash on 3-05. In the last seven minutes of the match the opposition added on a further goal and four points to nearly close the gap but not quite: the final score Oldcastle 2-17, Don/Ash 4-09, a two point win in the end.
Oldcastle: Paul Cronin, Ciaran Connell, James Gibney, Alan Gilsenan, Ciaran Russell (1-00), Bobby Masterson, Fionn McCabe, Rory Crawley (0-02), Tom Lynch, Darragh Tuite, Cian Blake (1-07), Paul Hennessy (0-02), Rian Mulvanny (0-01), Eoin Smith (0-02), Nathan Gibney (0-03). Subs: Pat Crawley, Thomas Sheridan, Jamie Pakenham, Rory Collins.
Most Read Stories