St Ultans GFC catch up on three years of awards
March 21, 2022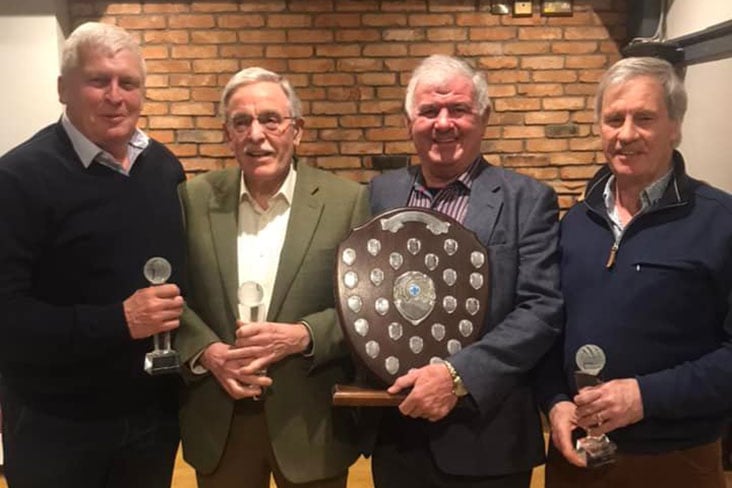 Hall of Fame Entrants Peter Marley, Peadar Burke and Vincent Rennicks presented by Liam Brady
St Ultans GFC celebrated their annual awards from 2019, 2020 and 2021 on Wednesday 16th in the Silver Tankard. The delay was caused by Covid-19.
The night commenced with the announcement of the club's inaugural winner for the Malachy O'Halloran Memorial Award, kindly donated by the O'Halloran family in memory of our dear friend Malachy. The Award celebrates those who have made special contributes towards football in the parish.
The first recipient of the award went to local ladies' football legend Geraldine Doherty for her services over the years to both Club and County. The 2020 winner was then announced as Joe Leahy. A worthy recipient for his years of support to both the Men's and Ladies Clubs and the wider community.
Finally, the night was concluded with the 2021 award making its way to Cathal O'Bric. The successful Meath Minor Manager of 2021 and principal of our local school in Boyerstown has spent many hours on the playing fields of Dunganny and pitches around the County developing and nurturing our Youth. It was a fitting reward to Cathal for all his endeavours.
There was also a special presentation made to clubman John Kavanagh to acknowledge and congratulation him on becoming County Board Chairman in 2019.
Player of the Year
2019 – Darren Mallon
2020 – Martin Dolan
2021 – Darren Mallon
Second team player of the year
2019 – Eoin McLoughlin
2020 – Johhny Foster
2021 – Shane Dolan
Young player of the year
2019 – Keith Hennessey
2020 – Adam Rogers
2021 – Darragh Reilly
Clubman of the year
2019 – Shane Mulroe
2020 – Sean Boylan
2021 – Johnny Mulroe
Hall of Fame
2019 – Peadar Burke
2020 – Vincent Rennicks
2021 – Peter Marley
Malachy O'Halloran Memorial Award
2019 – Ger Doherty
2020 – Joe Leahy
2021 – Cathal O'Bric
Most Read Stories