FL Div 3A: Castletown remain unbeaten
March 21, 2022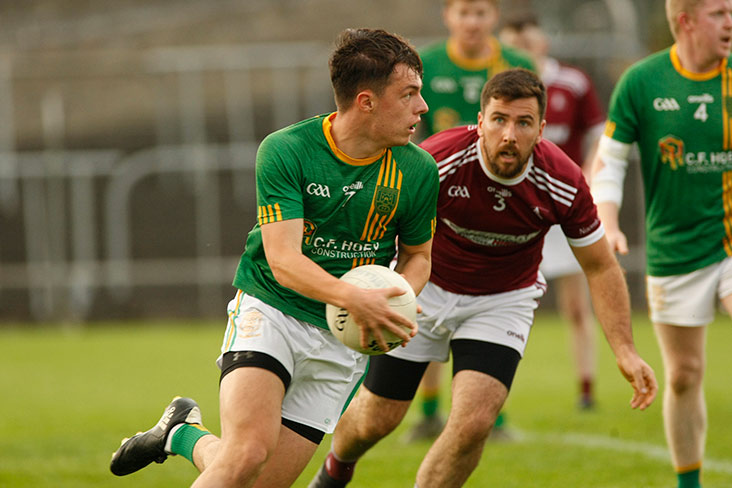 Castletown's Killian Price
Castletown 1-12 Gaeil Colmcille 0-11
Castletown made the trip to a windy Grangegodden on St.Patrick's morning to make it two wins from two so far in the league.
It was Castletown that opened the scoring with the first two points of the opening half with a free from Kevin Ross and a point from play from Declan Cribbin within the first 5 minutes. The Kells side opened their scoring with a point in the 8th minute which was answered almost immediately with an excellent goal from wing back Killian Price. With only 10 minutes gone in the first half the score sat at 1-2 to 0-01.
Gaeil Colmcille added two more scores to their tally - one from a free on 15 minutes and a point from play on 19 minutes. Castletown finished the 1st half strong with the next 4 unanswered points all from play from Killian Price, Declan Cribbin, Adam Matthews and Mark Kelly. Half time score 1-06 to 3 to the visitors.
Rian McConnell opened the scoring of the second half with a brilliant point from play to increase the gap to 7 points. Gaeil Colmcille registered their first point of the second half less than 60 seconds later. With further scores from play from Declan Cribbin and Mark Kelly in the 9th and 10th minute, Castletown seemed well in control.
Gaeil Colmcille however did not give up and with 25 mins gone on the clock they had registered a further 3 points - 2 from frees and 1 from play. A free from Kevin Ross and a point from play from Killian Price ensured Castletown kept their lead. It was the home side that finished the 2nd half strong with a further 4 unanswered points leaving just a goal between the sides . It however was too late for a comeback with a further insurance point late into injury time from Declan Cribbin to ensure Castletown left with the 2 points up for grabs.
Castletown: Johnny Ginnitty, Conor Price , Evan Hoey, Cormac Farrelly, Killian Price (1-2), Shane Hoey, Killian Markey, Rian McConnell (0-01), Robbie Hoey, Adam Matthews (0-01), Gerry Farrelly, Seamus Doherty, Mark Kelly (0-02), Kevin Ross (0-02), Declan Cribbin (0-04)
Castletown Subs: Jason Ross for Robbie Hoey (32 mins)
Most Read Stories