FL Div 3A: Skryne overcome strong Trim challenge
March 21, 2022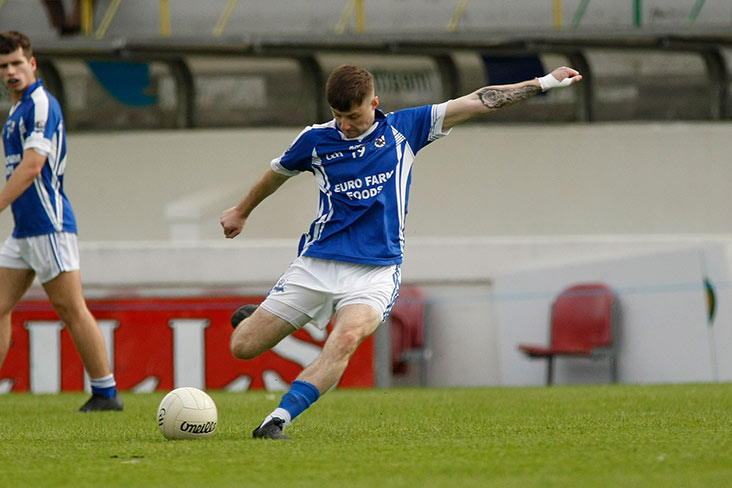 Skryne's Jason Reddy
Skryne 2-12 Trim 1-11
After a disappointing opening round defeat against Castletown, Skryne produced a much better performance to overcome a stubborn Trim team who made Skryne work hard for their victory.
Trim had the benefit of a strong breeze blowing straight down the field from the scoreboard end in the first half and they were first to get off the mark when their corner back Eoin Sweeney made a good run up the pitch before passing to Sean Foley who pointed from the right hand side. Trim added a second from Paul Munnelly before Tommy Carpenter made a foray forward and sent a low pass to Jason Reddy who swung the ball over for Skryne's opening score. Neil Burke bagged Skryne's second point from a free after Oisín Keogh was fouled in front of goal. Trim's Patrick Quigley was unlucky not to goal for Trim when he broke free on the right hand side of the Skryne penalty area. He raced across the small parallelogram and hit a low shot which was just deflected out for a 45. He took the 45 himself and fired over Trim's third point. Tom Carmody added a fourth for Trim followed swiftly by another for Neil Heffernan to leave three between the sides with 12 minutes on the clock. Heffernan almost hit a goal on the sixteenth minute when he fired a shot from the ground that rebounded off the foot of the post. The rebound was gathered by Sean Foley who shot wide. Skryne put in a superb performance in the second quarter. Craig Nolan set about reducing the deficit with a lovely point from his trusty left foot. Skryne added another after some great work from the Skryne forwards who won the ball back on the 45 yard line. Jason Reddy capitalised and slotted over Skryne's fourth point. Mark Swan put Oisín Keogh in for the equalising point. Tom Carmody hit a point for Trim, but Skryne continued to dominate the quarter with Jason Reddy hitting his third of a personal tally of five points(all from play) in the game. Neil Burke got Skryne's first goal when he broke free of his marker on the right hand side. He soloed towards the goal before unleashing a powerful shot to the roof of the net. Trim pointed twice before half time to leave just the minimum between the sides. Half-time score: Skryne 1-06, Trim 0-08.
Skryne extended their lead with a trio of points, all from play, inside the first five minutes of the second half, with Oisín Keogh, Jason Reddy and Craig Nolan all hitting the target. Just as Skryne began to open a gap, Trim hit a goal when Tom Carmody found space on the right hand side of the Skryne penalty area. His shot on goal was kept out by Skryne keeper Cian Donohoe. However, Seán Foley was in the right place at the right time. He picked up the loose ball and had an easy tap in to bring Trim back within a point of their hosts. Jason Reddy replied immediately with a point from play on the 7th minute. The game hit a barren spell for 10 minutes with both sides guilty of missing some gilt edge chances. Skryne substitute Jack O'Donnell made an immediate impact upon his introduction when he floated over a beautiful point. However, a minute later, he received a harsh black card which saw Skryne reduced to 14 men for the next 10 minutes. Skryne had to soak up a lot of Trim pressure during this period but the defensive unit which included the impressive Jack Swan and Kristoffer Kinsella proved a hard nut to crack, keeping the Trim men at bay for the entire 10 minutes. In fact it was Skryne who hit a score during this period when Frank Carty stole in from the left hand side and blasted a shot past Trim keeper Peter Brennan on the 23rd minute to put Skryne six points ahead. Trim fought bravely to reduce the deficit hitting three points in a row, but Skryne held on with Neil Burke putting the icing on the cake with an injury time point for Skryne. Full time: Skryne 2-12, Trim 1-11.
Skryne – Cian Donohoe; Jack Swan, Scott Armstrong, Kristoffer Kinsella; Tommy Carpenter, Andrew Moore, Jarlath Jordan; Niall Morland, Oisín Keogh (0-2); Craig Nolan (0-2), Neil Burke (1-2, 1f), Mark Swan; Kian Reddy, Seán Cassidy, Jason Reddy (0-5).
Subs used – Jack O'Donnell(0-1), Frank Carty(1-0), Timmy Lennon, Jack Dardis.
Most Read Stories