MFC Div 3: Daire Shines as Ballinlough get back on track
September 25, 2021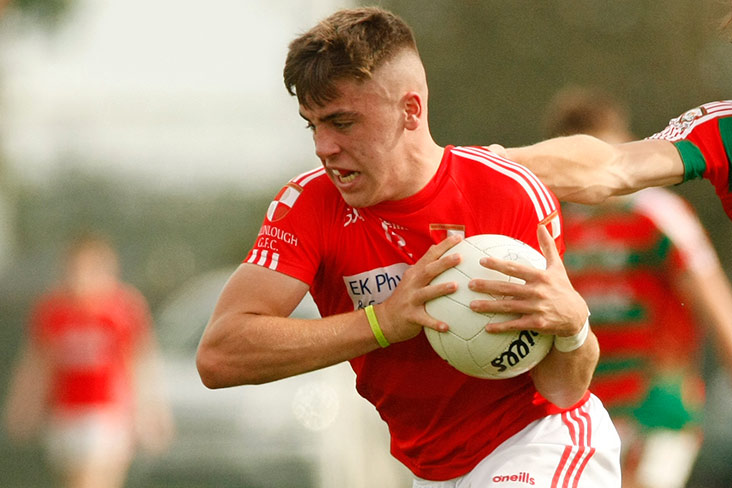 Ballinlough's Daire Shine
Ballinlough 5-14 Summerhill 4-06
Ballinlough made the trip to Summerhill on a glorious September afternoon, and probably still hurting from the manner of their League Final defeat four days ago, you could almost taste the desire from these young men to right that wrong with each man raring to go long before the ball was thrown in.
Despite the visitors winning the opening throw-in, it was the home side who got off the mark first with a point from play in the opening minute and followed it up swiftly with another seconds later. But Ballinlough finally got motoring in the fourth minute when Daire Shine powered through and blasted the ball to the back of the net, before adding a point from play to give Ballinlough the lead. A Summerhill goal in the eight minute dampened Ballinlough momentum before Kit Óg Lynch pointed from play and Daire Shine sent over a marvelous free, just curling the ball perfectly enough to keep it between the posts.
Disaster struck once again when Ballinlough wasted a chance at one end and then allowed Summerhill to tear down the field and send a high ball in, and when their forward came face to face with Matthew Farrelly in the Ballinlough net, it was the attacker who kept his composure and slipped the ball to the back of the net. With that score Referee Owen Ganly called for water, the hosts holding a slender lead on a scoreline of Summerhill 2-02 to Ballinlough's 1-04.
Upon the restart Ballinlough pointed first through Oisin McDermott, following some excellent build up play from James McDonnell, and Daire Shine was accurate twice in as many minutes to give Ballinlough a two point lead. But Summerhill were creating chances of their own, and were unlucky to see a point effort come back off the post, and the post came to Ballinlough's rescue once again in the 27th minute when a goal effort was rebounded and then tipped over the bar from close range. The sustained Summerhill pressure finally proved fruitful for them when just on the stroke of half time they battled their way through the Ballinlough defence to score their third goal of the day, that score swinging the advantage back in their direction at the whistle on a scoreline of Summerhill 3-03 to Ballinlough's 1-06.
The half-time team talk in the Ballinlough camp was an animated affair and while Manager Ronan McGuinness was happy with the lads first half effort for the most part, he felt some changes were needed, drafting in Darren O'Higgins and Ronan Cunning into the line-up, and boy did these lads deliver.
From the throw-in possession was secured and worked forward to O'Higgins, and with his first attempt he struck for a superb goal to instantly wipe out the deficit and level the game. The Ballinlough lads were up for the fight and that goal was followed by a monster score from Tom Shine. His brother Daire sent over a free in the 33rd minute and so in the space of three minutes Ballinlough had turned a three point deficit into a two point lead.
But again Summerhill just wouldn't go away and they scored a fourth goal in the 35th minute and followed that up with a point from play to leave things all square after 41 minutes and Ballinlough had to dig into the reserves once again.
One man who didn't need to dig too deep because he was on absolute fire was Daire Shine, and I've no doubt he was still aching from Tuesday's defeat, but he went about his business like a man possessed, and was the driving force behind everything that was good about the Ballinlough performance today. Substitute Ronan Cunning collected an excellent mark, excellent for two reasons, one because Ronan is working his way slowly back from a long term injury, and secondly because anyone who knows Ronan, knows he's not exactly the tallest of fellas! But none of that mattered when Matthew Farrelly picked him out with a super kick-out, and Cunning was to link up expertly with Daire Shine as he drove forward and buried the ball in the back of the net for a second time this afternoon.
That score really lifted the Ballinlough lads and Brandon Brunton pointed a great score in the 44th minute to see Ballinlough hold a two point lead at the second water break on a scoreline of Ballinlough 3-09 to Summerhills 4-04.
When play resumed Daire Shine was accurate from play once again in the 48th minute, and while Summerhill had a half goal chance moments later Matthew Farrelly was alive to the danger and cleared his lines professionally. This final quarter was when the Ballinlough lads really made their mark on the game and began to turn the screw, Leo Brunton pointing in the 53rd minute, before Darren O'Higgins found the back of the net once again in the 53rd minute, the Ballinlough forwards capitalizing on a poor short kick-out.
Further points from Oisin McDermott and Centre-back/Centre-forward Tom Shine in the 56th minute ensured Ballinlough led by nine points entering the closing stages.
Summerhill were struggling badly to get the ball in scoring positions, denied in no small part by a staunch and resolute Ballinlough defensive unit, but they did manage a point from play in the 58th minute. Brandon Brunton added his second point in the 61st minute before that man again Daire Shine fittingly struck Ballinlough's last score of the day, completing his hat-trick and a fine evenings work, with a well taken goal in the 62nd minute.
Summerhill had one last goal chance of their own but again they were denied by a fingertip save from Matthew Farrelly, and while they converted the resulting 45' it was too little too late as Ballinlough romped home winners on a scoreline of Ballinlough 5-14 to Summerhills 4-06.
I don't need to tell ye how much this win was needed to restore pride and confidence, not only for the players, but also the Management team and indeed this reporter! We knew last Tuesday was only a blip in the road and we were so impressed that the lads dug deep within themselves to make the changes necessary to ensure victory today. It's very easy to lie down and feel sorry for yourself after defeat, but to come out fighting and redeem yourself takes real courage, and every one of the Ballinlough men today can be proud of their efforts and indeed themselves for what was a polished, professional and near perfect performance.
Ballinlough: M.Farrelly, S.Ryan, F.McDonnell, D.Brady, J.McDonnell, T.Shine (0-02), S.Rooney, O.McDermott (0-02), E.Briody, M.Wiseman, D.Shine (3-06(2f), K.Óg Lynch (0-01), C.Ryan, L.Brunton (0-01), B.Brunton (0-02). Subs: D.O'Higgins (2-00) for C.Ryan H/T, R.Cunning for M.Wiseman H/T
Referee: Owen Ganly
Most Read Stories