SFC: Strong start sets Skryne for win
April 07, 2018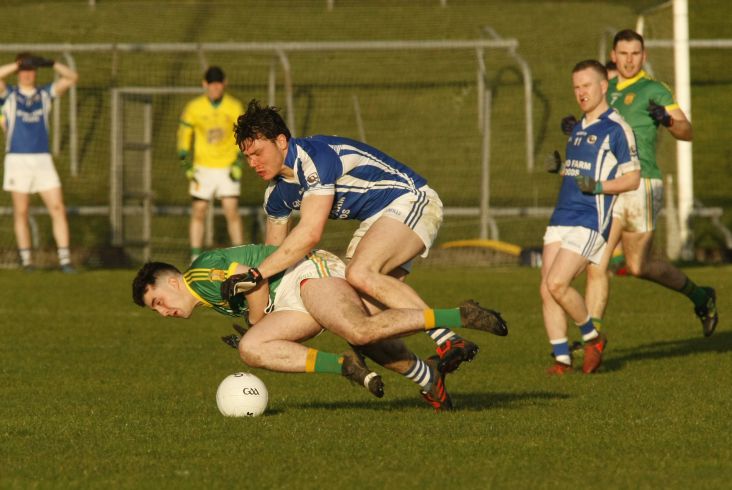 Skryne's Harry Rooney with Andrew Battersby Curraha during the opening round of the Meath SFC at Pairc Tailteann.
Skryne were too good for neighbours Curraha in this SFC Group B opener at Pairc Tailteann on Saturday evening.

Skryne .......1-14
Curraha .......0-10

Skryne set down a marker in the opening 16 minutes when registering 1-4. It sustained them against a spirited Curraha second-half showing.

Paddy O'Rourke was the main man in the second-half scoring six points. His free-taking from the left-hand-side was noteworthy. More work on placed balls from the opposite flank might be required.

The one-time county 'keeper did come in for a bit of flak from the Curraha supporters when lining up to placed balls in the final third of the hour.

It didn't unduly bother him. When one kick went astray he followed the ball in a bid to regain possession.


Another notable moment came with a 45 in the 50th minute when the number 14 he exchanged double passes with David McGoldrick before fisting over at the town end.

That left it 1-12 to 0-8. O'Rourke added two more pointed frees to bring his tally to seven points. They were interspersed with Curraha scores from Conor Moriarity (free) and Andrew Batterstby before the finish.

Skryne brought their strong league form to the table and had too much for a spirited Curraha side with wing-back Eoin Smyth particularly impressive in the first-half.

Curraha 'keeper Liam Hogan did well to keep out Bryan Davis' fourth minute flick. Six minutes into the second-half. Ian Gillett did well to turn David Coyle's 36th effort over his own bar at the expense of a point.


That score left it 1-8 to 0-7. That was as close as last year's IFC winners got to their illustrious neighbours who showing signs of improving on last year's poor form.

O'Rourke's marksmanship was central as Skryne outscored Curraha by 0-6 to 0-3 in the final third. David Coyle almost got in for a goal for Curraha but his low effort at the hospital end was off target.

Skryne set down a marker from the off with a trio of points into the old swimming pool goal inside two minutes. Conor Moriarity's third minute free got Curraha off the mark.

The team in royal blue jerseys continued to dominate despite conceding a second pointed free to Moriarity early in the second quarter.

The first-half wide count is indicative of Skryne's dominance. It stood nine-three at the break against the club with the longest senior standing in the county.

The only goal arriived in the 16th minute when Curraha 'keeper Liam Hogan failed to deal with a delivery. Paddy O'Rourke's initial effort was parried by the defence before Bryan Davis forced the ball over the line.


That left it 1-4 to 0-2. The remainder of the half yielded just four more points. We almost witnessed a second goal in the 20th minute when an Eoin Smyth punt was clawed away for a 45 by Hogan. Paddy O'Rourke's subsequent 45 resulted in one of Skryne's nine first-half wides.

The latter stages of the half were accompanied by a sunshower, but the rain dampened proceedings

Next up for Skryne is a joust with Summerhill. Curraha take on O'Mahonys

Skryne - Ian Gillett; Robbie Clarke, Eoghan Greene, Declan Morley; Stephen O'Brien, Donal Ryan, Eoin Smyth (0-2); David McGoldrick (0-1), Harry Rooney; Conor O'Brien (0-1), Mark Battersby (0-1), Darragh Campion (0-1); Patrick Fox, Paddy O'Rourke (0-7, 5fs), Bryan Davis (1-1). Subs - Colm Craigie for Rooney (bs 14-16), Craigie for Clarke (bc 36).

Curraha - Liam Hogan; Padraic O'Hanrahan, Niall Murphy, Seamus Hogan; Sean O'Hanrahan, David Coyle (0-2), Neil Shortall (C); Brian Joyce, David Toner (0-1); Phelim Dowling, Mark Jackson, Gavin Coyle, Conor Moriarty (0-5 fs), Brian Murphy, James McEntee (0-1). Subs - Andrew Battersby (0-1) for O'Hanrahan (ht),

Referee - Donal Smyth (O'Mahonys).
Most Read Stories