NFL Div 2: First-half goal-blitz propels Meath to second win
February 05, 2023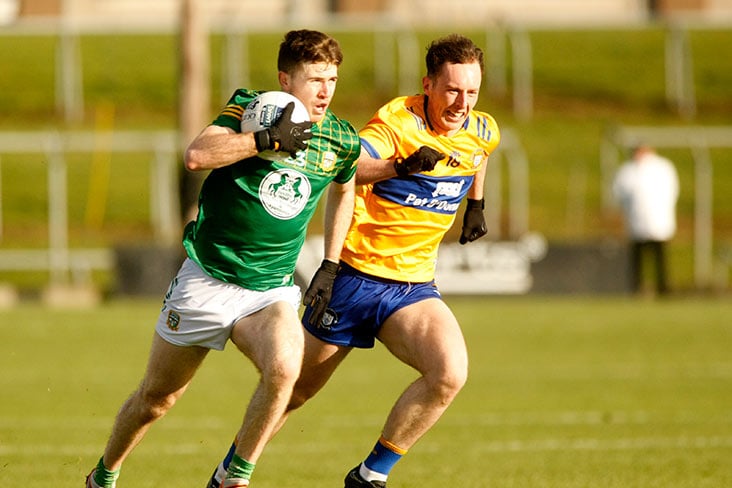 Meath's Jack O'Connor with Ciaran Downes Clare during the NFL Division 2 clash at Pairc Tailteann
Three goals in seven first-half minutes set Meath up for victory over Clare at Navan on Sunday
Meath ……… 4-8
Clare ……….. 0-16
The blitz left Colm O'Rourke's men nine points clear midway through the first-half. Clare rallied strongly but the home side had enough in the tank to fashion their second win of their league campaign.
Meath have registered seven goals in two NFL Division 2 outing without conceding any.
Donal Lenihan - a late inclusion at full-forward for Diarmaid Moriarity - bagged a brace, while Jordan Morris and Jason Scully also found the net.
Clare got to within four points of Meath on two occasions in the third quarter.
Scully netted on the hour mark with assistance from the impressive Ronan Jones to leave Meath eight points clear, 4-7 to 0-11.
Colm Collins' charges refused to yield and trimmed the deficit to four points again, in stoppage time. A Clare goal at that stage would have made for an uncomfortable finish for Meath.
Emmet McMahon and Gavin Cooney posted nine points between them for Clare. By the end they had eight different scorers. Just as in their opening round win over Louth the Banner failed to raise a green flag.
Clare scored four unanswered points in the five minutes of stoppage time. Crucially they couldn't manage a goal.
Their tactic of pushing up on Harry Hogan's kick-outs made matters difficult for the Longwood man, who has yet to concede a goal in this campaign.
Clare were reduced to 14-men for ten minutes following the black carding of their captain Cathal O'Connor midway through the second half.
The midfielder didn't return and was replaced near the end by Dan Keating.
That first-half flurry of goals earned Meath a lead they took to the finish. Clare outscored Meath by 0-5 to 0-1 in the second quarter leaving the home side 3-3 to 0-7 to the good at the interval.
Five points to the good going into the second half, with the breeze behind them, Meath might have been expected to push on.
However, Clare hung in their creditably and their was a doubt about the outcome even after Scully goaled.
It speaks volumes about the Meath defence that they denied Clare the goal required to repeat their All-Ireland SFC qualifier win last June.
Jordan Morris 64th minute point left the Royals eight points clear. It proved to be their last score. However, Meath had enough in the bank to secure their second win of the campaign and maintain their unbeaten record under Colm O'Rourke.
Scorers: Meath - Donal Lenihan 2-1 (0-1f); Jordan Morris 1-2 (1f, 1 mark); Jason Scully 1-1; Jack O'Connor 0-1; Donal Lenihan 0-1 (f); Darragh Campion 0-1; Daithi McGowan 0-1.
Clare - Emmet McMahon 0-5 (3fs); Gavin Cooney 0-4 (3fs); Mark McInerney 0-2 (fs); Pearse Lillis 0-1; Jamie Malone 0-1; Dermot Coughlan 0-1; Padraic Collins 0-1; Aaron Griffin 0-1.
Meath - Harry Hogan; Adam O'Neill, Michael Flood, Cathal Hickey; Harry O'Higgins, Donal Keogan (c), Jack O'Connor; Ronan Jones, Daithi McGowan; Cillian O'Sullivan, Jason Scully, Darragh Campion; Jordan Morris, Donal Lenihan, Shane Walsh. Subs - Diarmuid Moriarity for Walsh (13), Shane Crosby for O'Sullivan (bs 37-42), Brian Conlon for McGowan (49), Crosby for Campion (53), Robin Clarke for Hickey (58), Shane McEntee for Scully (58).

Clare - David Sexton; Manus Doherty, Cillian Brennan, Ronan Lanigan; Cian O'Dea, Pearse Lillis, Alan Sweeney; Cathal O'Connor (c), Darragh Bohannon; Jamie Malone, Ciaran Downes, Dermot Coughlan; Padraic Collins, Emmet McMahon, Gavin Cooney. Subs - Aaron Griffin for Downes (ht), Darren Nagle for Lanigan (bs 37-46), Ikem Ugweru for Coughlan (49), Daniel Walsh for Sweeney (54), Mark McInerney for Cooney (62), Dan Keating for O'Connor (68).

Referee - Niall Cullen (Fermanagh)
Most Read Stories