SFC Relegation play off semi final: 'Bracks' retain senior status
October 26, 2021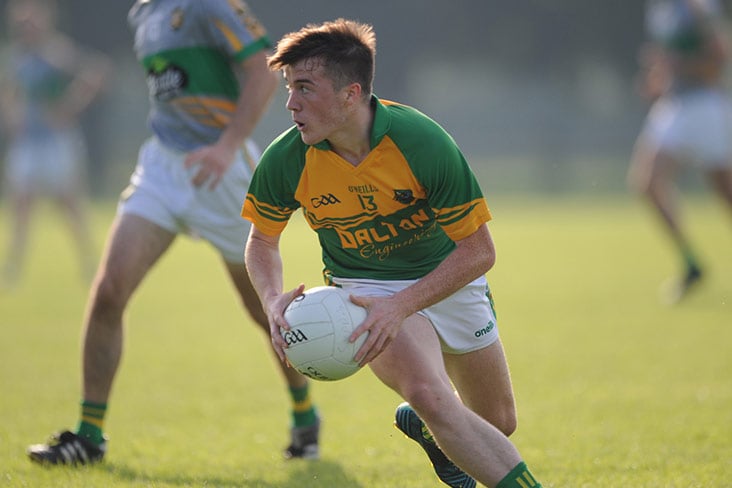 Ballinabrackey's Barry Thompson
Ballinabrackey 1-13 Dunshauglin1-7

Ballinabrackey travelled to our near neighbours Trim for the second round of relegation play offs against Dunshaughlin GAA on Sunday afternoon. It was clear from the get go that Ballinabrackey were adamant to make this our final day out of the year and seal our security in Senior ranks for 2022 and that is exactly what they did.

The game started with a quick point from free from Dunshaughlin, Ballinabrackey struggled with a strong wind and although holding onto a lot of possession struggled to get their mark on the scoreboard. A point from play from Dunshaughlin followed by another free left them three ahead without any response from Ballinabrackey, despite good efforts. Stephen Donoghue got a brilliant point from play to give the Bracks' their stride, but Dunshaughlin responded quickly with another point from free. It was here the Bracks powered forward with Danny Quinn and Stephen Donoghue picking up scores when needed. A red card for Dunshaughlin's Rory Kinsella left things looking promising for the Bracks at half time, with 14 men opposition, the wind behind them now and a draw game, it was all to play for in the second half. 4 points a pieces

Points from Quinner and Damo pushed the lads on, but Dunshaughlin kept chipping away to add further pressure for the Bracks and credit to Dunshaughlin who were down a player, they never gave up and kept at it throughout the game. The second half water break left it 0:07-0:05, but it was this final quarter when Ballinabrackey really pushed on. Points from substitute Barry Thompson and the experienced duo of Quinn and Damo opened up a nice lead for Ballinabrackey before David Carroll rattled the back of the net to give the Bracks a 7 point lead. Two more brilliant points from Barry Thompson brought the lead up to 9, but Dunshaughlin weren't finished yet. A goal from their side saw them pull back into the game and they threatened for goal a few times in the dying minutes, but the Bracks defending was outstanding, particularly Nicky Judge giving everything he had to ensure the Bracks crossed the line. Erick Clancy was another honourable performance. A fantastic team effort by all the lads though, before one final point from David Carroll and a final score from Dunshaughlin left it as Ballinabrackey 1:13, Dunshaughlin 1:07. A huge achievement for the Bracks on their first year up in Senior, unlucky to be in relegation with 1 win, 1 draw and a loss, but they have done us all proud this season, ensuring the job was done this weekend and our senior status remains for 2022.

Ballinabrackey: Dean Pluck, Adam O'Brien, Nicky Judge, Michael Kearney, Stephen Donoghue (0:02p), Derek Flynn, Richie Coffey, Chris O'Connor, Erick Clancy, Danny Quinn (0:06 (0:01f)), Sean Coffey, David Carroll (1:01), Seamus Curry, Damien Carroll (0:02, (0:01p,0:01f), Gavin Quinn.
Subs. Barry Thompson (0:02p) for Gavin Quinn, Mark Coffey for Seamus Curry.
Most Read Stories