Leinster MFC: Royals power into next round
October 17, 2020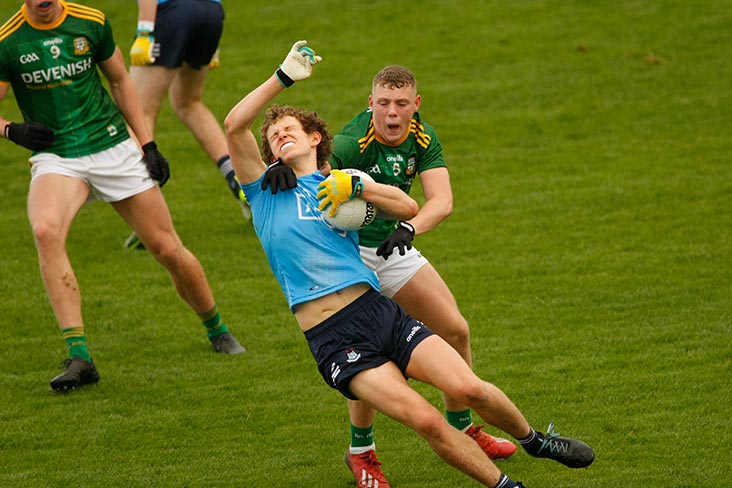 Meath's Sean O'Donohghue with Tom Brennan Dublin during the Leinster MFC game at Pairc Tailteann
Meath registered 1-8 without reply from the 38th minute to outscore Dublin in this Leinster MFC round one clash at Pairc Tailteann on Saturday afternoon.

Meath ........ 1-15
Dublin .......... 0-7

Up to that point the sides had been level six times and a tight finish looked likely.

However, by the second-half water break, Meath were double scores clear and set for a meeting with Westmeath in the next round.

Summerhill's Eoghan Frayne led the way with seven points. Two of his points (one free) came in quick succession around the 40th minute giving the home side a 0-9 to 0-7 lead which they built on over the time remaining.

One of Ruairi Kinsella's three points moved Meath three clear. Midfielders Conor Gray and Sean Emmanuel assisted with that score.

Meath's position was significantly enhanced in the 45th minute when John McDonagh's delivery broke to his Dunshaughlin clubmate, Aaron Murphy who dispatched to the net.

It was followed by a brilliant point by another Dunshaughlin club member, Conor Gray to leave the board reading 1-12 to 0-7 in the 46th minute.

Dublin besieged the Meath goal but to no avail. Meath closed the scoring in stoppage time with Kinsella's third point following a strong run by Ciaran Caulfield.

Having played with the wind in the first-half Dublin could have been comfortably ahead at the break but first seven first wides undermined their cause.

The sides were tied at 0-4-each at half-time. Despite playing into the town goal and the elemets in the second-half, it took Dublin just 19 seconds to regain the lead through Luke Ward.

Before the first minute of the second-half elapsed Meath levelled through Kinsella. Two Frayne points were sandwiched by a similar score from Dublin from Eoghan O'Connor Finnegan.

A poor first half yielded just eight scores. Within eight minutes of resumption a further six points were added.

Dublin's Luke Breathnach's point leveled matters (0-7-all) for the sixth and final time before Meath pulled clear to advance to the next round.

Scorers: Meath - Eoghan Frayne 0-7 (2fs); Aaron Murphy 1-1; Ruairi Kinsella 0-3; John McDonagh 0-2; Ciaran Caulfield (f), Conor Gray 0-1 each. Dublin - Darragh Dempsey 0-2 fs; Sean Gannon 0-1;Luke Breathnach, Luke Ward, Eoghan O'Connor Finnegan, Conor Dolan (f) 0-1 each.

Meath - Billy Hogan; Ben Moran, Liam Kelly, Ben Donnelly; Sean O'Donoghue, Oisin Kelly, Ciaran Caulfield; Sean Emmanuel, Conor Gray; Shane Maguire, Ruairi Kinsella, John McDonagh; Alan Bowden, Eoghan Frayne (C), Aaron Murphy. Subs - Liam Stafford for Maguire (56), Mossy Corbett for McDonagh (59), Cormac Sheehy for Murphy (59).

Dublin - Hugh O'Sullivan; Sean O'Driscoll, Theo Clancy, Robert O'Shea; Eoghan O'Connor Flanagan, Daire O'Rourke, Greg McEneaney; Alex Gavin, Tom Brennan (C); Conor Dolan, Luke Breathnach, Seamus Smith; Sean Gannon, Darragh Dempsey, Luke Ward. Subs - David Keogh for Dolan (42), Fionan Turner for Dempsey (47), Ross Keogh for Gannon (51), Eoin Wilde for Smith (51), Matthew Lynch for Brennan (59).

Referee - Alan Coyne (Westmeath).
Most Read Stories