JFC: Wasteful 'Wood' lose out to 14 man Brigids
August 02, 2020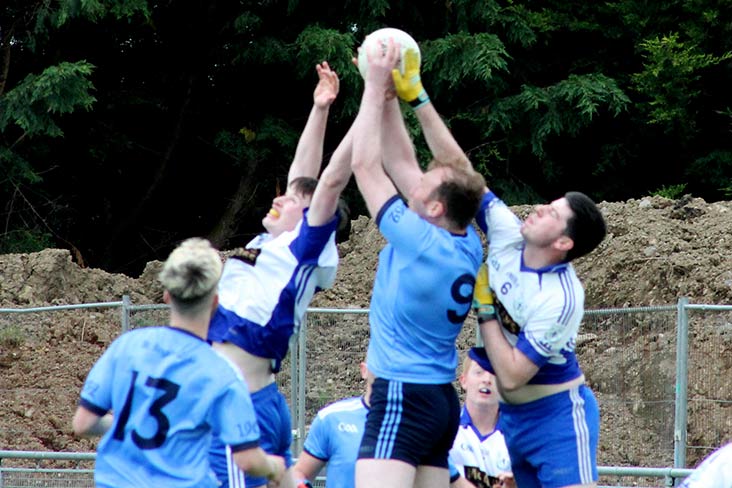 Kilmainhamwood lost out to St. Brigids in the opening round of the JFC at Moynalty
St Brigid's 1-6 Kilmainhamwood 0-7
Kilmainhamwood made the short journey to Moynalty on Saturday afternoon for this 1st Round Junior Football clash with St Brigid's of Ballinacree . The host club deserve tremendous credit for their efforts in directing players and supporters. Their playing surface and score board is as good as you see anywhere.
Wood Manager, Colm Kane named a side of youth and experience. Kilmainhamwood started off quite nervously kicking 4 wides from play before Stephen Kiernan kicked the first point of the day after 10 mins from a free. The Brigid's levelled immediately before David Russell restored the Woods advantage.
St Brigid's kicked 2 more points before Kiernan slotted over another free to level things up. Gary Yorke kicked a tremendous point from a 45 to leave the Wood one up. Brigid's equalised soon after. In the 29th minute, the Brigid's were to score a crucial goal. A well worked team goal and finish left the Ballinacree men leading at half time 1-4 to 0-4.
The 2nd half started very much like the first half. The Wood again kicking some aimless wides. Gary Yorke kicked another tremendous long distance free in the 38th minute. Kilmainhamwood looked to kick on and kicked 2 points in quick succession from Kiernan and David Russell to level things up again. This was as good as it good for Kilmainhamwood. A Brigid's point on 42 mins put them ahead again.
On 44 mins, St Brigid's were to lose their influential midfielder to a straight red card. Kilmainhamwood never took full advantage of this.
The 54th minute of the game was too prove crucial. Kilmainhamwood earned a penalty after Niall Conlan was dragged down in the square after great play from Michael Shankey and David Russell. Stephen Kiernans penalty was expertly saved by the Brigids number 1. It left the Brigid's with a 2 point advantage.
Both sides failed to score again. Kilmainhamwood threw the kitchen sink at the Brigids but in fairness to the Brigid's they were well organised and physical and were well up for the challenge.
Despite the introduction of the experienced trio, Andy Farrelly, Michael Shankey and Philly Moran in the 2nd half, Kilmainhamwood just couldn't get that crucial goal they craved.
On another day, things could have been different. Kilmainhamwood will rue their 12 wides they kicked. They never seemed to settle into a rhythm and that is much credit to St Brigids.
A few positive notes however for Kilmainhamwood. Paul Carolan continues to excel in his new half back position, possibly playing his best game in a Wood Jersey. His brother David, again looked very competent at corner back, and solid performances from newcomers Brian Cassidy, Niall Conlan, Callum Crosbie and Jamie Fagan, augurs well for the future.
In this 3 team group, it is a hammer blow for the Wood, but do not be surprised to see them click against the Ultans in their next match
Most Read Stories