Leinster Club JFC: Curraha cap an outstanding year
December 07, 2015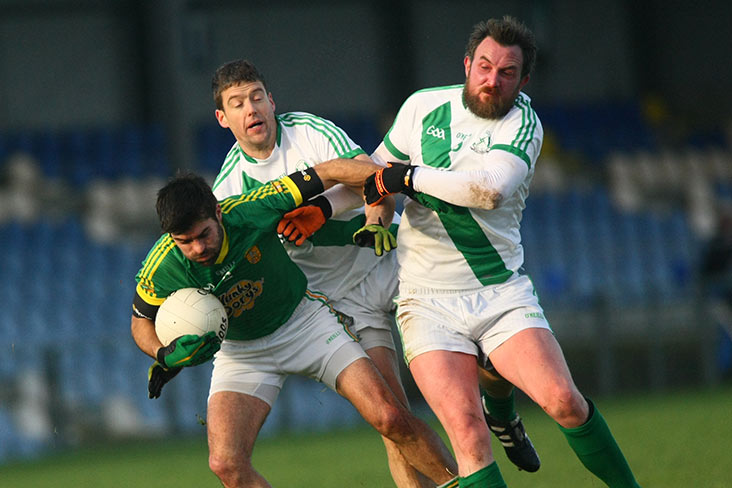 Curraha's Simon McDermott is under pressure from Willie Skelly and Ogie Campbell (St Brigids) during the Leinster Club JFC final at Pearse Park.
Curraha capped an outstanding year with this five point win over a very determined St Brigid Killashee in the Leinster Club Junior Football Championship final at Pearse Park Longford.
Curraha 3-10 St Brigids Killashee 1-11
Curraha were made to fight all the way by a very determined Longford outfit and at one stage in the second half it looked like St Brigids were going to push on and win.
St Brigids were first on the scoreboard when Willie Skelly sent over a close range free. The number 11 added another four points to the Killashee tally in the opening half.
James McEntee send over a point for Curraha and minutes later he was in for the games opening goal after some good work by David Toner. Conor Moriarty landed two frees and the Meath club were 1-3 to 0-2 up inside 15 minutes.
St Brigid's began to dominate around the midfield area and proceeded to kick four points through Skelly (3) and Mel Shanley to narrow the gap to a point at the break 1-4 to 0-6.
With 10 minutes gone in the second half it looked like there was only one winner. Curraha foaled for the second time when Neil Shortall fisted to the net. McEntee, Toner and Moriarty kicked fine points and the Meath side were 2-7 to 0-7 to the good.
Yet again Killashee fought back and their dominance around the midfield area began to tell. Johnny Casey raised the green flag from the penalty spot. This was quickly followed by points from Mark Rossiter, Shanley and Francis Dolan and the teams were level 2-7 to 1-10.
Curraha introduced veteran Ian McManus to midfield and this had a big bearing on the outcome. McManus and Shortall began to win ball again and with seven minutes remaining David Toner was upended in the Killashee square. Brigids keeper Patrick Farrell was black cared for the foul and young Conor Moriarty netted the resulting penalty to steady the Curraha ship.
John O'Brien's charges pushed on from there and added three points through McEntee, Toner and McManus to seal a memorable win.
The Meath club have won every competition available to them, the Leinster JFC, the Tailteann Cup, Division 4 League and the county JFC not to mention Meath Club of the Year along with a Reserve League and an Under 21 A football championship.
Curraha - L Hogan; S McDermott, C Joyce, M Jackson; E McGovern, S O'Hanrahan, S Hogan; J McEntee (1-3, 0-2f), D Toner (0-2); C Moriarty (1-4, 1-0pen, 0-3f), D Battersby, B Joyce; N Shortall (1-0), B Murphy, P Dowling. Subs: C O'Hanrahan for B Murphy, D Coyle for S O'Hanrahan, G Coyle for E McGovern, I McManus (0-1) for B Joyce, L Keogh for C Moriarty, S Keogh for D Toner.
St Brigids - P Farrell, D Cosgrove, K Cox, S Cosgrave; F Dolan (0-1), J Casey (1-0pen), E McPartland; E Skelly (0-1), O Campbell; M Rossiter (0-1), W Skelly (0-6, 3f), M Farrell; E McKiernan, G Evans, M Shanley (0-2). Subs: D Carberry for E McKiernan, J Campbell for O Campbell, A Milton for E Skelly, T Dooner for P Farrell (BC).
Referee - D Moran.
Most Read Stories