Clubs to participate in LGFA One Good Club™ programme announced
May 05, 2022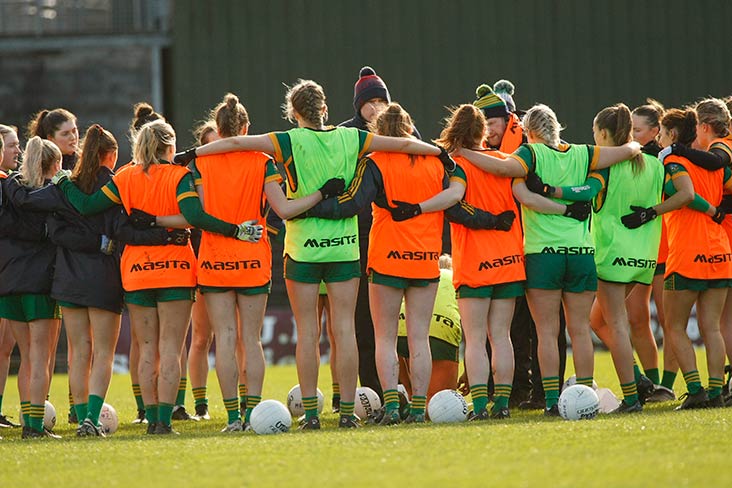 Meath huddle before their Ladies NFL Division 1 clash at Pairc Tailteann
The 26 clubs who will participate in Lidl Ireland's One Good Club™ mental health awareness programme for 2022 have been revealed.
One Good Club™ is a five-step youth mental health awareness programme for local clubs, developed in partnership with the Ladies Gaelic Football Association (LGFA) and Jigsaw, the National Centre for Youth Mental Health.
Nominations opened last month and following the careful evaluation of each nomination, the full list of successful clubs reads as follows:
County - Club
Carlow - Old Leighlin
Cavan - Cavan Gaels
Clare - Wolfe Tones
Cork - O'Donovan Rossa
Donegal - Burt
Dublin - St Mark's
Galway - Caltra Cuans
Kerry - Kerins O'Rahillys
Kildare - Leixlip
Kilkenny - Railyard
Laois - Portlaoise
Leitrim - Dromahair
Limerick - Mungret St Pauls
Longford - Killoe
Louth - Dundalk Young Irelands
Mayo - Moy Davitts
Meath - Longwood
Monaghan - Emyvale
Offaly - Rhode
Roscommon - Northern Harps
Sligo - Coolera Strandhill
Tipperary - Boherlahan Dualla
Waterford - Ballyduff Upper
Westmeath - Killucan
Wexford - Craanford Monaseed
Wicklow - Valleymount
The Lidl Ireland One Good Club™ programme aims to increase awareness and knowledge of mental health across the LGFA community. The initiative offers clubs the opportunity to support all members and engage in activities that can promote their health and wellbeing.
First piloted in 2019, the One Good Club™ programme forms part of Lidl's continued investment in their relationship with the LGFA, which was extended earlier this year for another four years.
Each participating club will be given training and advice on how to run a successful programme. They will also receive new jerseys and be in with a chance to win one of three cash prizes up for grabs, to reward the following; Most Innovative Initiative (€2,500), Strongest Community Involvement (€2,500) and Best Overall Programme (prize €5,000).
Speaking on behalf of Lidl Ireland, CSR and Communications Director, Aoife Clarke, commented: "We know that there has been a huge impact on mental health due to the pandemic so programmes such as this are key in helping increase awareness in communities. We had such amazing feedback from the clubs who took part last year so we are delighted to see the One Good Club programme back again this year in association with Jigsaw."
Ladies Gaelic Football Association President, Mícheál Naughton, said: "We are delighted to reveal the list of clubs participating in the Lidl Ireland One Good Club™ programme, and we look forward to another exceptional roll-out. We are in our seventh year of our partnership with Lidl Ireland, our National League sponsors and official retail partner, and the Lidl Ireland One Good Club™ programme is a hugely-important initiative as we slowly emerge from a challenging couple of years. The mental health of our members is of huge importance to all of us in the LGFA and we are very pleased once again to work alongside Lidl Ireland and Jigsaw to bring clubs a programme that can ensure life-long benefits. We have already detected a huge sense of excitement within the participating clubs and we look forward to what the coming weeks have in store."
Director of Communications and Fundraising at Jigsaw, Mike Mansfield, said: "At Jigsaw, our core focus is on achieving better mental health outcomes for young people and The One Good Club™ programme is central to this ambition. One Good Club™ allows us to support, educate and empower young people and those around them, on sports grounds, workplaces, kitchen tables, high streets, online and more. Grassroots programmes at this scale are hugely important and hugely impactful and we are delighted to work in partnership with Lidl and the LGFA once more."
Most Read Stories