SFC: Mattock too strong for O'Connells
September 13, 2021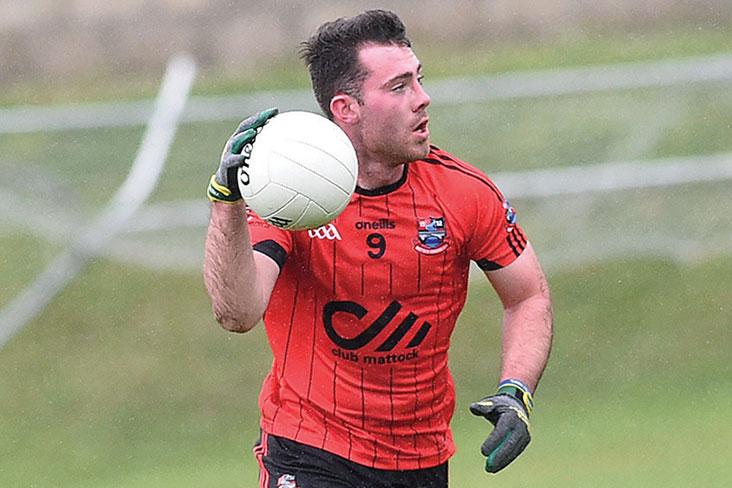 Aaron O'Brien Mattock Rangers
MATTOCK RANGERS 3-16
O'CONNELLS 1-6
Mattock Rangers opened their championship campaign with an emphatic sixteen point win over O'Connells in the Gaelic Grounds Drogheda on Sunday evening. The Collon men got off to a great start with a goal from Shane Hickey on their first attack. They also landed three more points in the next three minutes from Cathal Fleming, Aaron O'Brien and Ben McKenna.
When O'Connells did get into the opposition half their shooting was off target. Mattock again scored three more unanswered points from Adrian Reid, Jack Thompson and O'Brien to put them 1-6 in front after 20 minutes.
The Bellingham side eventually got on the scoreboard with a point from Stuart Osborne. A free from Fleming and another point from McKenna were the last scores of the half to leave the score at the break 1-8 to 0-1.
Ben Watters got the first point of the second half for Mattock. A brace of frees from Jackie Agnew kept the O'Connells side of the scoreboard moving but points from Hickey and Fleming made it eleven between the sides. Sean Connolly got O'Connells fourth point of the game but the Collon side all but finished off this game with two goals and a point in the next five minutes the goals coming from Reid and Watters.
Conor Kiernan got an excellent goal for the Bellingham side and the Collon men added four more points to their tally before Kiernan and Agnew got the last points of the game. Mattock will now play St. Brides next Sunday in the next game in group C of the senior championship.
MATTOCK RANGERS: Stephen Smith; Cillian Hickey, Shane Maguire, James Carraher; Terry Donegan, Cathal Clarke, Ben Quaile; Conor Leneghan, Cathal Fleming 0-4; Jack Thompson 0-1, Aaron O'Brien 0-4, Ben McKenna 0-3; Adrian Reid 1-1, Ben Watters 1-1, Shane Hickey 1-1. Subs Ryan Leneghan for J. Thompson, Oisin McKenna for T. Donegan, Daire Englishby for S. Maguire, JP Watters 0-1 for B. Watters, Eoin McCloskey for A. Reid.
O'CONNELLS: Stuart Reynolds; Liam Kiernan, Conor Byrne, David Hoey; Emmet Byrne, Jackie Agnew 0-3, Conor Martin; Ciaran O'Brien, Sean Cairns; Andrew Keenan, Sean Connolly 0-1, Stuart Osborne 0-1; Conor Culligan, Conor Kiernan 1-1, Cian O'Dwyer. Subs Jamie Murphy for C. Martin, Tadgh Kearney for A. Keenan.
Most Read Stories