Leinster club hurling championship draws made
July 13, 2022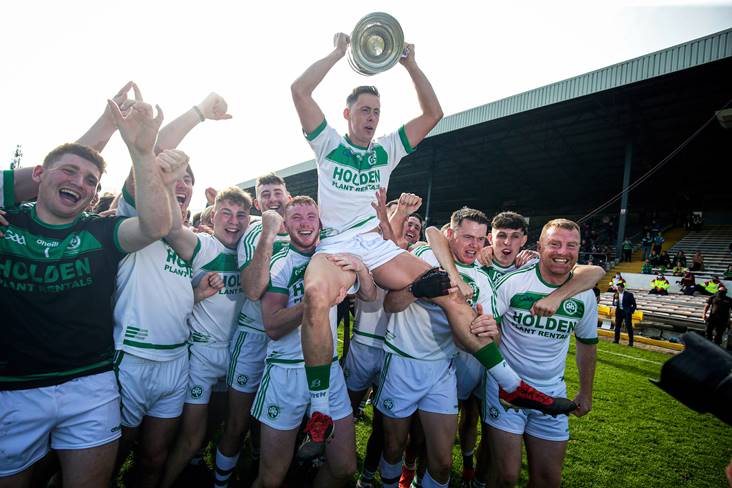 Ballyhale Shamrocks' Richie Reid celebrates with his teammates. ©INPHO/Laszlo Geczo.
The draws for the the 2022 AIB Leinster GAA Club Hurling Championships were made last night.
Whereas the draw for the Senior Championship sees the first named team having home advantage for the quarter-finals only, the draw for the Intermediate and Junior Championships see the first named teams having home advantage for the first round, quarter-finals and semi-finals.
Senior Championship
Quarter-Finals
1 Carlow v Wexford 12/13.11.22
2 Kilkenny v Westmeath 12/13.11.22
3 Kildare v Offaly 12/13.11.22
4 Dublin v Laois 12/13.11.22
Semi-Finals
5 3 v 2 26/27.11.22
6 1 v 4 26/27.11.22
Final
3/4.12.22
Intermediate Championship
Round 1
1 Wicklow v Carlow 29/30.10.22
Quarter Finals
2 1 v Laois 12/13.11.22
3 Kilkenny v Meath 12/13.11.22
4 Offaly v Westmeath 12/13.11.22
5 Dublin v Wexford 12/13.11.22
Semi Finals
6 2 v 5 26.27.11.22
7 3 v 4 26.27.11.22
Final
10/11.12.22
Junior Championship
Round 1
1 Wicklow v Europe 29/30.10.22
2 Louth v Meath 29/30.10.22
3 Longford v Westmeath 29/30.10.22
4 Kildare vOffaly 29/30.10.22
5 Carlow v Laois 29/30.10.22
Quarter Finals
6 2 v 1 12/13.11.22
7 3 v Kilkenny 12/13.11.22
8 Dublin v 5 12/13.11.22
9 Wexford v 4 12/13.11.22
Semi Finals
10 7 v 8 26/27.11.22
11 9 v 6 26/27.11.22
Final
10/11.12.22
Most Read Stories