Laois and Antrim dominate TG4 Teams of the Intermediate and Junior championships
November 05, 2022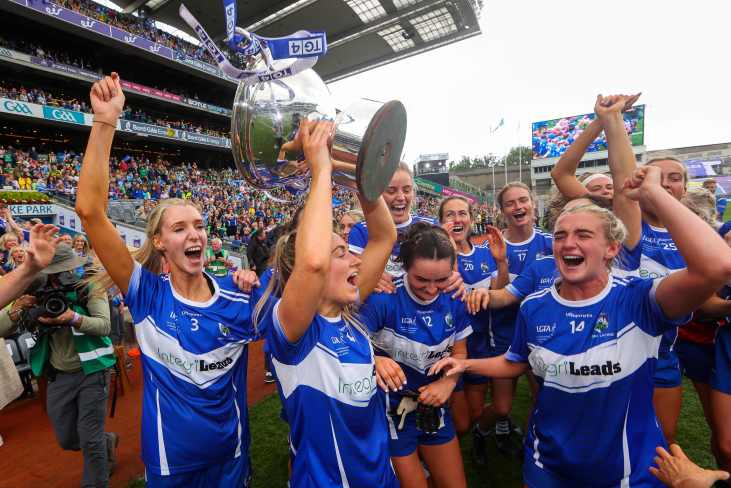 The Laois players celebrate with the trophy after their Al-Ireland IFC final win over Wexford at Croke Park ©INPHO/Ryan Byrne
The 2022 TG4 Teams of the Intermediate and Junior Championships were awarded last night, with champions Laois and Antrim the top winners on each.
After defeating Wexford in the All-Ireland Intermediate final, Laois had seven winners on the night in Croke Park: goalkeeper and Golden Glove winner Eimear Barry, Golden Boot holder Mo Nerney and All-Ireland final 'Player of the Match' Aisling Donoher along with by Rachel Williams, Ellen Healy, Laura-Marie Maher and Erone Fitzpatrick.
The Slaneysiders had four players selected while Clare had three and Roscommon had one representative.
In the Junior team selection, reigning champions Antrim had a total of eight players represented, with beaten finalists Fermanagh having half that tally and Carlow and Limerick with two and one, respectively.
TG4 Intermediate Team of the Championship:
1. Eimear Barry (Laois)
2. Sarah Harding Kenny (Wexford), 3. Aisling Donoher (Laois), 4. Tara Kelly (Clare)
5. Rachel Williams (Laois), 6. Róisín Murphy (Wexford), 7. Ellen Healy (Laois)
8. Aisling Reidy (Clare), 9. Laura Fleming (Roscommon)
10. Caitríona Murray (Wexford), 11. Laura-Marie Maher (Laois), 12. Erone Fitzpatrick (Laois)
13. Mo Nerney (Laois), 14. Aisling Murphy (Wexford), 15. Fidelma Marrinan (Clare)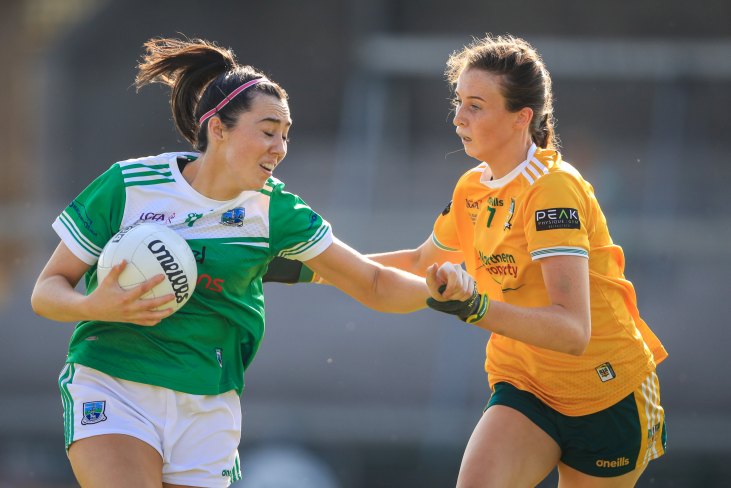 Fermanagh's Blathin Bogue and Antrim's Sarah O'Neill both claimed places on the TG4 Team of the Junior championship ©INPHO/Evan Treacy
TG4 Junior Team of the Championship:
1. Anna McCann (Antrim)
2. Kristine Reidy (Limerick), 3. Aislinn McFarland (Antrim), 4. Niamh McIntosh (Antrim)
5. Sarah McCarville (Fermanagh), 6. Saoirse Tennyson (Antrim), 7. Sarah O'Neill (Antrim)
8. Lara Dahunsi (Antrim), 9. Aisling O'Brien (Fermanagh)
10. Cathy Carey (Antrim), 11. Bláithín Bogue (Fermanagh), 12. Rachel Sawyer (Carlow)
13. Sara Doyle (Carlow), 14. Orlaith Prenter (Antrim), 15. Eimear Smyth (Fermanagh)
Most Read Stories