Once upon a time in Hollywood at Comórtas
February 25, 2020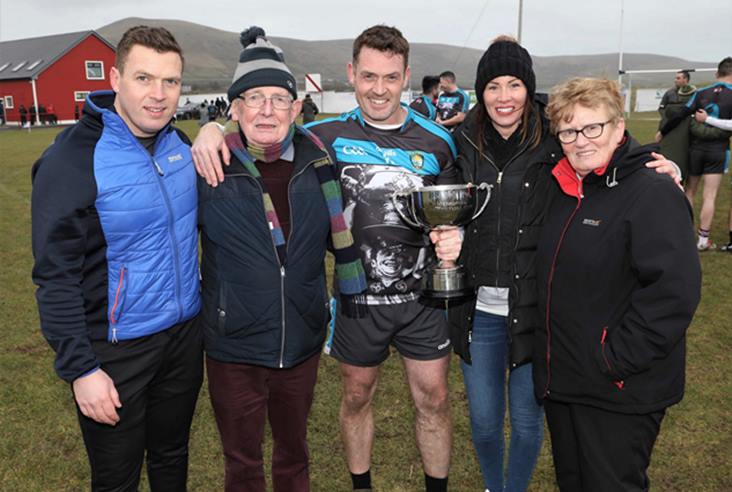 OC Wild Geese, Orange County, California, USA beat West Kerry's Lispole in the Junior Men's final
It's easy to understand the GAA's growth in clubs abroad as it gives Irish abroad stay and feel connected to Ireland while away from family and friends as well as introducing it to those who have an interest in Irish culture. The Lidl Comórtas Peile Páidi Ó Sé has attracted over 16,500 adult men's and ladies club participants over 31 years and its fair share of overseas club teams including visiting teams from unlikely locations like Madrid, Berlin, Rome, Dubai and even South Korea.
Over last weekend, it was the turn of US club OC Wild Geese from Orange County, California, based a short distance from Hollywood and who pulled off an unlikely victory in the Junior Men's Cup, fitting of a movie war epic. The Kerry connection came in the form of Eoin O Cruadhlaoich, a former An Ghaeltacht star, now working in Los Angeles in construction, who convinced his adopted GAA club that the trip to West Kerry would be worth it, an d so it transpired. The team even created a special jersey with a black and white image of Páidi Ó Sé lifting Sam Maguire in 1985 emblazoned across the front for the occasion.
Having seen off the challenge of Tipperary's Killenaule (2-7 to 2-5), they faced West Kerry club Lispole in the Junior Men's Final. Finding themselves in an unlikely lead at half time (2-4 to 1-4), the second half saw Lispole get back to within a point. The Californian men's unlikely victory looked to be slipping away, and like all good movie story lines, the drama came on cue to add to their woes. Within a five-minute spell half way through the second half, OC Wild Geese missed a penalty and had two men black-carded. But, down to 13 men for the last ten minutes of the game, the Orange County men, whose round trip to Ventry was a whopping 10,000 miles, held out to win by a point on a score line of 3-7 to 1-9.
OC Wild Geese captain Eoin Ó Cruadhlaoich said, "There wont be a movie made in Hollywood for a week. It's a fantastic boost for this club to bring home silverware. It makes it all worth while and it will encourage more people to join our club as well as giving us more prominence among the US GAA club scene."
More than 700 players came from 14 counties across the four provinces of Ireland, from London, Edinburgh and the US competing in this adult men's and women's club tournament which has taken place for the past 31 years all over the Dingle Peninsula.
Comórtas Chairman Pádraig Óg. Ó Sé said, "There were no reports of serious injury, the weather was kind to us in the end and we are delighted with the support we got from host clubs and sponsors Lee Strand Milk, McKeever Sports, EJ Menswear and Kerry County Council without whom we would not be able to keep Páidi's memory alive year on year."
A round up of the weekend winners
Senior Men's Cup winners
An all-Kerry final between host club An Ghaeltacht and Dingle. A goal and two points for underage Kerry star Conor Geaney and two points for his cousin and former Kerry senior player Mikey Geaney secured a 1-8 to 0-8 point victory for Dingle.
Senior Ladies Cup winners
In the senior ladies cup and the final played in An Ghaeltacht's Gallarus GAA grounds before the men's senior final, Ballyboden St. Enda's, two time previous winners and Leinster kingpins, lost to Clonguish of Longford in a shock result by a single point (5-7 to 5-80, with Clonguish's Camille Burke shooting three goals, two in the second half to secure the Longford club's victory.
Intermediate Ladies Cup winners
Ballyroan of Laois won this competition, beating Cork's Araglen Desmonds comprehensively (5-5 to 1-5), having also accounted for Belturbet Rory O'Moores easily in the first round while their semi-final against Corca Dhuibhne of West Kerry was only a single point victory (5-3 to 4-5)
Intermediate Men's Cup winners:
Listry beat Castlegregory by 0-16 to 1-11. This all Kerry final saw division four West Kerry side Castlegregory, under the stewardship of former Offaly senior football manager Stephen Wallace, up against division two mid-Kerry club Listry who have former Kerry corner-back Marc Ó Sé at the managerial helm. Castlegregory easily acquitted themselves against Cork's Boherbui and Louth's Na Piarsaigh to reach the final while Listry had a first-round win over Cavan's Knockbride before beating Louth's Hunterstown Rovers.
Junior Men's Cup winners
OC Wild Geese, Orange County, California, USA who beat West Kerry's Lispole 3-7 to 1-9.
Junior Ladies Cup winners
It was Ballyboden St. Enda's B of Dublin versus Mayo's Breaffy in the final which ended with a victory for the Dubs (5-7 to 1-6) to retain their Comórtas crown once again in 2020.
Most Read Stories