'If we win, it will be an early night for me!'
October 14, 2023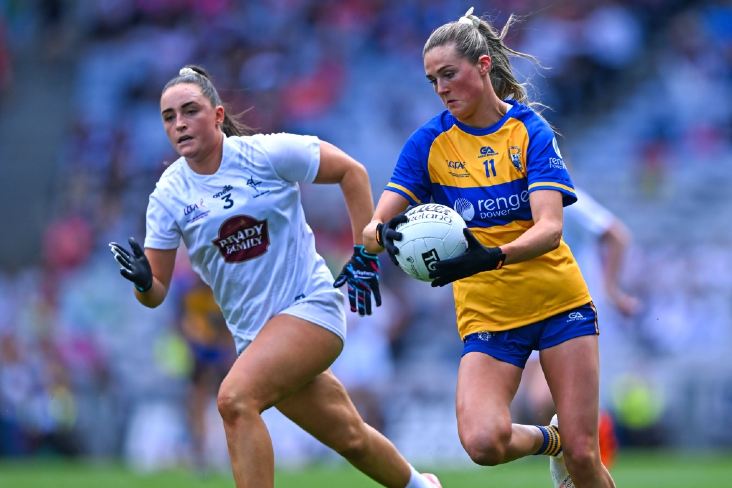 Clare star Fidelma Marrinan
By Daire Walsh
This weekend is set to be a big one on and off the field of play for Clare ladies footballer Fidelma Marrinan.
This afternoon at Hennessy Memorial Park in Milltown (throw-in 3pm), Marrinan will be part of a West Clare Gaels side that are seeking to dethrone reigning champions Banner Ladies in a Clare Senior Football Championship decider. Tomorrow will then see the 23-year-old — who worked in retail at the Central Sports store in Kilrush until recently — taking her professional career off in a different direction as she begins her induction into the Garda Training College in Templemore, Co. Tipperary.
Being a top-tier county champion in the Banner County and a member of An Garda Siochana have been dreams of Marrinan for a number of years. While she will have to go through a lengthy process to achieve the latter, she finds herself just 60 minutes away from realising the former.
"If we win, it will be an early night for me! I'm starting my training in Templemore, so that will take eight months. 12 weeks in, 12 weeks out, 12 weeks back into Templemore. Then you could be stationed anywhere. I think they put a lot of people to Dublin now, but hopefully I get a bit closer to home!" Marrinan said of her career transition.
"Even since I was about five, six years old, I don't know where I got the idea, but I've wanted to be a Guard since that age. That's why I did criminal justice in college [SETU Waterford]. I came out of it and I know a lot of people were saying 'just go work for basic experience of life before you go in. Because it is a tough enough job, make sure you're ready for it'. That's what I did. I worked for a bit and I think I'm ready now.
"I haven't won a county title and it's something that I'd love to add, especially because it's club. It's huge for your community, your family and everything like that. We played in the county final a couple of years ago and I think there's a bit more about this team. There's a bit more belief in us that we can go all the way."
Winners of the Clare senior championship back in 2010 – they went on to claim the Munster and All-Ireland intermediate football championship crowns later in the same year – West Clare Gaels are comprised of female players from the GAA parishes of St Senan's, Kilkee, Naomh Eoin and O'Currys.
It is with the latter club that Marrinan initially lined out, before she eventually established a strong bond with a vast selection of footballers from her neighbouring clubs.
"I would have actually grown up in the O'Currys area. I played with the boys up until U12s. I think that is what definitely toughened me up a small bit. West Clare Gaels is only recent enough that it got set up.
"It's unbelievable to play with your club. That's where you learn football, that's where you grew up with your best friends. That's home essentially to me. We have such a good group of girls there [in West Clare Gaels].
"We've all grown up together, we've all played throughout the years. It means that bit more. Obviously county is very important to me too, but club is your home and where you started playing football."
In terms of personal accomplishments, the past few months has been quite a rollercoaster for Marrinan. In addition to making the TG4 Intermediate Team of the Championship for the second year running, she was nominated alongside Roisin Byrne (Kildare) and Orlaith Prenter (Antrim) for TG4 Intermediate Players' Player of the Year last Wednesday week (October 4).
This came after she had secured the ZuCar Golden Boot award – the prize on offer for the leading scorer in the TG4 All-Ireland Championships. Her haul of 5-38 across six games was so impressive that it helped her to earn a nomination for the TG4 All Star awards that are taking place at The Bonnington Dublin Hotel on November 18.
Given she had to initially show patience before sealing a regular spot on the Clare team – she first joined the panel in 2018 – Marrinan acknowledged she couldn't have ever imagined gaining recognition of this kind.
"I was so happy to be named on the team of the year for the intermediate. To get even nominated for an All Star is absolutely unbelievable. You might never get it again, it might be a once in a lifetime thing.
"It has been a bit of a crazy year, to be honest. If you had told me that a couple of years ago, I definitely 100% wouldn't have believed you. I'm very, very privileged with this year and how it has gone. Obviously we didn't win the All-Ireland final and that is something you strive for, even as a player and as a team.
"That is something I still need to nail, but for more so my family, the personal achievements are special. People coming up to my parents, that's huge. I definitely didn't expect any of it, but very privileged."
As Marrinan alludes to above, she will have her sights set on making amends for a couple of difficult defeats earlier this year when 2024 eventually rolls into view.
A spectator when Clare lost to Kildare in the 2016 TG4 All-Ireland Intermediate Football Championship showpiece, Marrinan was part of a Banner County side that suffered a 2-11 to 2-10 reversal to the Lilywhites at the same stage of the same competition on August 13.
Her 1-5 tally wasn't enough to get Wayne Freeman's charges over the line and despite scoring 1-6 against Kildare in the Lidl National Football League Division 3 final at Parnell Park back in April, Clare also lost out to their Leinster counterparts on the exact same scoreline.
Small margins denied them silverware and promotion on both of these days, but Marrinan and her county colleagues will be determined to set things right over the next 12 months.
"The goal is to win an intermediate title and I'm not going to stop playing football until we do that," Marrinan added.
Most Read Stories