'Winning a club championship would mean the world to us'
October 07, 2023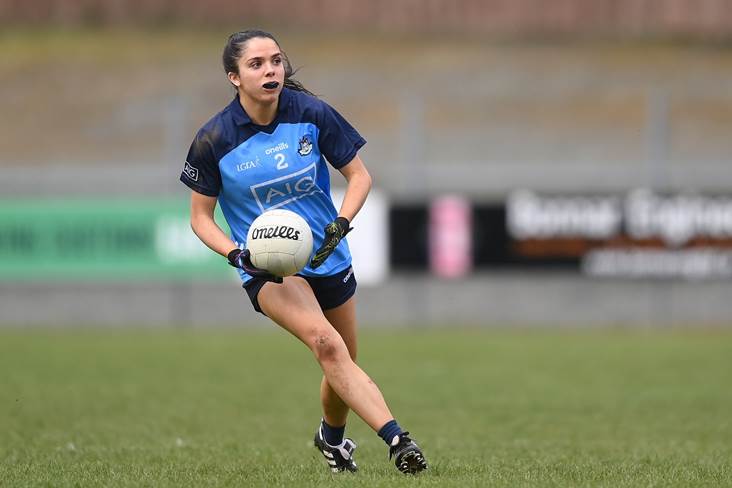 Niamh Crowley of Dublin © Stephen McCarthy/Sportsfile
By Daire Walsh
She enjoyed a dream debut season in the Sky Blue of the Dublin senior footballers and now Niamh Crowley is hoping that 2023 can also be a year to remember on the club front.
Despite being straight out of the minor grade, Crowley quickly established herself as a regular starter in Dublin's full-back line this year and played a starring role as the capital side reclaimed the TG4 All-Ireland Senior Football Championship title with a magnificent final victory over Kerry at Croke Park on August 13.
Like her inter-county colleagues, Crowley subsequently returned to the club scene in the aftermath of that Brendan Martin Cup success. Operating at the senior grade as recently as 2021, Fingallians now find themselves just 60 minutes away from a return to the top-tier.
Clann Mhuire GFC in Naul Village will be the venue this afternoon (SAT) as Crowley and the Swords-based outfit take on St Jude's in a tantalising Go-Ahead Dublin Intermediate Football Championship showdown (throw-in 2pm). With the Fingallians second team also taking on their neighbours St Finian's in a Dublin Junior 'C' Football Championship final at the TUD Blanchardstown Campus tomorrow, an exciting weekend lies in store for Crowley's club.
"Definitely winning a club championship would mean the world to us. It's something we've been looking for. There has been so many people coming down to our matches and there has been really big support over the last year or two," Crowley acknowledged.
"We really just want to play good on the day and win a club championship for all the club. It's a big weekend, we've also got our second ladies team in a final this week as well. It would definitely mean the world and it's definitely one I've been trying to win."
Crowley has already tasted success at adult level with Fingallians, albeit in a different code. In September of last year at the Trinity College Sports Grounds on Santry Avenue, Crowley amassed an outstanding tally of 1-10 as the Swords women secured the Dublin Junior 1 Camogie Championship crown.
Fingallians' bid for a county double in 2023 remained alive until last Sunday, when St Maurs ultimately got the better of them at the semi-final stage of the Intermediate 2 Camogie Championship.
Crowley had previously showcased her talent with the small ball on the inter-county stage as she was part of a Dublin side that were narrowly defeated by Cork in the penultimate phase of the All-Ireland minor camogie championship in 2021.
Yet it was in football that she represented the Metropolitans at minor level in 2022 and having witnessed some of her high-profile male and female club-mates winning Celtic Crosses in the past, the lure of this particular branch of Gaelic Games was always going to be strong.
"I know growing up Sinéad Finnegan was definitely one of my idols. Even growing up in the club, everyone knew the Dublin players. Everybody knew Paul Flynn was a player from Fingallians, everybody knew Sinéad Finnegan, Fiona Hudson, Emer Ní Eafa, they all knew them. They were such big role models for all the little kids in the club," Crowley explained.
"I never really thought I would ever get the chance to play for Dublin senior ladies. I know that it always would have been a dream of mine, but I always felt like it was so far out of reach. When I did get the opportunity, I got the call-up to the development squad. I spent a few weeks with the development squad, and then I got called up to the actual senior squad. I just remember I was like 'I never thought I would get the chance'.
"I think seeing the Dublin ladies football team win all those finals, it kind of encouraged me that I wanted to do football all along and I really enjoyed the football. I think that's why it was such a big win for me this year. Not only was it my dream, but I enjoy it so much. You got to play with people you would have looked up to. You were playing amongst some of your idols and I think that is what was so special."
Having been the young footballer who looked up to the likes of Finnegan, Hudson and Flynn when they were donning the Dublin colours, Crowley now finds herself being a role model to the younger members of Fingallians along with Ní Eafa – the Dublin substitute goalkeeper for their 2023 campaign.
"It's such a big deal for the club that me and Emer were involved with the Dublin ladies and we won an All-Ireland. I know we went around some of the schools as well and they knew who we were. They were just so happy to see somebody from Fingallians play for Dublin.
"It really gives them somebody to look up to and hopefully we have more and more girls coming up through the ranks playing for Dublin. Hopefully join the senior ladies and hopefully some day might win an All-Ireland. Definitely role models are a big thing for Fingallians."
While she is currently fully engrossed in club football, Crowley does have one big inter-county date to look forward to on November 18. To cap an incredible season on a personal level, the 19-year-old was one of 12 Dublin players to receive a nomination for the TG4 All Star awards that are to be held at The Bonnington Dublin Hotel next month.
This is an impressive feat for a player that is at such a formative stage in her inter-county career and there are times that Crowley can't quite believe how 2023 has panned out for her thus far.
"I definitely wasn't expecting it at all. I still forget about it all the time, because it just doesn't feel real to me. Same with the All-Ireland. You'd think about it, you could just be going about your day and then you'll just remember that you won the All-Ireland. It's just a surreal feeling really, to be honest," Crowley added.
"I'm really looking forward to the night. It will be a nice night to enjoy, but definitely it was a huge shock and a huge shock to my family. I know my Mam couldn't stop crying when I called her and let her know!"
Most Read Stories