'I thought my days of walking out onto Croke Park were done'
August 26, 2023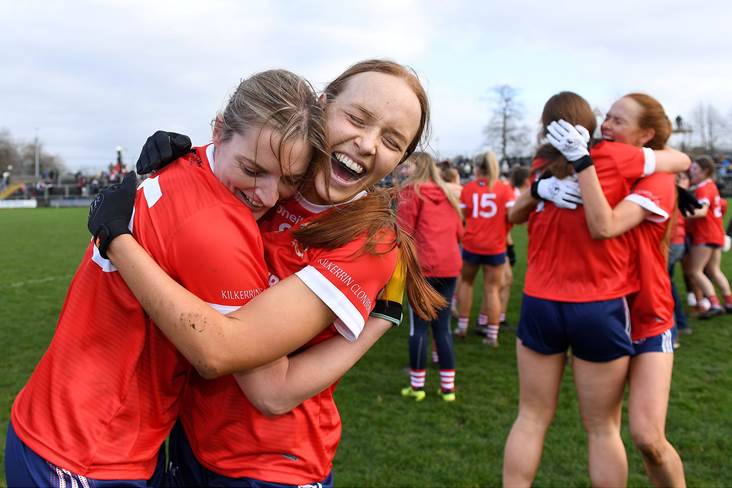 Kilkerrin-Clonberne players Annette Clarke and Siobhán Divilly (right) celebrate after their side's victory in the All-Ireland Ladies Club SFC final against Mourneabbey ©Piaras Ó Mídheach/Sportsfile
By Daire Walsh
Last Sunday week, almost 19 years on from one of the key moments in her distinguished inter-county career, Galway's Annette Clarke was back on the hallowed turf of Croke Park.
On October 3, 2004, Clarke captained the Tribeswomen and scored 1-3 as they defeated Dublin in the TG4 All-Ireland Senior Football Championship decider. She returned to GAA HQ for the same stage of the Brendan Martin Cup the following season, but on that occasion it was a Cork team led by Juliet Murphy that claimed the first of five SFC crowns in succession.
Across the 49 finals that took place before this year, Clarke and Murphy were just two of 42 winning captains in the All-Ireland senior ladies football championship.
While there were a few absentees, each and every one of this cohort had their names read out during the half-time break for the Brendan Martin Cup showpiece between Dublin and Kerry on August 13 with Clarke amongst those who was introduced to the crowd.
"It was a great experience really, to be honest. I felt a bit lonely because I was the only Galway captain there, when you see groups of girls from Waterford and Cork, and Mayo and the likes!" Clarke recalled of a day that began with a captain's lunch in the north Dublin stadium.
"You're disappointed for Galway that we only had the one All-Ireland in that time frame, but at the same time from a personal level, even just to represent Galway, I was just delighted to be part of the occasion. I thought my days of walking out onto Croke Park were done, but it was nice to get another walk out there!"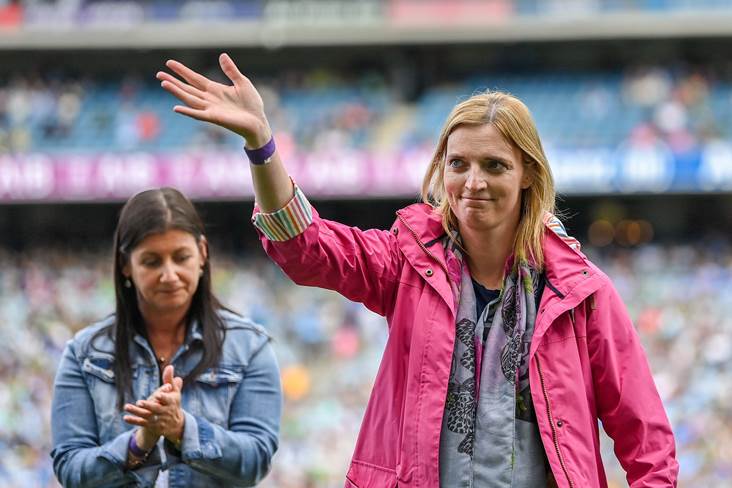 2004 Galway All-Ireland winning captain Annette Clarke is honoured at half-time of the TG4 LGFA All-Ireland Senior Championship Final at Croke Park ©Seb Daly/Sportsfile
Because she was part of Dublin's panel for the LGFA's 50th All-Ireland senior final, Sinead Aherne (who captained the Jackies to four consecutive titles from 2017 to 2020) was represented by her former team-mate Lyndsey Davey for this captain's presentation.
Remarkably, both Davey and Aherne were playing for Dublin in their loss to Galway in that 2004 decider and remained inter-county colleagues until Davey announced her retirement in the winter of 2022. While her All-Ireland success doesn't feel that long ago in her own head, Clarke acknowledges conversing with the Skerries Harps woman on the day served as a reminder of how time can pass very quickly.
"I spoke to her afterwards and to think that Lyndsey and Sinead were both part of that Dublin team in 2004… For Sinead still to be togging out and taking part in an All-Ireland final in 2023, that's an achievement in itself.
"Lyndsey as well, she's only just retired. They were both very young obviously for Dublin when they would have togged out against us. They've gone on and they've had really great careers themselves."
Just two years before winning that 2004 crown, Clarke was also part of a Galway side that secured an All-Ireland junior title at the expense of Donegal. The tier below the senior championship at that time, this was a major boost for the county and made amends for their final reversal to Down at the same grade in 2000.
However, Clarke's first All-Ireland win at adult level wasn't in the maroon and white of Galway, but rather in the red and white of Kilkerrin-Clonberne. Acting once again as captain despite still being in her teens, she registered four points as the Connacht outfit claimed the All-Ireland intermediate club championship with a 2-6 to 1-3 triumph over Louth's Cooley Kickhams at Keenagh, Co. Longford in December 1999.
Her journey with Kilkerrin-Clonberne had begun at the start of the same decade and when she brought the curtain down on her inter-county career in the spring of 2016, Clarke was eager to give back to a club that had offered her so much during her formative years as a footballer.
"Obviously I had to commit to inter-county and I was grateful for all the opportunities that I got with Galway. At the same time, you don't get to give the same commitment with the club when you're playing at inter-county level.
"Obviously I would stay as committed as could be, but I felt when I retired from the county that I could really, really commit and concentrate on putting more work into the club. I got involved as a development officer and even just with the underage teams as well. Coaching U14, U16, minor teams. I just felt that it was time to give a little bit back."
Having helped her club to win eight county championships and four provincial titles from 2013 to 2020, Clarke was initially away from the Kilkerrin/Clonberne set-up in 2021 after she became pregnant with her twins, Lucy and Jack.
Yet after they were born in September of that year, she quickly returned to the fold and added another coveted crown to her already impressive list of honours in January 2022. Just over two years on from losing out to the same side in a tension-filled showpiece, Kilkerrin-Clonberne finally got their hands on the currentaccount.ie All-Ireland Senior Club Championship with a 1-11 to 1-7 victory against Cork's Mourneabbey at St Brendan's Park, Birr.
Appearing off the bench with eight minutes remaining, Clarke became the first female Gaelic footballer in Galway to win an All-Ireland senior title at both club and county level. She wasn't part of the squad that successfully defended the Dolores Tyrrell Memorial Cup a little over 10 months later, but is continuing to keep a keen eye on the progress of Kilkerrin-Clonberne.
"I got to achieve with the girls and with the management a first senior All-Ireland with the club. I'm grateful to the club, both the management and the players, to allow me to do that. To allow me back into the fold," Clarke added.
"It was nice to be able to do. Obviously I'd love to be still involved, but I think age and family commitments have caught up with me. I just look forward to supporting the younger girls now as they're coming through.
"You'd still be disappointed obviously losing 2019, but it helped make up for it by getting the All-Ireland medal. It was a little bit more emotional even for me then at that stage, because I have my two, Lucy and Jack, that I'd be able to tell about it in years to come. If they're interested!"
Most Read Stories