'There's people now actually talking about us'
August 05, 2023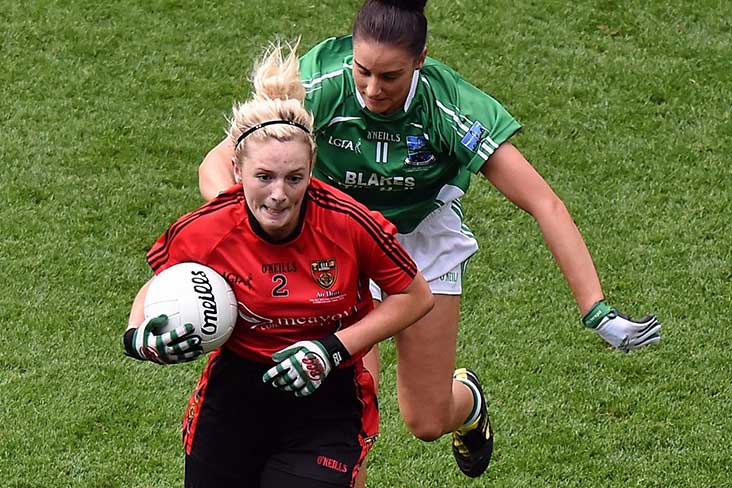 Orla Boyle, Down, in action against Aisling Moane, Fermanagh
By Daire Walsh
As she prepares for her second appearance in a TG4 All-Ireland decider at Croke Park next weekend, Orla Boyle has waxed lyrical about the transformative effect that two members of the Down management team have had on ladies football within the Mourne County.
Just three weeks ago at the same venue, Conor Laverty fell just short in his bid to guide the Down men's footballers towards a maiden Tailteann Cup title – goals from Ronan Jones and Jack O'Connor helping their opponents Meath to claim the spoils on a 2-13 to 0-14 final scoreline. Eight days from now, his former team-mates Mark Poland and Kevin McKernan will be hoping to go a step further with their female counterparts in the TG4 All-Ireland Junior Football Championship showpiece against Limerick.
Both of these players were starters on the last Down team to reach the Sam Maguire Cup final back in September 2010.
Despite chipping in with a point apiece, Poland (who was replaced by Laverty in the closing stages of the action) and McKernan were on the losing side that day as Cork emerged with the spoils by the slenderest of margins. Yet this passionate duo still have a strong feel for inter-county football and have been working alongside Down LGFA joint-managers Peter Lynch and Caoibhe Sloan as coaches throughout the current campaign.
"Peter and Caoibhe are brilliant, don't get me wrong, but having Mark and Kevin there. Two senior men that have played football in Down for a long time and their names are out there, they've definitely got Down ladies on the map in a way," Boyle acknowledged.
"There's people now actually talking about us. Before we were a sleeping giant as Mark Poland would always say, but they've definitely got us out there. Male footballers now want to actually come and watch Down ladies, which is credit to them boys."
Following their relegation down to the junior grade at the end of 2022, Down have had their sights set on an automatic return to the TG4 All-Ireland Intermediate Football Championship since the beginning of the year. It is in this second-tier competition that Boyle previously featured for Down at GAA HQ on September 28, 2014.
Lining out at right corner-back, Boyle played her part as the Mourne women convincingly secured the All-Ireland IFC crown with a 6-16 to 1-10 victory over provincial rivals Fermanagh. While Boyle admitted she is embracing the build-up to next weekend's final a lot more than she did nine years ago, there is an element of that memorable triumph that continues to stick out in her mind.
"The moment that I'll never forget is the parade around Croke Park. It was like an echo and the goosebumps that were just in your body, it was just unbelievable. Croke Park is like a dream come true, stepping onto the pitch. I do think the parade was a special moment for me, walking around with the team.
"I was fortunate to start corner-back that year at the age of 20. I was very young, but if I'm being totally honest, I don't think I appreciated the build-up as much as I do this year. Maybe it's an age thing, I don't know. I just know now that they don't come around often. We have to grab our chance while we can.
"We're delighted to be in the final. It's always a good day to be running out in Croke Park. It's not something everyone gets to do and in our squad it's probably the first time for many, to be fair. It's everyone's dream when you're a young age."
Although there was a strong spread of scorers throughout the Down side in the 2014 final, it was the contribution of Kyla Trainor that really stood out for the winners of the game.
Introduced off the bench with 20 minutes gone in the contest, she proceeded to amass an impressive personal haul of 2-4. Having idolised Trainor when she was growing up, Boyle was pleased to be able to share in a county success with her RGU Downpatrick club-mate.
"I was lucky to play alongside her for club and county. When I got yellow carded in the final against Fermanagh in Croke Park, she was the first person over to me. When we went out for the second half, she was tapping me on the shoulder and she was like 'Orla, forget about it, we have to go again.'
"Kyla is probably one of the smartest and most talented footballers I've ever seen. She has an ability to win games herself, but equally has the ability to bring other players on. She was a big help that year and has been a big help throughout my football career."
With the exception of a brief dalliance with Irish dancing ("I was told I was heavy on my feet!"), Gaelic football has dominated Boyle's life since her childhood. Indeed, as she illustrates, her passion for the sport has even extended into her professional career.
"Away from football, ironically football is still a big part of my life as a teaching assistant in Our Lady and St Patrick Primary School. The children are absolutely mad for football. I spend most of my time coaching the after school teams and taking PE in the school.
"I coach some of the underage teams in my club at the minute and on our summer holidays when the schools are closed, I would do wee summer camps around the Gaelic clubs in Downpatrick."
Given it was only last month that they overcame Limerick in Group A of the TG4 All-Ireland JFC at Newcastle West, Down will believe that another win over Graham Shine's Munster outfit is well within their grasp next weekend. However, speaking as one of the more experienced members of the squad, Boyle recognises that nothing can be taken for granted in a national decider.
"Limerick are a first class team and have serious strength. They were probably one of the hardest teams we played with their physicality coming through the middle. We'll have to be at our best to get over the line, but that is what you want to be doing. You want to be coming up against the best," Boyle added.
Most Read Stories