Referees announced for All-Ireland Ladies Football Finals
August 01, 2023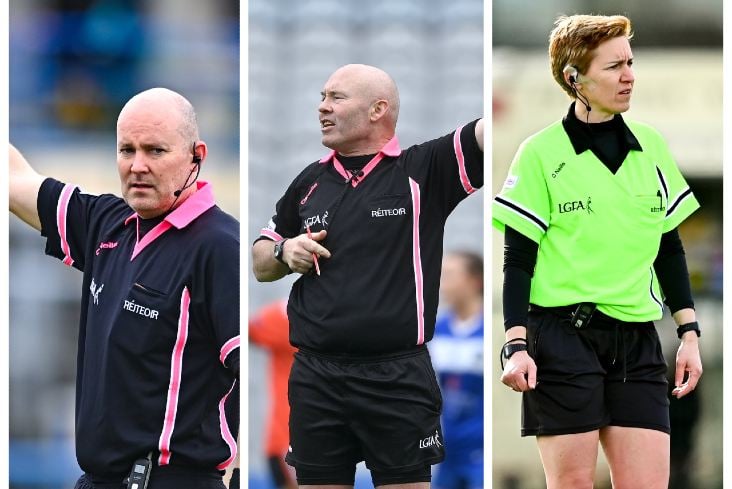 Ladies final referees (l-r): Shane Curley, Gus Chapman, Angela Gallagher
The Ladies Gaelic Football Association has announced the referees for the 2023 TG4 All-Ireland Senior, Intermediate and Junior Championship finals, to be played at Croke Park on Sunday, August 13.
Galway's Shane Curley will take charge of the eagerly-anticipated senior decider between Dublin and Kerry at 4pm; the Intermediate Final involving Clare and Kildare (1.45pm) will be refereed by Sligo's Gus Chapman and the Junior Final referee for the clash between Down and Limerick (11.45am) will be Dublin's Angela Gallagher.
Representing the Glinsk club in Galway, Shane Curley will oversee his first TG4 All-Ireland Senior Final, having taken charge of the 2021 Intermediate decider between Westmeath and Wexford.
Curley has already handled some big games in 2023, including the Lidl All-Ireland Post Primary Schools A Final between Sacred Heart Westport and Loreto St Michael's, Navan, the Yoplait HEC Lynch and Donaghy Cup Finals and the TG4 Munster Senior Final between Cork and Kerry.
In the TG4 All-Ireland series, Curley was the man in the middle for the Senior group clash between Donegal and Waterford, the quarter-final meeting of Kerry and Meath, and the Intermediate fixture between Clare and Tyrone.
Curley can now look forward to an historic fixture on his CV – as the meeting of Dublin and Kerry will be the 50th All-Ireland Senior Final.
Commenting on the news of his appointment, Curley said: "I was absolutely humbled and delighted when I received the phone call last night.
"It's a dream come true for any referee and I'm honoured to be in a position to represent Galway and Connacht on TG4 All-Ireland Finals day.
"The fact that Dublin v Kerry is the 50th All-Ireland Senior Final will make the occasion even more special and I'm looking forward to a cracking game between two brilliant teams."
For Intermediate Final referee Gus Chapman, representing the Shamrock Gaels club in Sligo, there's a sense of history repeating.
Chapman refereed the National League Division 2 Final in 2013, before following up with the 2013 All-Ireland Intermediate Final, and 2023 has taken a similar path for him.
Chapman was referee for the Armagh-Laois Lidl NFL Division 2 Final at Croke Park in April and now he has been handed his second TG4 All-Ireland Intermediate Final assignment, a decade after his first.
Chapman warmed up for Croke Park by refereeing last Saturday's TG4 All-Ireland Senior semi-final between Kerry and Mayo in Thurles, while other big games this year were Cavan v Dublin in the group stages of the All-Ireland series, and the Kildare-Tyrone Intermediate quarter-final.
"I'm delighted and honoured and it's a privilege to be asked to referee the Intermediate Final," Chapman said.
"I'm really looking forward to the big day and I'm delighted for my umpires too."
Dublin's Angela Gallagher, a former Sligo player and now member of the Donaghmore-Ashbourne club in Meath, is now preparing for her second TG4 All-Ireland Junior Final as match referee.
Back in 2017, Gallagher refereed the drawn Junior decider between Derry and Fermanagh at Croke Park.
Earlier this year, Gallagher refereed the Lidl All-Ireland PPS Junior A Final, the TG4 Leinster Junior Final and the recent All-Ireland U16 C Final between Antrim and Clare.
Gallagher said: "I feel very privileged to be asked to referee this Final.
"It's huge for me because I played football and it's been a journey to continue into refereeing."
Referee appointments – 2023 TG4 All-Ireland Ladies Football Championship Finals
TG4 All Ireland Senior Championship Final 2023
Áth Cliath v Ciarraí, 4.00pm, Pairc an Chrócaigh
Referee: Shane Curley, Galway
Standby Referee: Maggie Farrelly, Cavan
4th Official: Jonathan Murphy, Carlow
TG4 All Ireland Intermediate Championship Final 2023
An Clár v Cill Dara 1.45pm, Pairc an Chrócaigh
Referee: Gus Chapman, Sligo
Standby Referee: Seamus Mulvihill, Kerry
4th official: Anthony Marron, Monaghan
TG4 All Ireland Junior Championship Final 2023
An Dún v Luimneach, 11.45am, Pairc an Chrócaigh
Referee: Angela Gallagher, Dublin
Standby Referee: Siobhan Coyle, Donegal
4th official: Ger Canny, Mayo
Ticket Information
Adult – €30
U18 – €15
Student/OAP – €15
Family Ticket (2 Adults and 2 U18's) – €70
Group (1 Adult @ €10 for every group of 10 U18's at €5 per child) – €60
Most Read Stories