'No regrets' says former Cork goalkeeper Martina O'Brien
July 29, 2023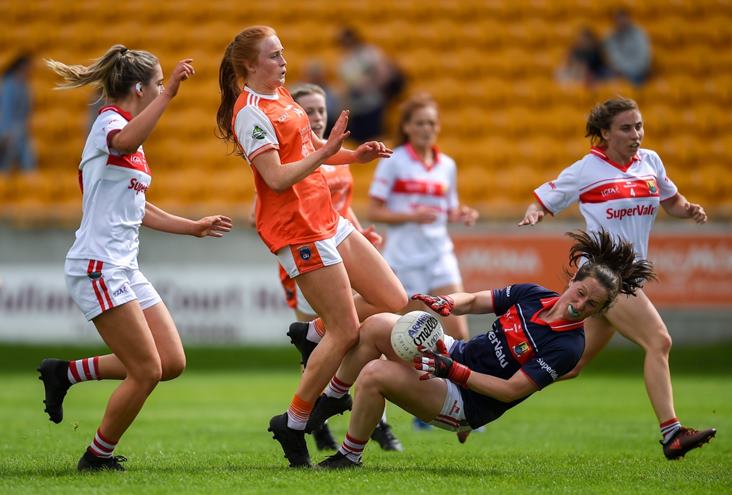 Armagh's Blaithin Mackin has her shot saved by Martina O'Brien of Cork
By Daire Walsh
While there are times when she finds it difficult to watch her old team-mates in action, former Cork ladies football goalkeeper Martina O'Brien has made peace with being away from the inter-county limelight.
Having won 15 major honours over a nine-year period, O'Brien brought the curtain down on her career with the Leesiders last November. She was amongst the substitutes at Cusack Park, Ennis on July 9, 2022 when Cork lost to Mayo in a TG4 All-Ireland Senior Football Championship quarter-final.
This was the first time since 2010 – and just the second occasion in 19 championship campaigns – that the Munster giants failed to make the last-four of the Brendan Martin Cup. They will be back at the semi-final stage of the SFC this evening to take on Dublin at FBD Semple Stadium, Thurles and O'Brien is calling on the Cork faithful to come out in force to cheer on their county.
"I suppose when it gets to these stages, the semi-finals and what not, you kind of have that bit of yearning to go back. I haven't missed all the really difficult training and knowing what was ahead of you in pre-season! Definitely I was happier to be probably sitting on the couch with my feet up," O'Brien explained.
"Time moves on and once you've made a decision to step aside and hang the boots up in that sense, you come to make peace with it. It's definitely hard to watch in a sense that the nerves will be at you.
"Because you've no impact on anything that happens, but it's good to watch and I think the girls deserve all the support they get. They work really, really hard. I think people getting out now and going to the game Saturday would be great. It's only up the road from Cork. It would be great to get good Cork support going."
A footballer at club level with Clonakilty, O'Brien has also represented Ballinascarthy in camogie for a number of years. It is in the latter West Cork village that O'Brien operates her own physical therapy business.
Although being self-employed often worked to her advantage as an inter-county player, O'Brien acknowledges it did eventually play some part in her decision to retire last year.
"Being self-employed, it's probably a reason itself. It's actually easier to play at that level because you can just work around everything, but it also has the side of it that you're going to be that little bit busier. You have to probably put more time into your business and it's not going to grow unless you do give that bit of effort into it.
"I think that was definitely a major reason why I did step aside. Since I am retired, work has been really, really busy. It has been really positive in that sense. Leaving one thing go to take up another has worked. It has definitely filled my time in that sense, which has been great."
In her final three championship appearances against Dublin - a 2019 All-Ireland semi-final squeezed in between two Brendan Martin Cup showpieces - O'Brien and Cork came out on the wrong side of the result. This is in stark contrast to the opening four years of her inter-county odyssey (2013-16) when the Leesiders overcame the Jackies in each season on their way to claiming an All-Ireland crown.
The quarter-final in 2013 and the Brendan Martin Cup decider of the following year are two games that will forever be etched in the annals of Cork LGFA history.
In their last-eight duel at St Brendan's Park, Birr a decade ago, a Rebelettes side managed by the late, great Eamonn Ryan were nine points down with 20 minutes remaining on the clock. By the time Sligo referee John Niland sounded the full-time whistle, Cork were four points in front after registering an astonishing 1-10 without reply.
They were in an even more perilous position on September 28, 2014 as two goals from future Ireland rugby international Lindsay Peat had Dublin 10 points to the good with just 16 minutes to play. Once again, though, Cork produced a miraculous comeback and completed a four-in-a-row of All-Ireland titles with a 2-13 to 2-12 victory.
Amongst the many memorable triumphs that O'Brien enjoyed as an inter-county footballer, this is one that stands out clearly above all others.
"Whenever you're asked about what's the game you remember the most, what has been your favourite game, you have to mention the 2014 final. Again, our memories of it are just utter joy. At the time it was just so mad. To think we were in a situation like that. It's a couple of years after it when you actually realise that you played in a game like that.
"It provides great memories and it will always be one that you can pull out. There has been loads of articles and there's loads of photos, because it was such a talked about game afterwards. In years to come again, we can just pull those out and have a read. Definitely that was one that will always stick out."
Between 2005 and 2020, Cork and Dublin were the only winners of the Brendan Martin Cup with the Leesiders amassing 11 titles to their eastern counterparts' five. Meath subsequently emerged to secure All-Ireland SFCs in 2021 and 2022, but there is a golden opportunity for the four teams in action today (Kerry and Mayo square off in the other semi-final) to carve a path back to the top table of ladies football.
Back in 2014, goals from substitutes Rhona Ni Bhuachalla and Eimear Scally were pivotal in helping Cork to complete an unforgettable fightback against Dublin. If they have designs on recording a first championship success over the Jackies since the 2016 All-Ireland final tonight, then O'Brien feels current Leeside manager Shane Ronayne will need to dip into his resources.
"A senior inter-county match, you don't end with the 15 that started because it's just not possible. The pace of the game and the physicality. They're going to really rely on the subs and they're really going to rely on five subs coming on throughout the game to see it through. Hopefully Cork will be the winners in the end," O'Brien added.
Most Read Stories