Statement win pleases Long
February 20, 2023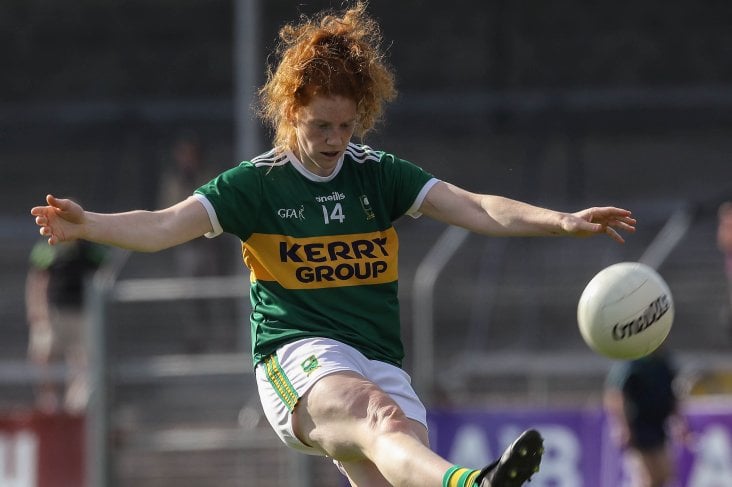 Kerry ace attacker Louise Ní Mhuircheartaigh
Compiled by Daragh Small
Kerry joint-manager Darragh Long believes his players made a statement with their big win over Dublin in the Lidl NFL on Saturday evening.
It was a massive game at the top of Division 1 where Kerry were leading the way heading into the clash at Austin Stack Park in Tralee.
And the Kingdom maintained their perfect start to the season with a 3-15 to 1-10 victory. Louise Ní Mhuircheartaigh scored 0-11 while Hannah O'Donoghue, Síofra O'Shea and Ciara Murphy all found the net for the rampant hosts.
"The first three games we were getting the results but we weren't happy with the performances but tonight I think that we got the right mix," said Long.
"We got an absolutely fantastic performance from the girls; one of those kind of statement performances that showed the amount of work that this group has done over the last couple of years.
"We said in the huddle after the game that we're not going to get carried away with ourselves. It's another three points on the board but we're in a fantastic position and we're delighted."
For Dublin they will need to regroup for another crucial round of fixtures as the race for the Division 1 title heats up.
"We're looking to next week now. We're trying to find a group that will be competitive for us come summer football so next up is Mayo and we won't look any further than that," said Dublin manager Mick Bohan.
Mayo had made a slow start to 2023 with three defeats in a row but they clinched an all-important win away to Meath at Páirc Tailteann in Navan.
Meath's campaign looked to be picking up pace in recent weeks but this 2-6 to 0-9 defeat will halt their momentum.
Maria Cannon and Rachel Kearns came up with the vital goals for Michael Moyles' side.
"I suppose that bit of luck that we were lacking over the last couple of games, we probably got today," said Moyles.
"That's the way that football goes. There's very little between the teams in Division One. The '45' that ended up in the back of the net was the difference between the teams and that is that small bit of luck."
Waterford made the journey to Letterkenny to face Donegal on Sunday and it finished in a great 2-9 to 0-7 win for the visitors. Pat Sullivan was thrilled with his players as Lauren McGregor and Annie Fitzgerald both struck for goals.
"We're very happy to be going home this evening with the win," said Sullivan.
"After Saturday's results, that was massive for us. We left Dungarvan at seven, Saturday morning and it was a seven hour journey up. That's taxing in its own right but we'll go back down the road really content.
"That takes us on to seven points. We're moving on nicely. We still have a lot of work to do - there are aspects of our game we have to improve upon.
"Our game management, especially when we did get those two first half goals, it was really steady. We dominated the second half but just didn't put it on the scoreboard."
Galway are also right in contention at the top of the standings and they held on for a thrilling 1-15 to 4-4 win against Cork at Pearse Stadium in Salthill.
"We were very lucky to come away with the win in the end," said Galway joint-manager Fiona Wynne.
"They almost got a goal there with the last play of the game but I'm very relieved with the win. We were six points down at half-time but showed a lot of composure in the second half to bring it back to three points.
"Then Cork got a penalty to lead by six points again, and our reaction to that, and how we played as a team after that, was very pleasing. But I'm relieved with the result."
In Division 2, Erone Fitzpatrick scored the winner deep into additional time and Laois beat Tipperary 1-12 to 3-5.
Aisling Sheridan scored Cavan's goal and they beat Monaghan 1-10 to 2-6. Aimee Mackin hit 3-3 and Armagh defeated Tyrone 5-10 to 1-7. Westmeath were the other winners, they beat Roscommon 3-7 to 1-11.
In Division 3, Wexford, Down, Clare and Louth were all victorious. And in Division 4A, there were wins for Antrim and Fermanagh, and in Division 4B, Wicklow got the better of Kilkenny but Limerick and Leitrim finished in a draw.
Results:
Lidl Ladies National Football League Division 1:
Mayo 2-6 Meath 0-9
Kerry 3-15 Dublin 1-10
Waterford 2-9 Donegal 0-7
Galway 1-15 Cork 4-4
Lidl Ladies National Football League Division 2:
Laois 1-12 Tipperary 3-5
Cavan 1-10 Monaghan 2-6
Armagh 5-10 Tyrone 1-7
Westmeath 3-7 Roscommon 1-11
Lidl Ladies National Football League Division 3:
Wexford 0-8 Sligo 0-7
Down 4-13 Longford 0-7
Clare 2-11 Offaly 1-13
Louth 1-5 Kildare 0-7
Lidl Ladies National Football League Division 4A:
Antrim 9-19 London 1-7
Fermanagh 1-11 Carlow 2-5
Lidl Ladies National Football League Division 4B:
Limerick 4-9 Leitrim 1-18
Wicklow 10-20 Kilkenny 0-2
Most Read Stories