'There were definitely times I didn't think I'd be able to get back'
February 18, 2023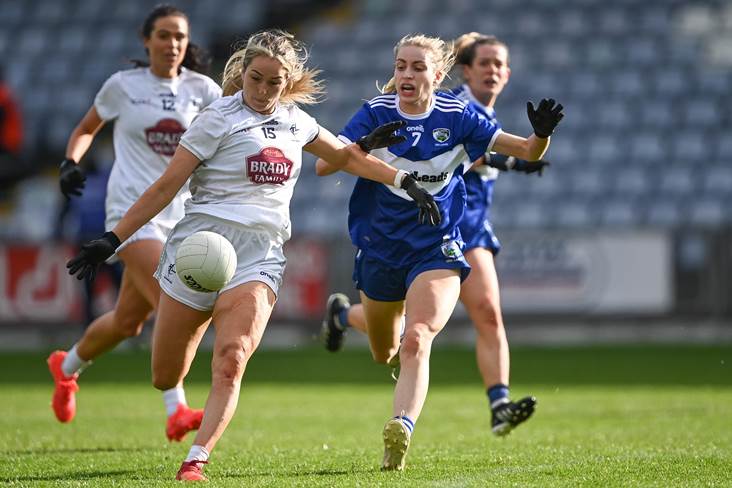 Róisín Byrne of Kildare in action against Laura Nerney of Laois ©Piaras Ó Mídheach/Sportsfile
By Daire Walsh
In reality, it may have just been a first round game in Division 3 of the Lidl National Football League but for Róisín Byrne, Kildare's clash with Down at St Conleth's Park on January 22 felt like a whole lot more.
Having overcome persistent shoulder problems to be named on the TG4 Intermediate Team of the Championship for 2020, the Sarsfields attacker suffered an anterior cruciate ligament injury in the Lilywhites' League encounter against Longford on June 6 of the following year.
While she underwent surgery exactly a month later, she was back under the knife again in February 2022 due to the fact there was also substantial damage to the cartilage in her knee.
During her time on the sidelines, Byrne readily admits experiencing doubts over whether she'd ever feature again in a competitive inter-county fixture. But those fears were finally put to bed when she contributed 1-5 as a starter in last month's emphatic 3-13 to 0-6 victory for Kildare over the aforementioned Down.
"I had ruptured the ACL, but I had actually shattered the cartilage, nearly all of it. The surgeon had basically said 'we'll repair whatever cartilage we can', but that it was so badly damaged that he anticipated in the next two years I'd be back for another surgery to remove the last part of it," Byrne explained.
"When I started getting back doing more rigorous training, it became apparent that it wasn't going to work. It was a bit experimental to see can we save a bit of it and we couldn't. I had the big surgery in July [2021] and I had another surgery the following February.
"My first match back with Kildare was on the pitch that I'd done my knee on. That was in my head as well. I know it was the first round of the League, but for me it felt nearly like we'd won a Leinster or we'd won an All-Ireland. There were definitely times in the last year and a half where I didn't think I'd be able to get back. Getting through Down and playing a full match, that was unbelievable."
When you consider how little match practice she had coming into 2023 (a combination of injury recovery and a decision to go travelling meant she didn't see any club action with Sarsfields last year), Byrne's form for Kildare thus far in Division 3 becomes all the more remarkable. Following her impressive showing against Down - which was preceded by a couple of appearances in challenge matches - she has gone on to amass big tallies in subsequent wins at the expense of Longford (2-5) and Clare (0-7).
Despite acknowledging there is a long road left to travel, Byrne is happy with how things are progressing for her on a personal level.
"In hindsight, if you were to tell me where I'd be a year ago, when I was going through the rehab, I'd be absolutely delighted. Now that I'm here and looking at things I can improve, I feel like my speed isn't where it was. My fitness needs a bit of work. My accuracy and my shooting stayed and I'm lucky with that, but there's definitely a lot of things I need to stay working on.
"I'm looking at them now thinking 'where do I need to improve'. At the moment I'm just looking at the next match going 'right I need to work on speed for the next couple of weeks or I need to try and get in an extra couple of runs'."
Though injury denied her a chance of playing for Kildare during Sean Finnegan's brief spell as manager, Byrne is currently enjoying life under another native of Mayo. After working alongside Finnegan in a coaching capacity for the 2022 inter-county season, Diane O'Hora - a multiple All-Ireland winner with the green and red in an illustrious playing career - has stepped into the hot seat with the Leinster side.
"Diane is a legend. I think it's great having a female in there who has done what you are trying to achieve. She has won All-Irelands, she has played at the elite level and she has done it. When she's talking about things, you listen. You know she's been there, you know she's done that and she has got a really good backroom team in with her.
"We're quietly optimistic this year. There's a really good buzz in the team this year and I feel like yesterday I was one of the youngest ones on the team and now I'm one of the oldest ones. There's all this young blood coming in and they're absolutely class."
2023 is set to be a big year for Byrne on a number of fronts. In addition to returning to full-time teaching at St Conleth's and Mary's Primary School in Newbridge following a career break, she will be getting married at the end of the year (her fiancé is Athy senior footballer Liam McGovern).
She is also hoping for success on the football field later in the summer with Kildare amongst those aiming to challenge for top honours in the TG4 All-Ireland intermediate championship. This is a competition she won with the Lilywhites in 2016 and the prospect of adding a second title in the coming months is all the motivation she needs.
"I know everyone kind of says it, but I feel like that year [2016] nearly passed us by. I was only 22 at the time and you kind of think because we got landed in there the year before, we were in a final as well and we lost, you think these days come around a lot," Byrne added.
"We've been trying to get back there for the last couple of years and I think if we do get there, it's just going to mean so much. There's girls my age, we've been playing together since U12 development squads. If we were able to win with this group, I just think it would be something really special."
Most Read Stories