"I'm looking forward to getting back in with Galway"
January 27, 2023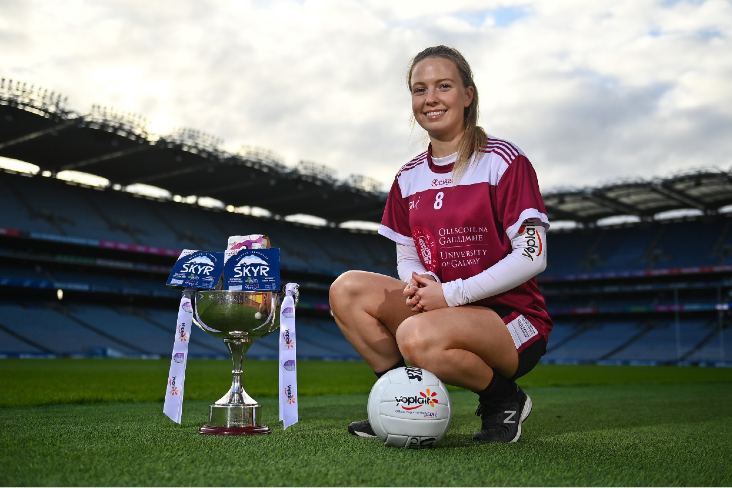 Hannah Noone of University of Galway. Pic: David Fitzgerald/Sportsfile
By Daragh Small

Kilkerrin-Clonberne's double All-Ireland winner Hannah Noone says Galway will be boosted by some returning stars ahead of a crunch tie against Dublin in the Lidl NFL this weekend.

Both sides began Division 1 with impressive wins over Donegal and Meath respectively and will now face off at Tuam Stadium on Saturday.

Galway are still waiting on a number of the Kilkerrin-Clonberne contingent who made history at Croke Park last month, when they secured a second successive currentaccount.ie All-Ireland Senior Championship.
Sisters Eva (19), Hannah (20), and Lynsey (22) are among those in contention as Galway look to make a statement in a rematch of the 2019 TG4 All-Ireland Senior decider.
"It definitely was a good start, we even had a good few girls making their debuts against Donegal and they didn't look out of place out on the pitch," said Hannah Noone.

"We went training during the week and the rest of us will be going back in. Hopefully this will help drive us a bit more against the Dubs on Sunday, hopefully a few of us will get game time.

"I'm looking forward to getting back in with Galway. You want to be playing against these top teams. Playing against them will only make us better.
"You love having the competition and the tough opponents to play against. At the end of the day, it will help us improve as a team and see what we need to work on and where our strengths are."
The three Noone sisters were also involved in last year's Yoplait O'Connor Cup semi-final, where Lynsey was part of a successful University of Limerick team. They beat University of Galway en route to a Final win over UCC.

Lynsey has since graduated but Hannah and Eva are still a big part of the University of Galway team vying for success next month.

"We would have wanted, I would have wanted to have won myself but then it was like, at least she (Lynsey) won it," said Noone.

"It was grand then because you are delighted for her to have won it. The work they have put in is crazy. They deserved to come back with the win.

"I didn't mark her in the semi-final and I was close to because I usually play wing-back and she plays wing-forward but I was midfield that day so I stayed away from her.

"At club training or county training now, there are often times where you have to mark each other. You want her to do good but it nearly makes you want to work harder because there is such competition between the three of us."

All three sisters have experienced major success with Kilkerrin-Clonberne in recent years and they were joined by their father, Gerry, who is a selector with the team while their mother, Linda, is club secretary.

"It's hard to explain it, unbelievable really," said Noone.

"The first year we won it was so special because we had lost and we had got to the semi-finals and lost the semi-final, we had lost the final in 2019.

"So to win the first one was just such a relief and then the one then this year, that was first time to ever play in Croke Park as well. For the first time to play in Croke Park and win an All-Ireland with your club is incredible and just so special.

"It showed that we were able to back it up with the second one as well and we weren't just there for one year."

***
Hannah Noone was speaking as the Ladies Gaelic Football Association and Yoplait Ireland celebrate a renewed partnership for 2023.Yoplait Ireland, the 'Official Yogurt of the LGFA', will continue to sponsor the Higher Education Committee (HEC) third-level championships in 2023.
Most Read Stories