Murray: I never thought I'd see this day
September 05, 2021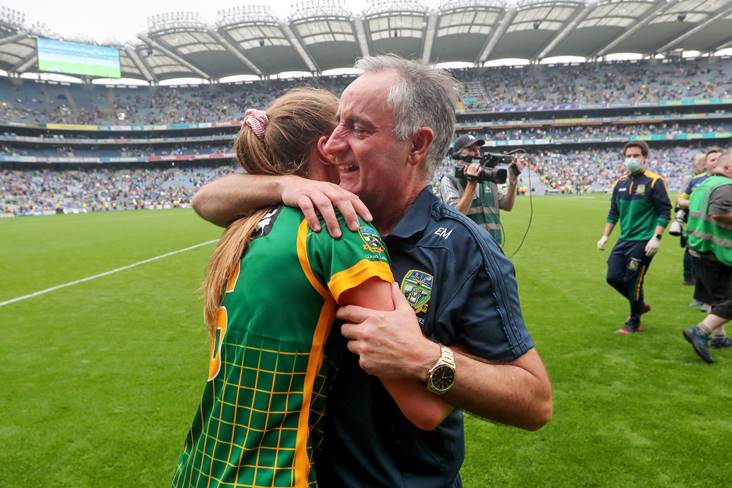 Meath's Aoibhin Cleary celebrates with manager Eamonn Murray. ©INPHO/Bryan Keane.
Meath ladies football boss Eamonn Murray admitted it was the "happiest day of my life" after guiding the Royal County to the Promised Land.
Their first year back in the All-Ireland senior championship, the Royals delivered a determined display to stop Dublin's 'Drive for Five' and get their hands on the Brendan Martin Cup for the first time in history.
"I never thought I'd see this day," a jubilant Murray told TG4 afterwards.
"We have the best support...it gives a great lift. Listen to the crowd here...the good days are back. What can I say? It's the happiest day of my life, my family are all here and we'll celebrate together tonight."
The Boardsmill man told in a recent interview how he never wanted to become the county's senior manager at first as Meath ladies football was in a bad place and some players would not commit.
"I might hold onto it for a while!," he quipped when asked if he was happy he took on the job.
"It's been a brilliant journey...we keep talking about having fun. By God we have fun, and fun can still win games. They're a very special bunch of players and got what they deserved."
Most Read Stories