Pieta calls for GAA clubs to help in Run in Darkness & in Light
May 07, 2020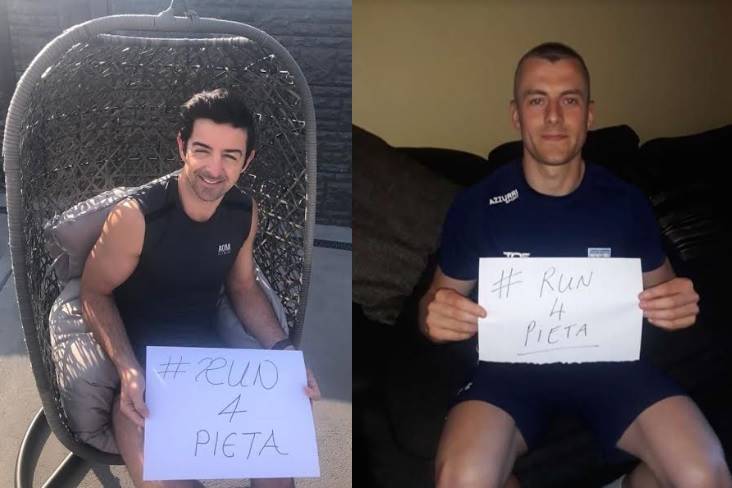 Aidan O'Mahony and Jamie Barron supporting Pieta
The question is: how far can you go for Pieta?
Pieta are looking for GAA clubs from around the Country to get involved in Run in Darkness & in Light, a unique, fun event for all involved in the club to participate in.
The aim is to see how far they can run in 24 hours as a club, to raise awareness around mental health during the Covid-19 crisis and to help raise much needed funding to support the work of Pieta.
The target is to have every County represented and Pieta have had great response to date with over 60 clubs across the Country signing up from Ballinabrackey GAA in Meath to Bantry Blues in Cork , Roanmore GAA in Waterford to Ballinasloe GAA in Galway. Pieta would like to have more clubs involved
The event & how to get involved
#Run4Pieta – Run in Darkness & in Light this May in aid of Pieta Sunrise Appeal
How to get involved – Your club will run for 24 hours consecutively, running within HSE-Covid19 guidelines, choose a weekend in May that suits your club
- Register your club by emailing – [email protected], with preferred weekend in May
- Send out a group message to everyone involved in the club inviting them to get involved, family, friends & supporters, a family of 4 could run for 30 mins, covering 5k x 4 = 20Km, so the more running the more KM's covered
- Finalize your numbers & allocate everyone a time slot within the 24 hours: Start @ 7.30pm
- Ensure all taking part use a smart phone/watch to track distance via preferred apps, to see how far your club covered distance wise
- Share across your social media channels the event & fundraising links
- Upon registering your team, we'll send on a fundraising link, to share on your Facebook channels asking players to share
- Participants will run consecutively for 24 hours
- Run within current HSE Covid-19 guidelines
The need for Pieta's lifesaving services is greater than ever as COVID-19 impacts not only on the nation's physical health but its mental health too. As people find themselves worried, anxious, under strain, financially impacted and in many cases isolated and alone. So Pieta are reaching out to the GAA Community, it's a fantastic challenge that should be embraced and widened across supporters of all Clubs & Counties. Pieta would love to have a group supporting your Club representing your County & supporting a great cause to support mental health
#run4pieta
Most Read Stories