LGFA to honour Mayo legend Christina Heffernan
October 25, 2019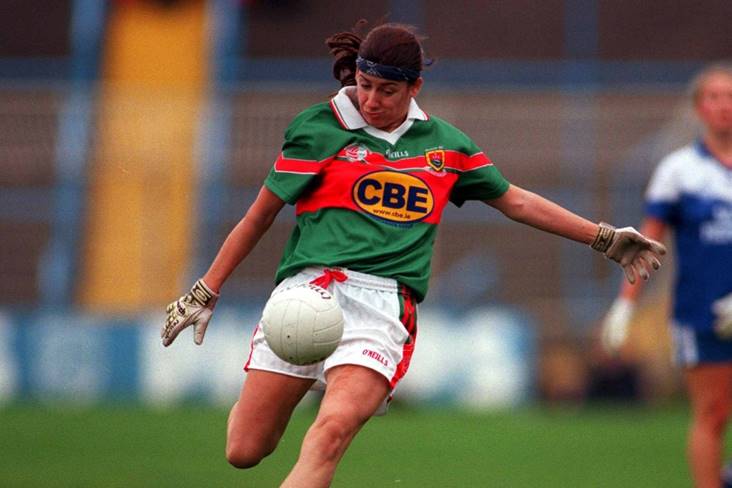 Former Mayo footballer Christina Heffernan.
MAYO legend Christina Heffernan will be officially inducted into the Ladies Gaelic Football Association's Hall of Fame at the TG4 All Star awards night, in association with Lidl, on Saturday November 16.
Having lost a series of All-Ireland Senior Championship semi-finals in heart-breaking fashion, Mayo and Christina finally got over the line in 1999 to contest their very first Senior decider.
Not content with that, Mayo would then embark on a spell that saw them contest five successive Finals, with four victories achieved (1999, 2000, 2002 and 2003).
Mayo had won an All-Ireland B title in 1993, when Christina's inter-county career was in its infancy, but the All-Ireland Senior title was always the aim for Christina and her Mayo team-mates.
In 2002, Christina, a seven-time All Star recipient, also had the immense honour of captaining Mayo to the All-Ireland Senior title.
Christina cites the constant support of family as a big part of her ability to forge a successful career as a Ladies Gaelic Footballer. Married to Raymond Connelly, himself a former Mayo player, the couple have three children; Ava (8), Leah (6) and Seán (3).
Famously, Christina played alongside her sister, Marcella, two years her junior, during so many of Mayo's great days. Mum Anne is still alive and well but, sadly, Dad Christy passed away in 2018.
Christina's parents were positive formative influences on her career and with Ballinrobe Community School, Christina won five All-Ireland Medals, and she was also a Lynch Cup winner during her time with IT Sligo.
At club level, Hollymount were successful on a multiple occasions at local and provincial level, but they lost out to Shelmalier in the 1999 All-Ireland Senior Club Final.
Instead, it was in the colours of Mayo that Christina won national silverware.
As well as those four coveted All-Ireland senior medals, Christina landed three National League Division 1 crowns, in 2000, 2004 and 2007, the year she pulled the curtain down on her glorious time in the green and red.
Off the field of play, and after graduating from college, Christina gained a job with the HSE in Sligo in 1998. She got married to Raymond in 2008 and in that same year, a transfer to the HSE in Castlebar was rubberstamped. Working in registration, Christina has been there ever since.
Christina also coached the Mayo U16 team for a spell, and was involved when they won the All-Ireland B title in 2010.
Coaching had to take a back seat for some years after that, as Christina and Raymond built a family, but she's now back involved with Roundfort National School, where her children are educated, as well as the underage section at Hollymount.
Football also helped Christina see the world during her playing days, with All Star trips to Singapore and New York recalled fondly.
Named on the TG4 Team of the Decade in 2001, Christina Heffernan is regarded as one of the finest players ever to grace our game.
Long after she thought her days of winning awards were done, Christina is deservedly back in the limelight, and she is a worthy recipient of this prestigious award.
Most Read Stories