What they said … the weekend in quotes
August 31, 2020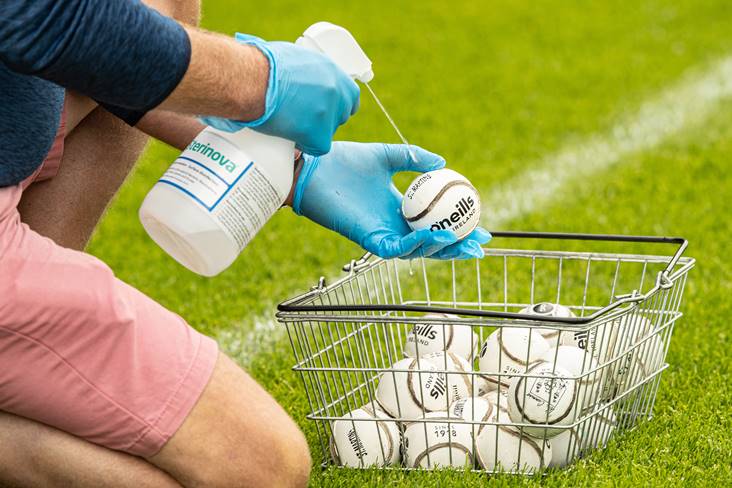 Sliotars being sanitised before throw-in
"I think it's an awful way to finish a game, an absolutely awful way. I would have preferred more extra-time to be fair and if I was given the offer with Borris, I'd have given it to them all day long. Absolutely I would have had."
Drom & Inch manager James Woodlock after his side put county and provincial champions Borris-Ileigh out of the Tipperary SHC yesterday evening.
"Dessie's only back hurling 20 months at this stage. Every day he goes out, he's getting better. I still don't see a ceiling with him."
Ballygunner boss Darragh O'Sullivan on his in-form attacker Dessie Hutchinson.
"To win seven in a row is something I could never have dreamed of. I remember going to county finals when I was young watching Ballygunner, if you'd told me back then that they'd win seven-in-a-row... It's crazy but it's an unbelievable achievement."
An ecstatic Philip Mahony expressed his delight to a TG4 reporter after Ballygunner's latest Waterford SHC triumph.
"You just won't catch him, once he's gone he's so strong and fast, you're just waiting for the net to bulge. We're lucky to have him."
St Jude's manager Gareth Roche had some praise for Kevin McManamon following his side's seven-point win over Skerries Harps.
"The compact season probably suited us. Everybody is buying in and we're all here. I'm just taking each day as it comes. I'm hardly able to walk. Every day I wake up, I'm in agony because I don't get a chance to take a rest."
O'Donovan Rossa dual star Stephen Beatty after his side's Antrim SHC upset against Ruairí Óg Cushendall.
"I was happy to stand over the decision and I believe it was the right decision. There are three reasons why you get a seat. Credibility, informed opinion and the ability to articulate that opinion. If you're a pundit and a contract gets cancelled, you have to ask yourself why. The optics didn't concern me. To my mind, it was about putting the best people on the replay."
RTE's Head of Sport Declan McBennett spoke to the Irish Independent's Vincent Hogan ahead of the one year anniversary of Joe Brolly's axing from The Sunday Game.
"We'd be giving out about going back [training] to Rathkeale here in Limerick where it's very, very tough, and quite open when the sleet and the rain is coming in on top of you. And you'd be cursing it at the time! But I'd tell you something - I'd give anything to be going back there this November, December, to go back and give it another shot."
Limerick star Shane Dowling was forced into retirement this past July at just 27.
"It just reminded me of how much I enjoyed football and how much of a buzz you get from taking part."
It seems her a new role with Ballyboden St Enda's has rekindled the hunger for 10-time All-Ireland winner Valerie Mulcahy.
Most Read Stories