"We're only one rule away from the game becoming like Australian Rules..."
April 08, 2021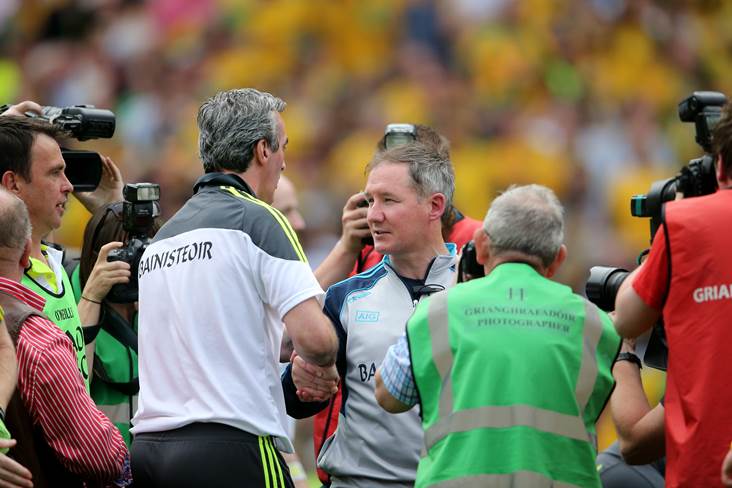 Jim Gavin shakes hands with Jim McGuinness after Dublin's shock defeat to Donegal in the 2014 All-Ireland semi-final. ©INPHO/Cathal Noonan.
Former Dublin manager Jim Gavin has questioned the logic behind some of the rules introduced to gaelic football over the last number of years, saying the game is becoming like Australian Rules.
Assistant director of the Irish Aviation Authority, the six-time All-Ireland winning boss aired his views on the various playing rules during an interview on the JC DC Am Seó Podcast with ex-Dublin star Diarmuid Connolly and co-presenter Johnny Courtenay.
"I accept that rules change. There's always an evolution. What I don't understand is the logic behind them," the Round Towers Clondalkin clubman said.
"When I see some of the rules committees, and even the current one, giving statistics behind games, it's like me doing an air accident investigation and just looking at the flight data recorder and the flight data recorder is going to tell me everything that went on in the flight.
"You need the cockpit voice recorder. I need to know about the training that the pilots were under, I need to know the organisation culture, the environment, the value set, and that will inform me what the root cause of the accident was."
Gavin, who brought the curtain down on his time in charge of the Dubs in 2019, believes the forward mark was a "wrong step".
"Some of the rules, like, they they've introduced a more recent one with the forward mark, I think it was a wrong step.
"We're only one rule away from the game becoming like Australian Rules, on a rectangular pitch.
"So if we introduce tackling, as in the rugby tackle, like what difference is there from Aussie Rules? Because you can call a mark from a kick-out. You can call a mark from both defensively and offensively when it's kicked into the scoring zone in an attacking play."
He added: "The kick-out mark has been good but the reason they had to introduce it was because they weren't enforcing the tackle and the tackle isn't really that well defined in Gaelic football."
Most Read Stories